Trump No Longer Shocks. Helpers Who Know Better Do
@FromaHarrop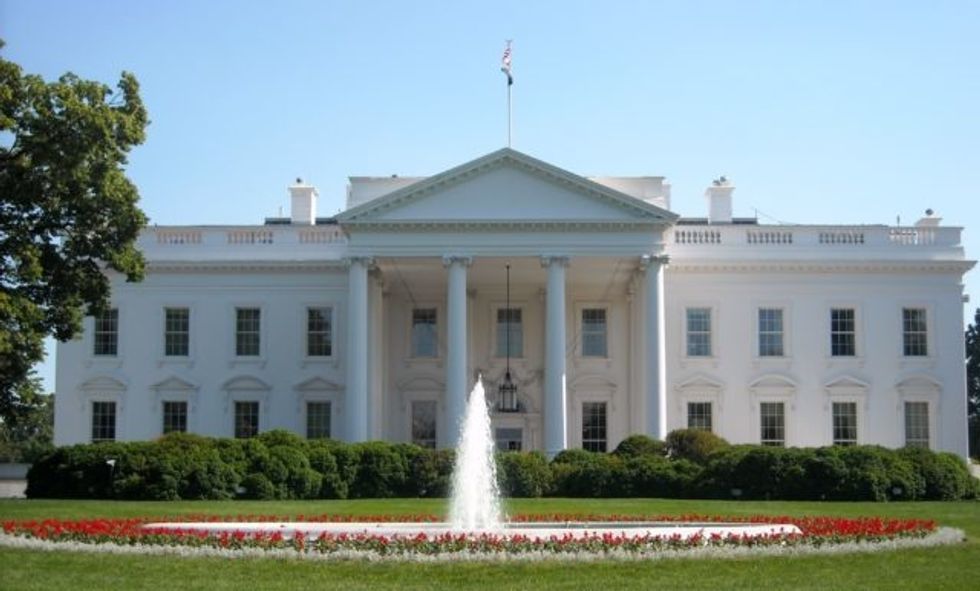 Reprinted with permission from Creators.
An insane woman was madly swinging her pocketbook at strangers on the street. No one tried to shame or reason with her. They knew she was unwell and needed to be removed by responsible parties.
In a similar vein, I've stopped expressing shock at things Donald Trump says, tweets and does. His is a cracked personality and fragile mind. And because he's in a position of awesome power, questions of what to do about him have moved well beyond politics and policy. National security demands that this president be replaced in an orderly manner.
The concerned public must now direct its attention to Trump's helpers. We're not talking about the racist misfits. They have always been with us and are merely having their moment in the sun. (How interesting that it coincides with a solar eclipse.)
We're talking about the business leaders who remain on his councils. We're talking about Republican leaders — specifically House Speaker Paul Ryan and Senate Majority Leader Mitch McConnell — who still lack the courage to slap Trump's name on their rebukes of his words.
If they abandoned him, Trump could be more smoothly eased out of the Oval Office. Impeachment? Twenty-fifth Amendment? Doesn't matter.
On Election Day, many good people took a flier on Trump. Some had suffered economic loss and felt disrespected. Since then, their lot has grown only more precarious, and their ranks have shrunk.
Business and labor leaders joined Trump's councils "to have a seat at the table." Some have left in revulsion, but others remain, to their eternal dishonor.
So while Trump no longer stuns me, I was amazed to hear Javier Palomarez of the U.S. Hispanic Chamber of Commerce say he'd stay on Trump's diversity council despite it all. "If I walk away, if I give up in frustration," he said, "the only people who win are the Steve Bannons and the Steve Millers of this world."
So he is just working for the man who employs them. In doing so, he provides cover for their Latino-bashing. Palomarez is clueless but not alone.
It was surely no accident that Trump had two Jews and an Asian-American flank him during his Tuesday tirade. Treasury Secretary Steve Mnuchin, chief economic adviser Gary Cohn and Transportation Secretary Elaine Chao must have known they were put there to confuse an audience hearing a creepy defense of Nazis and white supremacists. (Cohn later said he was "disgusted" and "upset" by Trump's comments.)
It matters not that Michael Polk of Newell Brands (Sunbeam, Crock-Pot, Mr. Coffee, Calphalon, Oster) denounced Trump's remarks. He remained on Trump's CEO council, lending an air of respectability to the president's agenda. Now that Trump's disbanded it, he's lost the opportunity to rise to the occasion.
Who should stay in the Trump administration? John F. Kelly should. Some have criticized the chief of staff for not better reining in Trump's unruly vapors. Who can? What he can do is defend Bob Mueller's probe into the Trump campaign's possible collusion with Russia — recently expanded to the Trump empire's business dealings.
Kelly is a patriot who almost quit as head of Homeland Security when Trump fired FBI Director James Comey. This battle-hardened Marine is certainly not afraid of draft-avoiding Trump. (Ouch, those bone spurs.) One must believe he has Mueller's back — as Republican and Democratic senators move to block the president from firing Mueller.
This is the best path to ease Trump out of office. There's no point wasting more brain cells on whether Trump can be fixed or taking the bait of his provocations. The next step is to pressure his nonessential helpers to isolate him further. The price must rise for business and political leaders who choose to enable this toxic presidency.
Follow Froma Harrop on Twitter @FromaHarrop. She can be reached at fharrop@gmail.com. To find out more about Froma Harrop and read features by other Creators writers and cartoonists, visit the Creators webpage at www.creators.com.