A Trump Presidency Would Sink All Boats
@FromaHarrop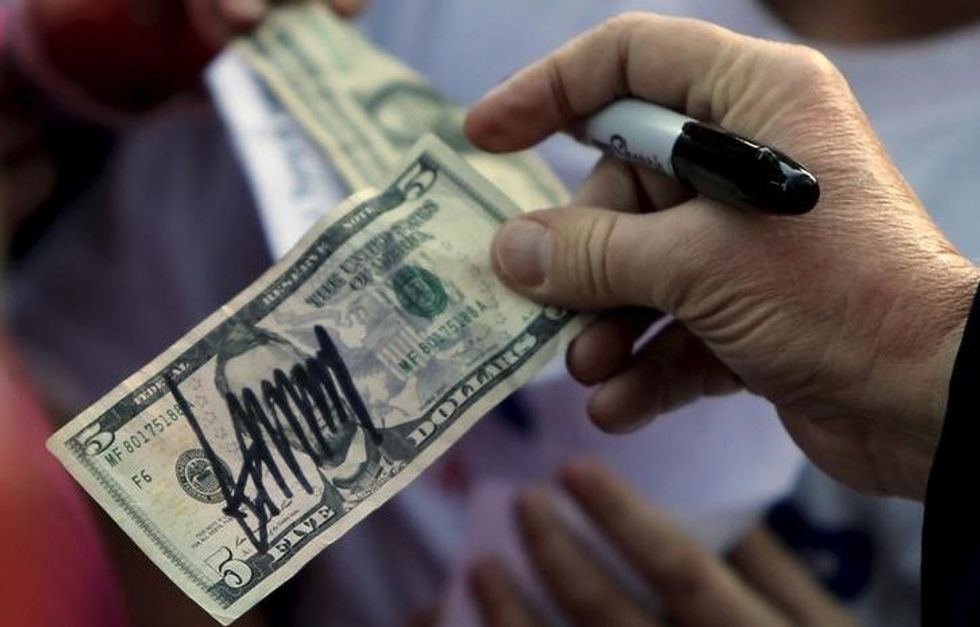 Hello, investors. Come join the foreign policy experts in daily panic attacks over what a President Donald Trump would mean for your world. What does one do about a candidate whose tax plan would send America into the fiscal abyss — who flaps lips about not making good on the national debt?
Should we be investing in the makers of Xanax and Klonopin? And on the personal side, are there enough benzodiazepines to go around?
We're not talking just about the very rich. Anyone with a retirement account or a small portfolio has something to lose. The economic consensus is that a Trump presidency would sink all boats. And that certainly applies to Trump's own economically struggling followers in the least seaworthy craft.
"Most Rust Belt working-class Americans don't get it," Bob Deitrick, CEO of Polaris Financial Partners in Westerville, Ohio, told me. "The working class thinks he's going to stick it to the elites."
The facts: The Trump tax plan would deliver an average tax cut of $1.3 million to those with annual incomes exceeding $3.7 million. The lowest-income households would get $128. (No missing zeros here.)
Folks in the middle would see federal taxes reduced by about $2,700, which sounds nice but would come out of their own hide. Medicare and other programs that benefit the middle class would have to be slashed. So would spending on science research, infrastructure and services essential to the U.S. economy.
Or we could skip the very deep spending cuts and see the national debt balloon by nearly 80 percent of gross domestic product, calculation courtesy of the Tax Policy Center.
Some might think that Trump's tax plan — including the repeal of the federal tax on estates bigger than $5.43 million — would impress the income elite, but they would be wrong. In a recent poll of Fortune 500 executives, 58 percent of the respondents said they would support Hillary Clinton over Trump.
Most in this Republican-leaning group are undoubtedly asking themselves: What good is a fur-lined deck chair if the ship's going down?
Then there are the others.
"Do middle-class Americans have any idea what could happen to the economy or the stock market if our president ever vaguely suggested defaulting on the national debt?" Deitrick asked. (His clients tend to be upper-middle-class investors.)
He recalls the summer of 2011, when a congressional game of chicken over raising the federal debt ceiling led to the possibility of a default. The Dow lost 2,400 points in a single week. And taxpayers were hit with $1.3 billion in higher borrowing costs that year alone.
Trump said on CNN that he is the "king of debt," which in practice means he frequently doesn't honor it. That's why many major lenders shun him, talking of "Donald risk."
Speaking of, Trump famously said in a Trump University interview, "I sort of hope (the real estate market crashes), because then people like me would go in and buy."
But he also predicted that the real estate market would not tank — shortly before it did. Perhaps he never figured out there was a housing bubble. Or it was part of a clever scheme to peddle real estate courses with brochures asking, "How would you like to market-proof your financial future?"
Imagine a whole country taking on "Donald risk."
The business community runs on stability. It can't prosper under a showman who says crazy things and denies having said them moments later. A Trump presidency promises more chaos than a Marx Brothers movie — and you can believe it would be a lot less fun.
Follow Froma Harrop on Twitter @FromaHarrop. She can be reached at fharrop@gmail.com. To find out more about Froma Harrop and read features by other Creators writers and cartoonists, visit the Creators Web page at www.creators.com.
Photo: U.S. Republican presidential candidate Donald Trump hands a five-dollar bill back to a supporter after signing it for her following a rally with sportsmen in Walterboro, South Carolina February 17, 2016. REUTERS/Jonathan Ernst