Trump Says Americans Who Don't Want To Befriend Putin Are 'Very Stupid'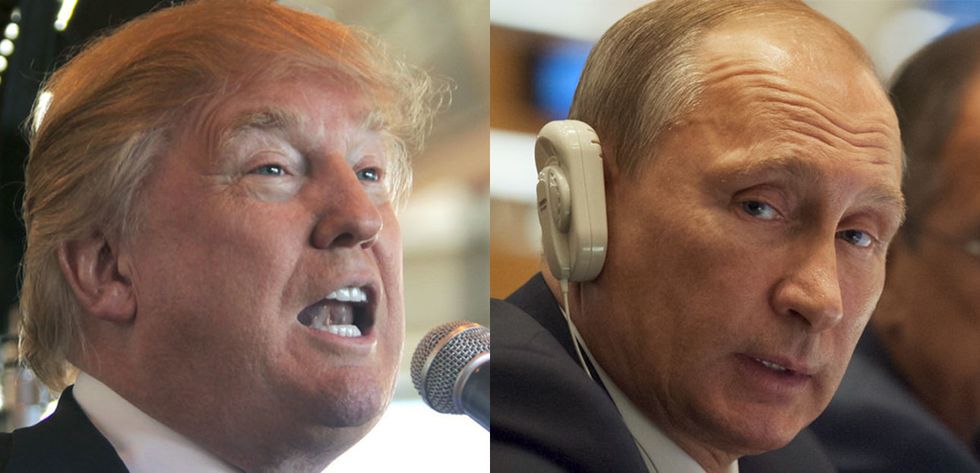 Reprinted with permission from Shareblue.com
Trump continued to demonstrate his weakness for Vladimir Putin by slamming Americans who don't think it's wise to be friends with the dictator.
During a photo op with the heads of Baltic states, Trump gave remarks for several minutes, rehashing his recent tantrums about immigration for the benefit of President Kersti Kaljulaid of Estonia, President Raimonds Vejonis of Latvia, and President Dalia Grybauskaite of Lithuania. Trump also complained about trade, and slammed Hillary Clinton in front of the world leaders.
After thanking the press, Trump answered several more minutes worth of questions, including a lengthy digression about Russia that concluded with Trump saying "If we got along with Russia, that would be a good thing, not a bad thing."
"And just about everybody agrees with that, except very stupid people," Trump added.
Asked whether Vladimir Putin is a "friend or foe," Trump refused to renounce the dictator's friendship.
"We'll find out. I'll let you know," Trump replied.
Aside from his many offenses, Vladimir Putin has most recently carried out a chemical attack on the soil of United States' closest ally, Great Britain. That Trump refuses to denounce Putin as a foe — while surrounded by other allies — sends a terrible signal to the world.
But for Trump to call Americans who recognize Putin as a foe is outrageous.
Trump's coziness with Putin has begun to sink in even with his sycophants at Fox News, who recently called his praise of Putin's sham electoral victory "horrifying," but tens of millions of Americans have been rightly disgusted for a long time.