Trump Says He May Still Pardon Manafort
@alexvhenderson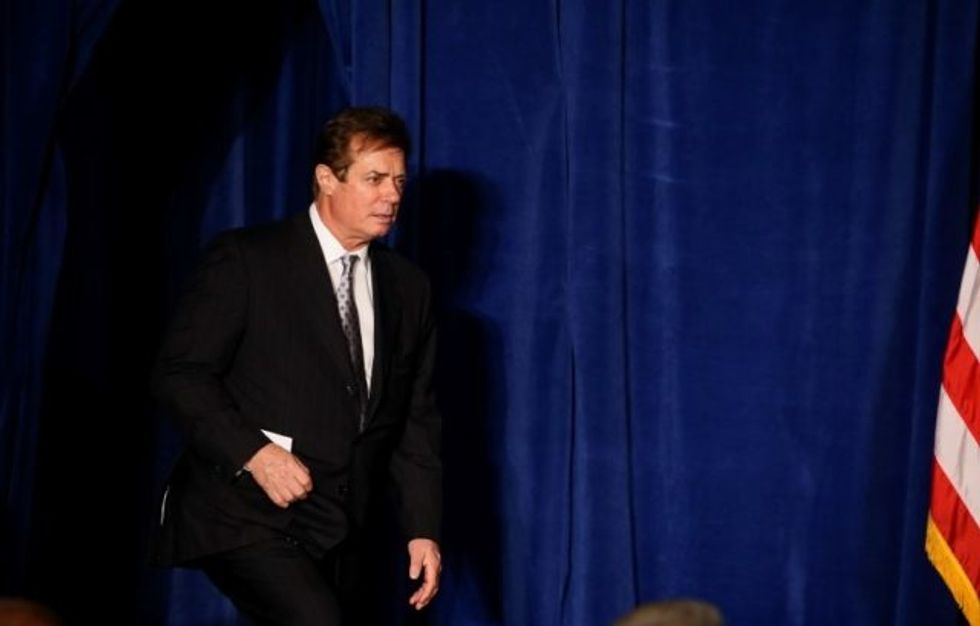 Reprinted with permission from AlterNet.
This week has been full of Paul Manafort-related bombshells. On Monday, November 26, the news broke that Special Counsel Robert Mueller was terminating Manafort's plea deal because he had been lying repeatedly to federal investigators. And the following day, the New York Times reported that Manafort (President Donald Trump's former campaign manager) had been funneling information on Mueller's investigation to Trump's attorneys—a major breach of the plea deal. But with Manafort now facing the possibility of spending the rest of his life in federal prison, Trump is not ruling out the possibility of a presidential pardon.
During a Nov. 28 Oval Office interview with the New York Post, Trump explained that a pardon for Manafort "was never discussed, but I wouldn't take it off the table. Why would I take it off the table?"
Other reports have suggested that Trump has discussed the idea of pardoning Manafort.
During the Post's interview, Trump praised long-time ally Roger Stone and alt-right author/conspiracy theorist Jerome Corsi—both of whom have been on Mueller's radar in recent weeks—for not flipping. Mueller's team offered Corsi probation if he would agree to sign a plea deal and cooperate fully in his Russia-related investigation, but Corsi has so far refused.
Trump asserted, "I had three people: Manafort, Corsi—I don't know Corsi, but he refuses to say what they demanded. Manafort, Corsi and Roger Stone….It's actually very brave."
Trump compared Mueller's probe to Sen. Joseph McCarthy's anti-communist extremism of the 1950s.
"I'm telling you, this is McCarthyism," Trump declared in the Oval Office interview. "We are in the McCarthy era. This is no better than McCarthy. And that was a bad situation for the country. But this is where we are. And it's a terrible thing."
However, MSNBC analyst Matthew Miller has a very different take on Mueller's investigation. Addressing the possibility of a Manafort pardon on Twitter, Miller posted, "Obstruction of justice out in the open."
The people Trump has pardoned this year range from Scooter Libby (who served as chief of staff for Vice President Dick Cheney in the 2000s) to far-right commentator Dinesh D'Souza to former Maricopa County, Arizona Sheriff Joe Arpaio.
Trump's ability to grant presidential pardons, however, only exists at the federal level—not at the state level. And if Manafort were to be prosecuted and convicted at the state level in New York State or Virginia, Trump would not have the power to grant a pardon.
Alex Henderson is a news writer at AlterNet and veteran political journalist. His work has also appeared in Salon, Raw Story, Truthdig, National Memo, Philadelphia Weekly, Democratic Underground, L.A. Weekly, MintPress News and many other publications. Follow him on Twitter @alexvhenderson.