Trump Vs. Ben Carson — And Starbucks?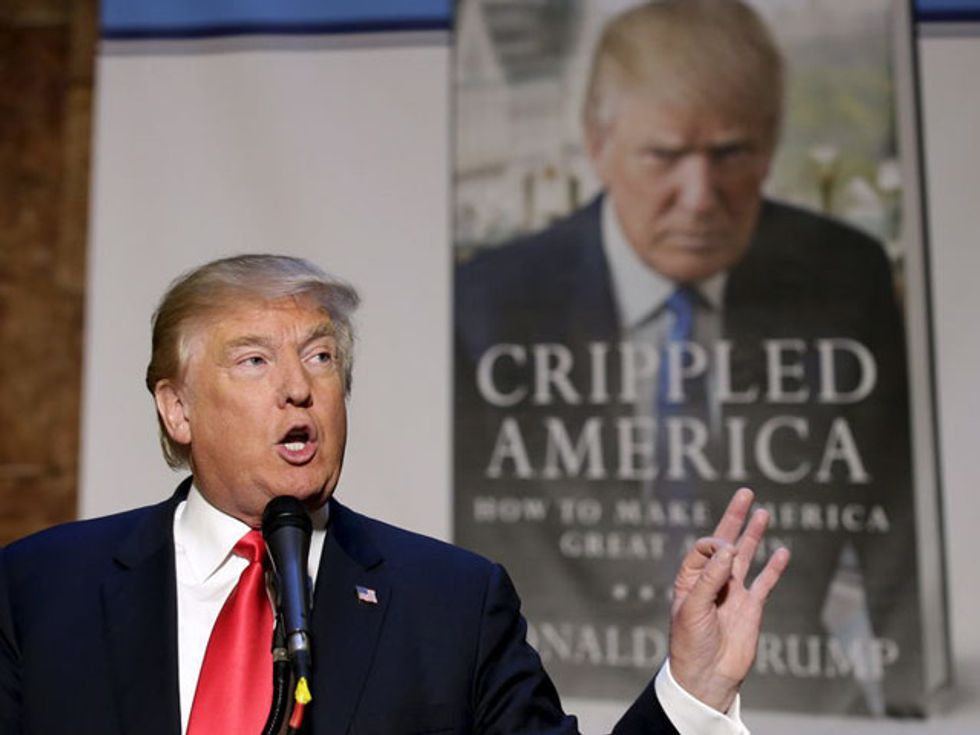 What does it say when Donald Trump is now almost the voice of reason in the Republican presidential field?
At a massive rally Monday night in Springfield, Illinois, The Donald rolled out his latest stand-up routines, taking on such topics as Ben Carson and the de-Christmasing of the holiday season. The big question: Will any of this new material make it into Tuesday night's GOP smackdown?
"With what's going on in this election, I've never seen anything like it," Trump told the crowd. "People are getting away with murder, I never saw anything like this. You can say anything about anybody — and their poll numbers go up, no matter what you do."
One might initially think Trump was talking about his own various comments about Mexicans, John McCain, Megyn Kelly, or a host of other targets of his wrath — and the fact that his own poll numbers kept going up after those various public outrages. But he then made it clear he was talking about his current major adversary, Carson — and the questions that the media has raised about Carson's inspiring life story of sin and redemption (which you can purchase in the form of the good doctor's memoirs).
"If you try and hit your mother over the head with a hammer, your poll numbers go up! I never saw anything like it. Now I haven't seen that yet — but you know, probably, that's gonna happen," Trump said as the crowd laughed. "It's a weird — a lot of weird things are happening. This is a strange election, isn't it? Man!"
"You stab somebody," he continued, "and the newspapers say you didn't do it! And you say, 'Yes I did, I did it!' 'No, you didn't!' 'Yes I did! I stabbed him, and it hit the belt!' And they said you didn't do it. If they said I didn't do it, I'd be so happy! This is the only election in history where you're better off if you stab somebody. What are we coming to?"
But just in case you thought Trump was suddenly sounding just too sane, he then made sure to go right back into the fetid swamps of the latest right-wing grievance: The Starbucks holiday seasons cups.
"Today, I read — and I have Starbucks, they're my tenants. Did you read about Starbucks? No more 'Merry Christmas' on Starbucks — no more," he said, as the crowd booed. "I wouldn't buy — hey look, I'm speaking against myself. I have one of the most successful Starbucks in Trump Tower. Maybe we should boycott Starbucks, I don't know. Seriously, I don't care. By the way, that's the end of that lease. But who cares, who cares? Who cares?"
Trump concluded: "I will tell you — lots of big things, lots of little things — you can call this anything you want," as he gave the applauding crowd this assurance: "But if I become president, we're all gonna be saying 'Merry Christmas' again, that I can tell you."
Photo: Republican presidential candidate Donald Trump speaks at a news conference to promote his new book Crippled America in Manhattan, New York City, November 3, 2015. REUTERS/Brendan Mcdermid