Trump's Fool On The Hill: Nunes Makes Mockery Of Russia Investigation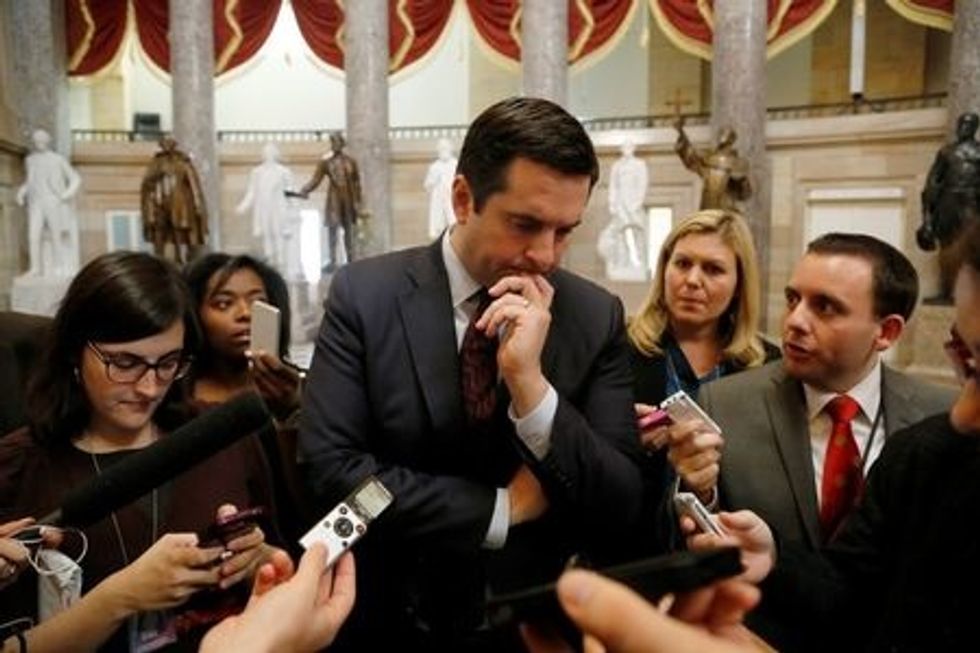 Rep. Devin Nunes, California Republican and chairman of the House Intelligence Committee, could not have been clearer in his questioning of FBI director James Comey last week.
NUNES: Director Comey, I remain extremely concerned about the widespread illegal leaks that you just referenced in your—in your testimony. Just for the record though, I wanna get this on the record.

Does the unauthorized disclosure of classified information to the press violate 18 USC 793, a section of the Espionage Act that criminalizes improperly accessing handling or transmitting national defense information?

COMEY: Yes.

NUNES: Would an unauthorized disclosure of FISA-derived information to the press violate 18 USC 798, a section of the Espionage Act that criminalizes the disclosure of information concerning the communication and intelligence activities of the United States?

COMEY: Yes, in addition to being a breach of our trust with the FISA Court that oversees our use of those authorities.

NUNES: Thank you, Director.
The next day, Nunes made an unannounced late-night visit to the White House and spoke with unidentified official (but possibly a former Nunes staffer) about FISA-derived information. Nunes then spoke to reporters and said that he had "confirmed that on numerous occasions, the intelligence community incidentally collected information about U.S. citizens involved in the Trump transition."
Nunes explained:
"Details about U.S. persons associated with the incoming administration, details with little or no apparent foreign intelligence value, were widely disseminated in intelligence community reporting."
Trump proceeded to claim vindication for his baseless claim that President Obama wiretapped Trump Tower. Nunes' statement most definitely did not confirm Trump's claim, but that was hardly the biggest problem with Nunes' charge.
The Washington Post noted that, "Nunes's statements appear to center on surveillance approved by the Foreign Intelligence Surveillance Court, a secretive panel that authorizes the interception of communications of known or suspected agents of foreign powers—such as ambassadors—or terrorism suspects."
In other words, if Nunes wasn't making up the whole story, he made an unauthorized disclosure of FISA-derived classified information in violation of the Espionage Act—exactly what he criticized others for doing.
Nunes' folly epitomizes the ongoing collapse of the Trump administration's efforts to defend itself from the ongoing FBI investigation of possible collusion between Trump's entourage and Russian government officials during the 2016 presidential campaign.
After Nunes sabotaged the strategy of House Republicans to investigate the leaks, not the accumulating evidence, Trump was reduced to demanding that Congress investigate Hillary Clinton's ties to a Russian uranium deal, which are not the subject of an FBI investigation.
That didn't work either. When former Acting Attorney General Sally Yates indicated her desire to testify on Tuesday to the Intelligence Committee about how former NSC adviser Michael Flynn dissembled on his pre-inauguration meetings with Russian officials, Nunes abruptly canceled the previously scheduled hearing.
Nunes has disqualified himself as the leader of the Intelligence Committee's investigation, said ranking minority member Rep. Adam Schiff. On Monday night, he called on Nunes to "recuse himself from any further involvement in the Russia investigation" and all "oversight matters pertaining to any incidental collection of the Trump transition."
Nunes dismissed Schiff's call and House Speaker Paul Ryan said Nunes would continue as chairman, though it's hard to see why the Republicans would want him to.
Nunes implicated himself in a possible violation of the law, destroyed the Republicans' preferred line of defense, and implicitly admitted that the administration has no rebuttal to Yates' testimony.
As Colin Kahl, former national security adviser to Vice President Joe Biden, said on Twitter on Monday, "There are a lot of things we still don't know about Trump-Russia ties. But there are actually a lot of things we DO know."
Kahl listed 36 points of fact, none of which Nunes seems prepared to respond to, much less rebut.
In the understatement of the week, thePost's Aaron Blake said "Nunes isn't very good at this."