Trump's Newest Self-Enrichment Scheme? 'Writing' A Book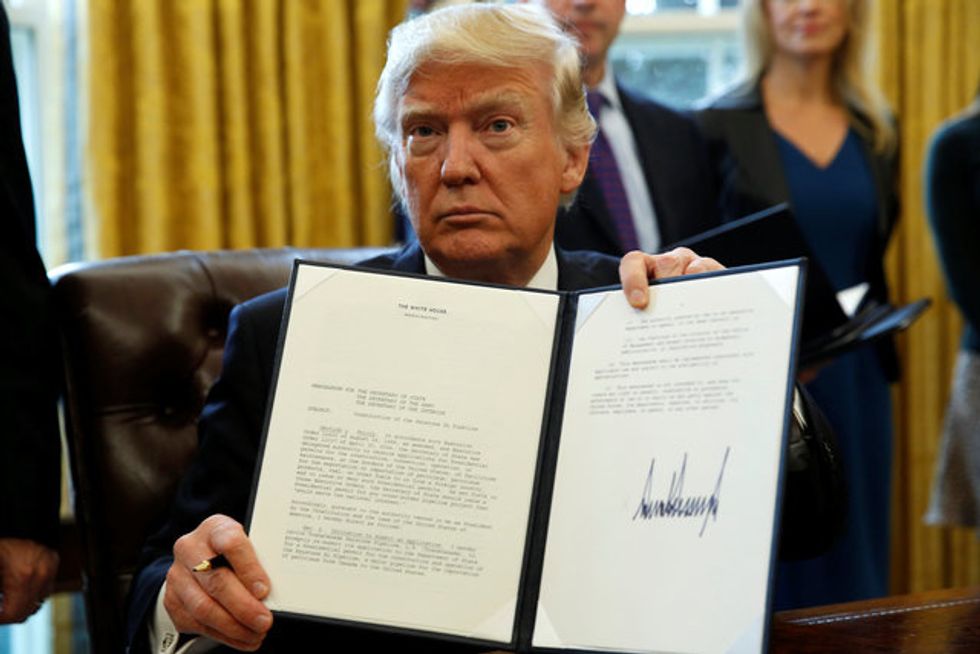 Trump is reportedly planning to "write" a memoir of his time in the White House, in yet another craven attempt to profit from his presidency.
The Daily Beast reports that Trump has been going on and on to his underlings about the project. One source told the outlet that Trump has said, "that'll go great in a book," at least once to refer to something that just happened in a social situation — which tells you a lot about where Trump's priorities are while he holds America's top leadership position.
That source also said that a Trump memoir would be used to chronicle his unpopular presidency, "dish dirt," and complain about the media.
In other words, it would be a book-length version of Trump's Twitter diatribes — and it probably wouldn't even be written by Trump. Trump has published numerous books, but they are usually written by a ghostwriter or co-written with someone more competent than Trump.
It would also be yet another way for Trump to make a quick buck from his time in the White House.
"I do think he'd be able to get his supporters to buy it as merchandise," a source within the publishing industry told the Daily Beast.
Trump has often used presidential events to double as fundraisers for his reelection campaign. He has used official speeches to model campaign hats that are for sale. He has even used a presidential initiative, the so-called "space force," to move product by slapping a logo on shirts and hats to be sold through his campaign.
Trump has also used the presidential spotlight to highlight his various properties and golf courses, which are then sell memberships and hold events — often charging more than normal, because buyers know that they're also buying access to the president. Trump hasn't divested from his holdings in these entities, so the profits go in his pocket.
But while Trump might be able to use a book to milk his supporters for more cash, the Daily Beast also notes that a Trump book — unlike past bestsellers from Presidents Bill Clinton and Barack Obama, along with First Ladies Hillary Clinton and Michelle Obama — would likely face a cold reception from most Americans.
Trump's past books show no serious literary aspirations, and there is scant evidence that he has ever read a book in its entirety.
Trump is a con man, and his supporters are his marks. Any "book" he writes about his unpopular presidency will be just another money-making scheme.