U.S. Conservatives: 'We Lost' But Debt-Ceiling Fight Worth It
@AFP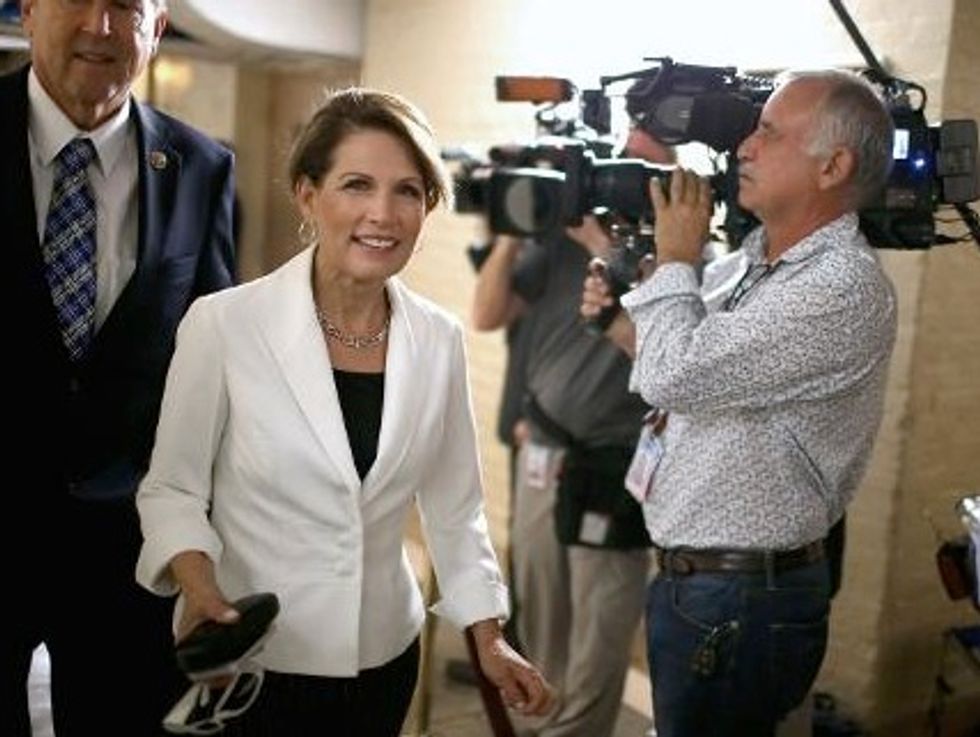 Washington (AFP) – Adrift but unbowed, dyed-in-the-wool conservatives are sifting through the ashes of their Republican Party's capitulation, insisting their failed fight over Obamacare was worth flirting with U.S. economic disaster.
The Thursday morning after their legislative defeat promises a political hangover for many Tea Party-backed Republicans in the House of Representatives.
Their strategy of standing against President Barack Obama's landmark health care law during a fiscal crisis yielded little except a two-week government shutdown, a near default on U.S. debt, tanking poll numbers and an internal battle that has alienated moderates and set the direction of the party itself into question.
"We lost today," Republican congressman Mick Mulvaney acknowledged as he strode through the basement of the U.S. Capitol, where weakened Speaker John Boehner had convened his caucus to break the news that Wednesday's deal to avert default would only minimally nick "Obamacare."
But "if folks think we're done fighting about spending, debts, deficit, Obamacare, religious liberties (and) equal protection, they're wrong."
He wasn't the only undaunted Republican.
"We fought the right fight," it was "absolutely worth it," proclaimed congresswoman Michele Bachmann, who launched the House's Tea Party caucus in 2010.
Bachmann and others link their crusade against Obamacare to a demand for dramatically reduced federal spending, saying the monstrous U.S. debt — currently at $16.7 trillion and counting — will only drag down the nation's economy.
And by giving in on the debt-ceiling fight, some argued it will be tougher for hardliners to press their case in future budget battles, including one expected to consume Washington later this year when Democrats will want to remove automatic spending cuts favored by many Republicans.
"Because we capitulated on this one, we blinked… I think we have less credibility going into the next" fiscal fights, said congressman Thomas Massie.
The Tea Party-backed freshman has flouted economists to insist that the U.S. Treasury would be able to avoid default for significant time even if it could no longer borrow new money.
"Americans want somebody to stand up to the establishment here, and that's what we did," Massie said.
The movement's current flag-bearer, Senator Ted Cruz — another freshman — has become the poster child of congressional intransigence, incurring wrath for helping send the government careening into shutdown.
But he insisted Wednesday the fight he and House conservatives have waged was a "remarkable victory" and "a profile in courage."
Some fellow Republicans warned against such characterizations.
"First of all we should block out Ted Cruz," Republican congressman Peter King told reporters when asked the path forward for the party.
King has repeatedly stressed that Republicans could be cast into the political wilderness after the shutdown and default threat debacles, which polls show are being largely blamed on conservatives.
"We're alive, that's the important thing, (but) it certainly wasn't a win," King said of the fight.
Tim Huelskamp, one of the most conservative House members, said the crisis showed it pays to confront the Washington establishment.
"We did lose the battle, but if you go outside the Beltway… we are winning the war," if only in red states, Huelskamp offered.
"Finally someone is pushing back against an administration that has had excesses for five years…. So there's a value in actually fighting back."
Many among the group which critics have derisively called the "debt default deniers" liken the latest failed showdown to a sports match where losing players gain key experience.
"Sometimes when you lose, you win for next time," said Republican congressman Matt Salmon, who left Congress in 2000 only to win another term 12 years later.
"You learn your opponent's weaknesses, you learn somewhat about your strengths, and you learn how to capitalize on all those things."
But if that means employing the same tactics in three months' time, when Congress must negotiate a broad budget deal or go through another circus simply to keep government open another 90 days, moderate Republicans may well revolt.
"Where we are today just demonstrates that this was not a smart thing to do in terms of a strategy… and it's time to move on," Senator Kelly Ayotte said, bristling when asked what lessons Tea Party conservatives could learn from the last two weeks.
"If they're saying that the defunding issue is going to come up in three months again, then they've learned nothing from this," she fumed.
But Salmon said this month's fiscal stand would be worthy of a repeat.
"I have no regrets of fighting the fight," he said.
"It's not over. This is Round 1."
AFP Photo/Chip Somodevilla