U.S. Envoy: Crimea Crisis Solution Needs To Address Russian Concerns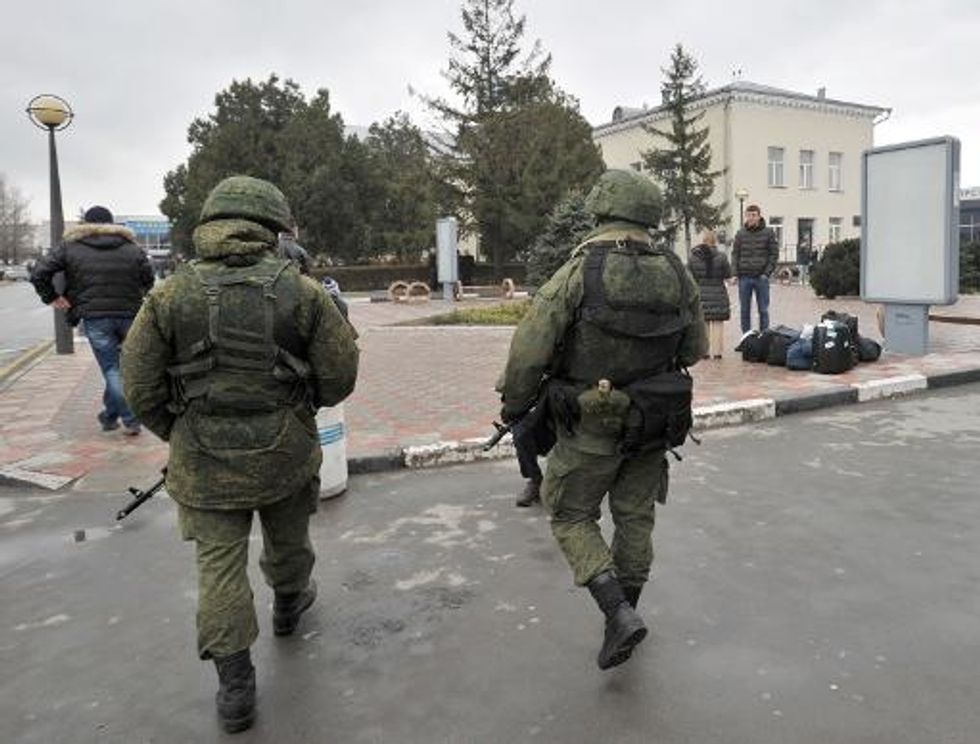 By Henry Chu, Los Angeles Times
KIEV, Ukraine — The United States continues to rule out military action to eject Russian troops from Crimea and acknowledges that a diplomatic settlement needs to address Moscow's interests in the strategically important peninsula, the U.S. ambassador to Ukraine said Monday.
"Crimea is and should remain a part of Ukraine. Discussion over," said Geoffrey R. Pyatt, the top American diplomat in Kiev, the Ukrainian capital.
But the Obama administration, which has slapped limited sanctions on Russia for its incursion into Crimea, remains committed to finding "an off-ramp" for Moscow that would take into account its "legitimate interests in Crimea in a way that's in conformance with international law and respects Ukraine's sovereignty and territorial integrity," Pyatt told reporters at a news conference.
Pyatt added that Ukrainian officials have recently indicated a willingness to consider greater autonomy for Crimea, where a majority of residents are ethnic Russians or Russian-speakers and where a semi-autonomous parliament has been established.
Although Russian President Vladimir Putin denies sending in troops to take over the peninsula, saying that local pro-Russian forces have independently seized control of state and military installations, he has said he feels compelled to act to protect beleaguered Russians there from what he describes as a new, ultra-nationalist government in Kiev.
No independent observers have confirmed any instances of persecution of Russians in Crimea since Moscow's ally in Kiev, former President Viktor Yanukovich, fled the capital last month after prolonged protests against his government. Western nations have dismissed Putin's claim as a trumped-up pretext for Russia to invade its neighbor.
A referendum in Crimea, backed by Russian guns, has been called for March 16 to decide whether the region should secede from Ukraine and join Russia.
In a sign of how seriously the U.S. takes the crisis, President Barack Obama has invited acting Ukrainian Prime Minister Arseny Yatsenyuk to Washington this week for a meeting at the White House.
Pyatt said the two leaders would discuss how to move forward regarding the Crimean referendum and how to stabilize Ukraine's flailing economy. The Ukrainian government is near bankruptcy and desperately needs an infusion of cash to pay its bills.
Pyatt accused pro-Russian forces of trying to stir up public dissension and tension in Ukraine, and of trying to provoke Ukrainian troops in Crimea into retaliating violently.
He said he admired the troops' forbearance and also the orderliness and mutual tolerance shown by activist groups that remain encamped in Kiev's central Independence Square even after having ousted the former government. The groups say they are staying put in order to keep pressure on Ukraine's new government to rule transparently.
"As someone who grew up in Southern California and lived through the Rodney King riots, I have great respect for the moral authority that the Ukrainian people demonstrated," Pyatt said.
AFP Photo/Genya Savilov