U.S. Envoy In Central Africa In Bid To End Brutal Violence
@AFP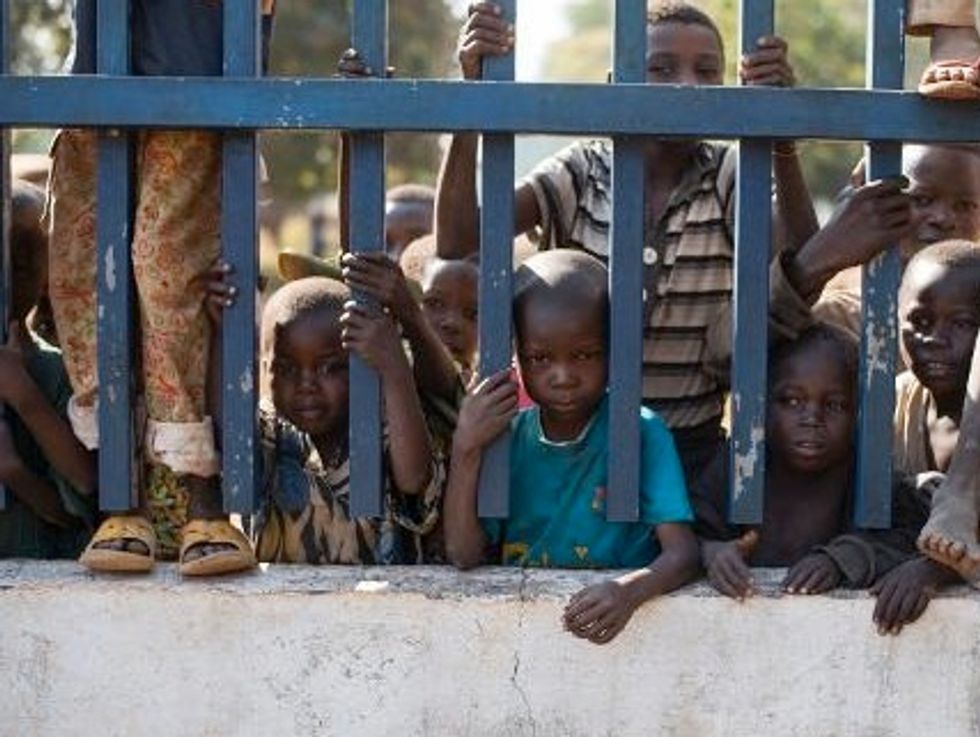 Bangui (Central African Republic) (AFP) – The U.S. envoy to the United Nations flew into Central African Republic Thursday on a surprise visit to urge its leaders to help end brutal violence, warning the people were "in profound danger".
Samantha Power is the highest-level U.S. official to visit the CAR, which has plunged into anarchy with inter-religious violence that has killed hundreds of people.
Power, who before joining the U.S. administration was a journalist and vocal human rights activist, said American leaders were "deeply disturbed" by the brutality which has forced some 400,000 people to flee their homes.
"The people in Central African Republic are in profound danger, and we all have a responsibility which we must meet to help them move away from the abyss," she told reporters on Wednesday.
The country spiralled into chaos after a March coup in which the mainly Muslim Seleka rebel group overthrew president Francois Bozize.
Rebel leader Michel Djotodia was installed as the first Muslim leader of the majority Christian nation and disbanded the Seleka, but many rebels went rogue, spreading terror which government forces could not stop.
Months of brutal massacres, rapes and looting have followed, with locals forming Christian vigilante groups in response to the atrocities. Top U.S. officials have already warned the CAR is in a "pre-genocidal" phase.
Amnesty International reported Thursday that 1,000 people were killed in Bangui two weeks ago by ex-Seleka rebels in a two-day spasm of violence after Christian militias went door-to-door and killed about 60 Muslims.
During her eight-hour stay accompanied by Assistant Secretary of State for Africa, Linda Thomas-Greenfield, Power was to meet Djotodia as well as Muslim and Christian religious leaders.
"All of those actors in CAR who have influence must use it, and use their voices to try to help ease the fears… and restore calm," she said.
'Urgent action needed'
She was to urge the leaders to back a U.N.-mandated African stabilisation force known as MISCA as it disarms militias and to "explore every avenue to ensure proper and full implementation" of a roadmap towards elections in 2015.

"It's obvious urgent action is required to save lives," Power said, adding the situation was "desperate, and both extremely dynamic and volatile."
Power was speaking on a conference call from Abuja, where she stopped for talks with Nigerian President Goodluck Jonathan, with part of the meeting focusing on how Nigeria can help a French-African Union force deploying in CAR.
In 2002, Power wrote a Pulitzer Prize-winning book, "A Problem from Hell: America and The Age of Genocide," lambasting U.S. governments for failing miserably in their response to genocides such as Rwanda.
"This world has been witness to great atrocities before and each situation has its own unique aspects. Direct comparisons with other crises, past crises, are inevitably flawed," Power said.
"But it is worth noting that Somalia taught us what can happen in a failed state, and Rwanda showed us what can occur in a deeply divided one."
Arriving just as the African Union was formally to take command of MISCA, Power stressed however that "the responsibility to protect the people of CAR begins with the transitional leadership."
"The authorities and the opinion leaders have to make difficult choices to help stop the violence, bring their people together, begin a process of reconciliation," she said.
The leaders have to "begin to heal the wounds and rebuild this country which has been shattered by violence and fear".
The United States has already pledged some $100 million (73 million euros) to support MISCA, which is due to swell to about 6,000 troops.
A senior U.S. administration official voiced concerns about Djotodia, saying he did not "have a grip on the situation outside of Bangui".
"He himself has said he only controls his troops, he does not control those who are not under his command and we have seen him make some moves that have us concerned," such as putting 5,000 rebels into the security forces.
The U.S. has also been working with local radio stations to try to calm tensions by asking them to broadcast messages from both Muslim and Christian leaders, as well a special message from President Barack Obama this month.
"Hate radio played a deadly role in Rwanda two decades ago, and it is our hope that in CAR we create the opposite model, a model of radio fostering calm, countering false rumours, and building understanding," the official added.
AFP Photo/Fred Dufour