Victims Of Trump Policies Will Attend His Big Speech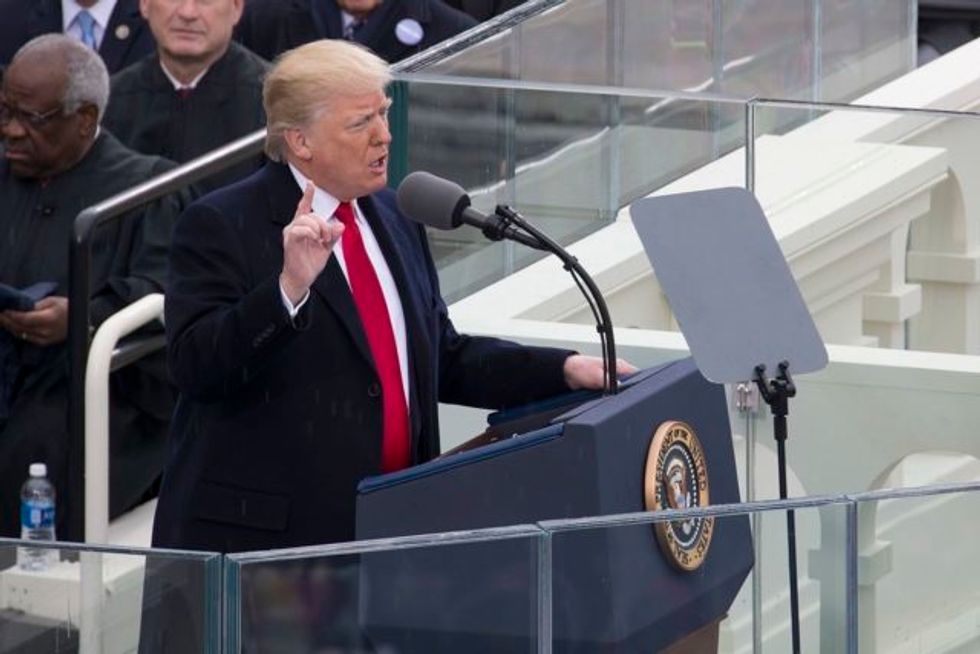 Reprinted with permission from Shareblue.
Trump has been waiting for weeks to deliver his State of the Union address. A creature of television, both as a rabid viewer and performer, appearing before such a large global audience thrills him more than doing the real work of leading the nation.
But the guests who will be attending the event after being invited by congressional Democrats are set to ruin Trump's big night.
Real people hurt by his administration's worst actions will stare him down in front of millions of viewers from around the world, and their collective attendance will only make his historically unpopular presidency seem even smaller in stature, humanity, and decency.
Community organizer Ana Maria Archila, who memorably confronted Sen. Jeff Flake (R-AZ) on an elevator over the Supreme Court nomination of Brett Kavanaugh has been invited to the speech by Rep. Alexandria Ocasio-Cortez (D-NY).
"You're telling me that my assault doesn't matter, that what happened to me doesn't matter, and that you're going to let people who do these things into power," Archila said, demanding the Republican senator look her in the eye.
Doing Trump's bidding, Flake voted for the nominee despite the credible allegations of sexual assault against him. Trump, who is a sexual predator, hailed the nomination and considers the installation of Kavanaugh onto the court as one his major achievements.
Sandra Diaz, an undocumented immigrant from Costa Rica who worked as a housekeeper at Trump National Golf Club in Bedminster, New Jersey, will be in attendance. Diaz was invited by Rep. Jimmy Gomez (D-CA).
"She is living proof that President Trump couldn't be more wrong —both morally and factually — when he demonizes those who come to America seeking a better life," said Gomez in a press release. Attacking immigrants has been one of the core elements of Trump's political identity for years. He has done so to pander to racists within the Republican Party's base of voters.
Sen. Chris Murphy (D-CT) has invited Regina Moller, who heads Noank Community Support Services, as his guest. Moller's organization has helped provide services for the children affected by Trump's racist immigration policies like child separation, and also gave support to families affected by the unnecessary government shutdown.
Cameron Kasky, one of the students who survived the mass shooting at Stoneman Douglas High in Parkland, Florida, will attend the speech after being invited by Rep. Eric Swalwell (D-CA).
Kasky is one of the co-founders of the gun violence prevention group Never Again MSD and helped to organize the massive March for Our Lives nationwide protest.
Trump is a stooge of the gun extremists at the NRA who repeatedly attacked the Stoneman Douglas students for trying to protect their fellow Americans. Despite multiple mass shootings on his watch, including the tragically historic casualties in Las Vegas, Trump has remained steadfast in opposing gun legislation.
Navy Lt. Cmdr. Blake Dremann is the first openly transgender servicemember to be promoted in the history of the U.S. military and will be the guest of Sen. Kirsten Gillibrand (D-NY).
Service members like Dremann "make our armed forces and our country stronger," Gillibrand said.
Trump is trying to exclude people like Dremann from the military, ignoring the extraordinary sacrifice and commitment that transgender Americans have been willing to take to defend the country.
Trisha Pesiri-Dybvik, an air traffic controller from California, lost her home in the wildfires there — and was also furloughed during the Trump shutdown. She will attend the speech with Sen. Kamala Harris (D-CA).
"As my family and I have begun to rebuild after losing our home in the Thomas Fire, the hardship we faced during the government shutdown — and the looming uncertainty of another potential shutdown — have added a further layer of stress to our already challenging situation," Pesiri-Dybyik said in a release.
Trump has pushed absurd conspiracy theories about the fire, blaming them on environmentalists, while his administration has refused to acknowledge the role climate change plays in causing the devastating disasters.
Trump's hate and ignorance do not occur in a vacuum. Everything he does in the presidency reflects on his cynical outlook on the world and has a real human cost.
On his big night, during the big speech he's been waiting forever to give, Trump will be stared down by those he caused to suffering. The millions watching will see them and make the easy connection between his presidency and absolute failure.
Published with permission of The American Independent.