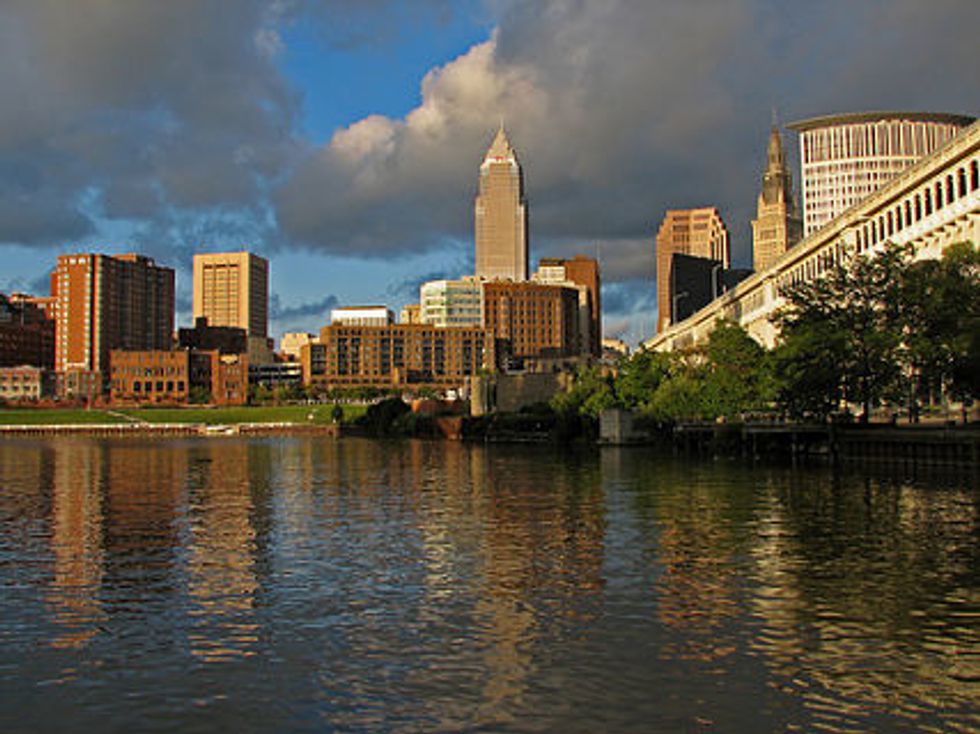 For those who love Cleveland — and there are so many of us who do — the rampant speculation of what comes next is beginning to take its toll.
We are in a constant state of limbo, waiting for so many things.
We are waiting for the verdict in the trial of police Officer Michael Brelo, who is charged with two counts of voluntary manslaughter in the Nov. 29, 2012, deaths of Timothy Russell, 43, and Malissa Williams, 30.
That was the night when 62 police cars chased these two unarmed people across town. Their lives ended in a barrage of 137 bullets fired by 13 officers. At the end of the high-speed chase, Brelo stood on the hood of their car, which was trapped between two police cars, and fired 15 rounds into them.
The nonjury trial has ended. Now we wait for the judge's verdict and the public's response.
We are also waiting for the city of Cleveland and the Department of Justice to finish negotiating the consent decree ordered last December and designed to rein in a long pattern of excessive force by police.
We are waiting to find out whether Cleveland police Officer Timothy Loehmann will be indicted for killing 12-year-old Tamir Rice last November.
We are waiting for the Cleveland police union leadership to stop making excuses for the worst of its members and to acknowledge publicly the racism in its ranks, which many members have been willing to talk about only off the record.
And, perhaps most urgently, we are waiting to see whether Cleveland can live up to our recent hype as a city in the throes of rebirth.
Even the city's bravest faces — politicians, civic and religious leaders, community activists — mask souls cloaked in uncertainty.
We simply don't know what happens next.
We are aware of the inevitable comparisons to the roiling turmoil in Baltimore and in Ferguson, Missouri.
We are also aware of the many missteps by a city administration too often tone-deaf to the needs of its residents. In March, the mayor apologized for language in a legal brief that cast Rice as responsible for his own death. Late last month, there was the brief and ridiculous Twitter campaign launched by the director of the Cleveland Community Relations Board, Blaine Griffin.
One of his tweets: "Have heart! Don't hide in the shadows! Should #ourcle be burned down? Speak up."
Followed by this: "Should Cleveland be burned down like #bmore #ferguson #hough #central?"
Outrage was swift. Both the tweets and the Twitter account disappeared, but not soon enough to spare us from a robust round of national ridicule. Last we checked, Baltimore, Ferguson and the Cleveland neighborhoods of Hough and Central are still standing. But thanks for the suggestion, said no sane person anywhere.
Now, as we wait for the Brelo verdict, city officials are reaching out to parents and community leaders. Cleveland Metropolitan School District CEO Eric S. Gordon sent out a tag-team letter with Mayor Frank Jackson to parents and caregivers.
On one side, Gordon tried to assure everyone that crucial conversations designed to protect children are taking place in Cleveland's classrooms.
"An essential part of our social and emotional learning curriculum … is the lessons we provide to help students confront their feelings rather than to act out in anger," Gordon wrote.
His list includes:
Good manners.
Understanding and respect for others.
Open expression of one's feelings.
Sound decision making.
Self-control and the ability to calm down when angry.
One can easily imagine parents reading that list of skills and wondering whether it's also been introduced to members of Cleveland's police department.
On the opposite side of Gordon's letter, Jackson wrote that the city is "focused on how best to create a sense of safety, trust and confidence in our community, while empowering our police to enforce the law and maintain order."
Pastors in Cleveland are vowing to open their churches in the hours after the Brelo verdict. Some have promised to be on the streets that day.
"To accommodate any person who wants to talk, any person that wants to have dialogue," the Rev. Theresa Sutton told WKSU-FM, "we'll have stations set up there so that you can write your requests. I'd do anything that you need to do to keep you from doing what is wrong. What we want people to do today is the right thing, and the right thing is peace, a nonviolent situation."
This is the Cleveland I know. We are a city anchored in good intentions but churning with uncertainty. If enough of us — only if enough of us — step up, we could really be headed in the right direction, the one that helps us outrun a legacy of decline.
The question isn't whether Cleveland is the next Ferguson or Baltimore.
What we're about to find out is whether Cleveland is ready to be Cleveland.
Connie Schultz is a Pulitzer Prize-winning columnist and an essayist for Parade magazine. She is the author of two books, including ...and His Lovely Wife, which chronicled the successful race of her husband, Sherrod Brown, for the U.S. Senate. To find out more about Connie Schultz (con.schultz@yahoo.com) and read her past columns, please visit the Creators Syndicate Web page at www.creators.com. 
Photo by ifmuth/Flickr