Walker Exit From 2016 Presidential Race Scatters His Supporters
@reuters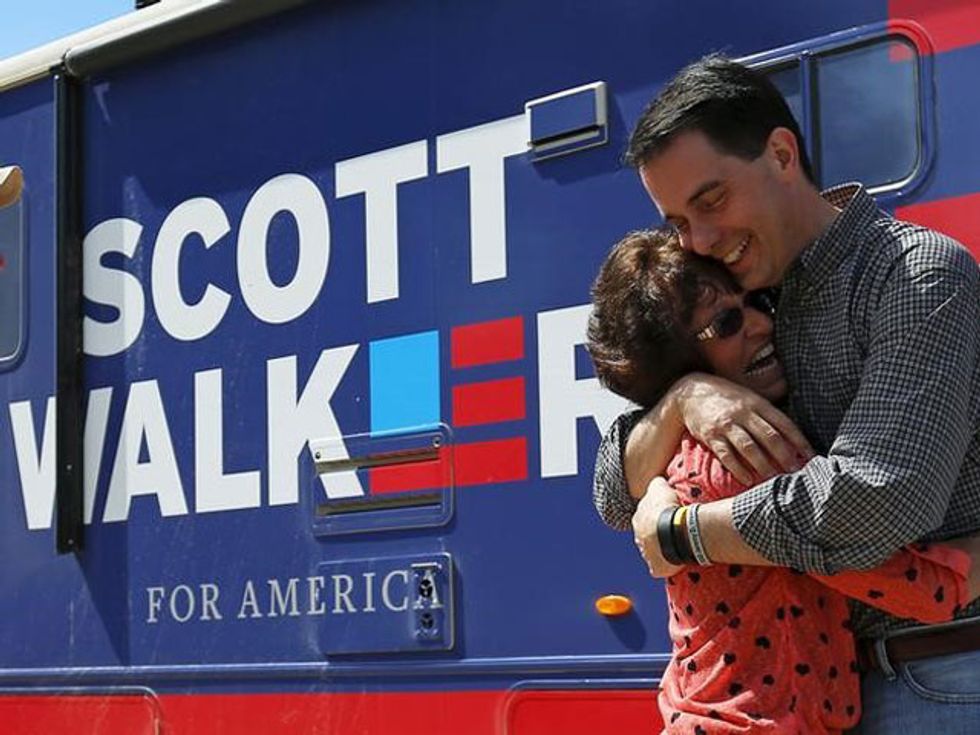 By Steve Holland, Alana Wise and Jonathan Allen
WASHINGTON/NEW YORK (Reuters) — When Republican Scott Walker suddenly quit the 2016 presidential race he called on the party to rally around a strong conservative candidate who could win the election.
There is little unity, however, among his supporters on who to back now, reflecting the dilemma many Republicans face in choosing among 15 candidates. Walker on Monday called on some of his fellow contenders to follow his lead to make it easier for voters to settle on an electable Republican nominee.  
Interviews on Tuesday with two dozen people who told Reuters/Ipsos pollsters they had backed the Wisconsin governor in the past showed they are far from settling on another candidate.
Of the group, seven said they were leaning toward retired neurosurgeon Ben Carson, four liked real estate mogul Donald Trump, four leaned toward former Hewlett-Packard CEO Carly Fiorina, two liked Florida Senator Marco Rubio and the rest were undecided. Many of their choices appeared to be driven by the candidates' personalities rather than their positions.
The support for Trump was somewhat ironic given that Walker had singled him out for failing to bring a "positive, conservative" message to the race.
"Myself, I'm leaning toward Trump and my wife says she is leaning toward Rubio," said Jim Clark, 79, a Walker supporter from New Berlin, Illinois. "Trump tells it like it is. He reminds me of (former Democratic President) Harry Truman."
Beverly Fenton, 80, of Sumter, South Carolina, said she liked Walker at first but eventually found him wanting. She was not alone. The latest polls showed that Walker had less than 1 percent support, a dramatic slide from when he announced his campaign in July.
"I like Dr. Ben Carson because he's sincere and he's not full of bombast," said Alan Rowley, 73, of West Wendover, Nevada. "And I like Carly Fiorina because I think she's really, really smart and I think she could take the challenge to (Democrat) Hillary Clinton."
Walker appealed to a mix of Christian conservatives and center-right establishment Republicans who admired his record of taking on public unions in Wisconsin and winning elections three times. He attempted to establish himself as a true-blue conservative with Midwestern blue-collar appeal.   
But he wilted on the national stage, struggling to demonstrate he had firm grasp of major policy issues, doing poorly in two televised debates and giving shifting answers to questions about illegal immigration.
DONORS UP FOR GRABS
Walker's exit left his network of donors up for grabs. Former Florida Governor Jeb Bush, Texas Senator Ted Cruz, Florida Senator Rubio and other candidates were making direct calls to some Walker donors asking for their support.
Chart Westcott, a Texas biotech investor who donated $200,000 to Walker's fund-raising Super PAC, Unintimidated, said he was already fielding calls from other campaigns.
Several candidates have already caught Westcott's attention.
He said Cruz has a reformer's instinct and has shown leadership, while Fiorina showed "she is definitely a leader" in the last Republican debate. He called Rubio, who promotes himself as a Cuban-American raised in a humble family, inspiring.
Jonathan Burkan, a Walker fundraiser who is a financial services executive in New York, said he had not yet made up his mind who to support now.
"We have great people in the field and I'm going to take time to see who I'm going to support and I think a lot of Walker people feel the same way," he said.
Many Walker supporters had begun to cool toward Walker before his announcement on Monday.
"I was interested in his candidacy at the very beginning, but I kind of drifted away over the past two months," said John Lancaster, 50, of Fort Gratiot, Michigan. "His performance at the debate was somewhat poor."
Most of the Walker supporters interviewed suggested they would look outside the party's establishment for their next candidate.
Mark Schleicher, 57, of St. Louis, Missouri, said he is taking a hard look at Fiorina but is far from decided.
"I like her approach. She has solutions that are not necessarily political. She has ideas that transcend the political rhetoric," he said.
(Reporting By Steve Holland, editing by Ross Colvin)
U.S. Republican presidential candidate Scott Walker hugs his childhood babysitter Janice Dietz at a campaign stop in Plainfield, Iowa, United States, July 19, 2015. REUTERS/Jim Young