What Really Happened To Chavis Carter?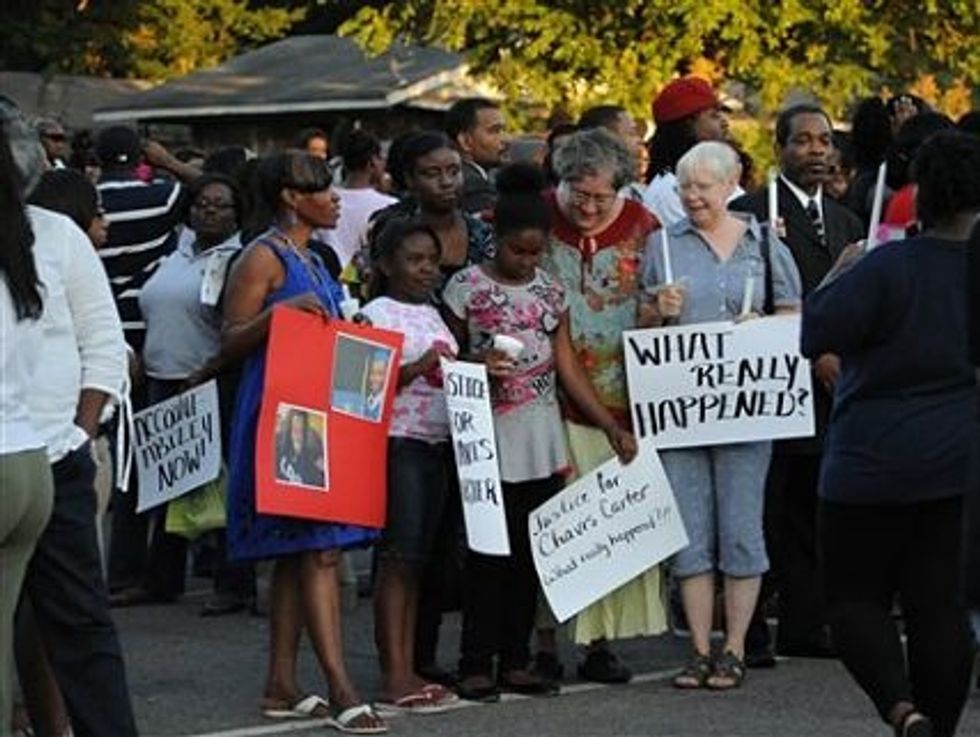 Any time a suspect dies in police custody, there's sure to be trouble. As, indeed, there should be. The mysterious death of Chavis Carter, 21, of a gunshot wound to the temple inside a locked patrol car in Jonesboro, AR was certain to attract outsized scrutiny from the news media.
Even without the ever-combustible racial angle—black victim, white cops—the Sherlock Holmes aspect of the tragedy naturally aroused interest. Very briefly, Carter and two white kids in a pickup truck with Missouri plates struck local residents as suspicious, cruising around with no headlights at 9:50 p.m. on a Sunday night.
Jonesboro officers responding to a 911 call confirmed the identities of two of the three young men by running their driver's licenses. The identity of the third, who had no ID but called himself Larayan Bowman, could not be verified. The others claimed they'd met him only that night.
After finding a small amount of marijuana in "Bowman's" pockets, officers placed him unrestrained in the back seat of a patrol car. After he admitted his real name, they determined that there was a bench warrant for Chavis Chacobie Carter's arrest on a parole violation out of DeSoto County, MS.
According to the Memphis Commercial-Appeal, Carter had failed to comply with the terms of a drug-diversion plan after pleading to a single count of selling marijuana—hardly a one-man crime wave.
According to their written report, officers took Carter out of the patrol car, placed him under arrest, searched him, handcuffed his hands behind his back, and then locked him inside with the vehicle's windows tightly closed. Several witnesses observed it all. An aunt of Carter's arrived at the scene, presumably summoned by cell phone. Informed of the charges, she drove off.
As the officers walked toward the second patrol car to interview the other suspects, the report says, "I saw a vehicle driving north on Haltom and then heard a loud thump with a metallic sound. I thought the vehicle had ran over a piece of metal on the roadway." They subsequently gave Carter's two friends a warning, and allowed them to drive away.
Only after returning to his unit did one officer smell gun smoke, and find Chavis Carter "in a sitting position slumped forward with his head in his lap. There was a large amount of blood on the front of his shirt, pants and floor. His hands were still cuffed behind his back."
As Carter was still breathing, officers called EMS, which transported the grievously wounded man to a hospital where he died that night.
A subsequent search of the patrol car found a .380 caliber Cobra pistol—a cheaply-made, semi-automatic weapon recently reported stolen in town.
Admirably responsive to the news media—local reporters say they had a full report from the Jonesboro PD on their desks first thing Monday morning—police chief Michael Yates hasn't necessarily helped himself by describing the tragedy as "bizarre" and saying it "defies logic at first glance."
Because at second glance, the Sherlock Holmes aspect of Carter's death strikes me as not so mystifying at all. Analysis of text messages on his cell phone appear to indicate that Carter had carried a gun earlier that night. It's common for suspects to ditch contraband in the backs of patrol cars; not uncommon for cheap semi-automatic handguns to discharge accidentally. As tempting a storyline as it makes to suggest otherwise, any reasonably agile young man can do all kinds of seemingly improbable things wearing handcuffs.
Despite the incredulity of journalists like New York Times columnist Charles Blow regarding Carter's alleged "suicide," the term Jonesboro cops have used is "self-inflicted gunshot wound"—not the same thing. Preliminary investigations aided by dashboard cameras, audio recordings and witness statements indicate that neither officer went anywhere near Carter subsequent to his being placed in the patrol car. That's not to hold them blameless. A proper search should have found the gun.
The department has invited the FBI to conduct a separate probe. At minimum, a painstaking investigation is required to maintain—or, if necessary, to restore—public confidence in the integrity of law enforcement.
Contrary to insinuations in the national media, this isn't 1935, and Jonesboro—a pleasant college town of roughly 70,000 whose previous big police scandal was a state trooper letting a (black) football player slide on a pot bust—is hardly the kind of place where a racial atrocity would be covered up. If nothing else, it would be terrible for football recruiting.
"We are not here to hurl accusations," said Rev. Adrian Rogers of Jonesboro's Fullness of Joy Church at a rally in Carter's memory. "We don't know what happened. We are not here to hurl conspiracy theories. We are here to pray."
Amen to that. The last thing this country needs is yet another racially inflammatory media spectacle.
(AP Photo/The Jonesboro Sun, Krystin McClellan)