When Leaders Do Justice, America Should Celebrate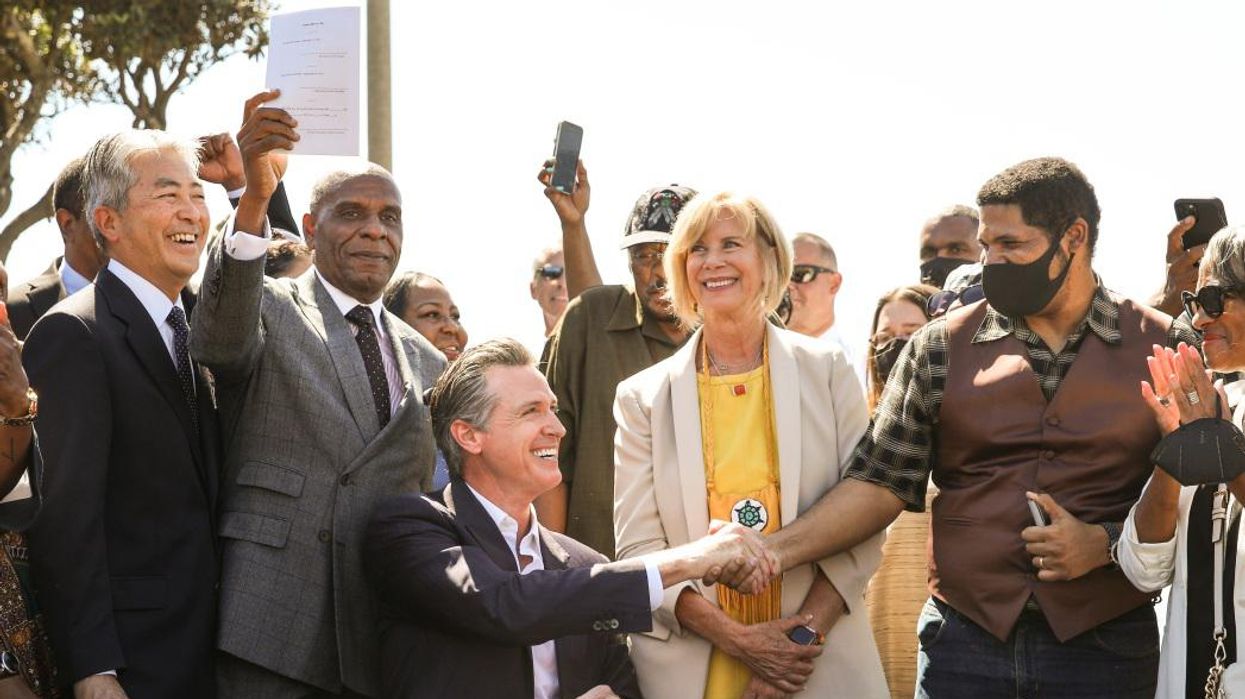 Reprinted with permission from RollCall
It was an example of leadership and justice. California Gov. Gavin Newsom, fresh off surviving a recall vote, was not laying low but standing in front of cameras, signing a bill that would return prime property in Manhattan Beach — known as Bruce's Beach — to descendants of the Black couple who had been run off the land they owned close to a century ago.
---
It turns out the very white Manhattan Beach was not always that way; the transformation was not by coincidence, but by design.
"As governor of California, let me do what apparently Manhattan Beach is unwilling to do: I want to apologize to the Bruce family," said Newsom, as reported in the Los Angeles Times. He then handed the signing pen to Anthony Bruce, whose great-great-grandparents, Willa and Charles Bruce, had once turned the lovely stretch along the water into a needed getaway for African Americans, complete with lodge, cafe and dance hall.
Newsom wasn't standing alone, literally or otherwise. Behind stood activists with organizations such as Where Is My Land, co-founded by Kavon Ward and Ashanti Martin, who have worked hard and know that the meaning of the word "reparations," so feared in some circles, is merely "the making of amends for a wrong one has done."
As for true justice, returning the property in what will be a complicated arrangement can't turn back the clock, can't rebuild the wealth stolen here and across the country from Native Americans, Black, brown and Asian Americans, for generations. It's land and wealth that could have changed the trajectory of the lives of folks like George Floyd. Yes, Where Is My Land has found similar stories for countless families, including Floyd's.
There's no getting compensation for that, or for the dreams and lives broken, in the case of Bruce's Beach, because of resentful, racist neighbors, terrorist acts of intimidation, and complicit government officials willing to subvert the law. The Bruces were paid $14,000 for land now worth north of $17 million.
It's a common, sad and infuriating American tale.
So, not true justice and way too late, but progress nonetheless, and maybe a guide for other communities struggling to make things right — but only if they are willing, and have true leaders. Similar actions probably won't have the same overwhelming support the California Legislature gave the bill that made this transfer possible. The grumblings that were a whisper in Manhattan Beach — "Is this really fair after all this time?" — would be shouts in parts of the country that make it their business to erase the past (with exceptions for Confederate monuments that perpetuate myths and lies). In fact, there is an entire movement whose mission is to pass laws to prevent children from learning actual history if it adds context to inequities so glaringly on display.
But even with caveats, this long-time-coming moment in Manhattan Beach was cause for celebration.
In Short Supply
You're certainly not seeing many examples of this kind of leadership — or justice — coming out of Washington.
That wasn't always the case. Pushed by the likes of John Lewis and others, whose blood brought public pressure to a fight President Lyndon B. Johnson did not think he had the power to win, the Voting Rights Act of 1965 was passed, fulfilling principles long stated in the Constitution.
Now, legislation to bring strong roads and bridges, reasonably priced medical coverage and child care, and basics such as clean water is in limbo. The chance to come to an agreement on federal criminal justice is fading altogether. Polling on popular support for the infrastructure and reconciliation bills differs when you separate out social programs and add in concerns about debt. And the will to reform policing policies is also complicated by concerns about violence.
But decisions on what to do next seem driven less on what would be most effective for struggling Americans and more on the political hay that can be made and framed into attack ads. The only thing you can bet on is that credit for any promises fulfilled will be claimed by politicians across any party divide, as happened when benefits from the American Rescue Plan were touted by many who voted against it.
President Joe Biden went on a road trip to Michigan this week to raise public awareness and support for his "Build Back Better" agenda. Many Americans who can recite the plan's cost over 10 years need to know how it would affect their lives, he said. I'm sure wavering Democratic representatives and senators would agree. Democrats are talking compromise, on the size of the package and how the money would be spent.
Whose Leaders?
One thing you can say for Senate Minority Leader Mitch McConnell is that he directs his own caucus with precision and an iron fist. No compromise for the Kentucky Republican. He's got the strong leadership down pat. It's the justice that's in short supply.
More than a trillion dollars in tax cuts and a Supreme Court seat denied when a Democratic president was in the White House and another rushed when a Republican president was on his way out worked out just fine, for McConnell and his party. Now, inaction that can be used as a cudgel in upcoming elections is too tempting to resist for McConnell and the GOP, even if it threatens to blow up the economy. To be fair, for some conservative true believers, FDR's New Deal was socialist overreach.
When it comes to South Carolina Republican Sen. Tim Scott, he's learned McConnell's lessons well. After professing good faith in negotiations for criminal justice reform with Sen. Cory Booker (D-NJ)., and Rep. Karen Bass (D-CA)., Scott walked away, despite compromise from Democrats and support for the proposed agreement from the Fraternal Order of Police and the International Association of Chiefs of Police.
If you can yell, "Defunding the Police," at the top of your lungs on the campaign trail, why provide Americans with communities where officers do their jobs while treating all citizens equally.
Resolving these debates is not simple, but leadership does matter, something Americans can contemplate when making Election Day choices. Just try to imagine conservative radio host and firebrand Larry Elder, the front-runner in the failed California recall to replace Newsom, presiding over that satisfying beachfront scene of justice, finally fulfilled.
Mary C. Curtis has worked at The New York Times, The Baltimore Sun, The Charlotte Observer, as national correspondent for Politics Daily, and is a senior facilitator with The OpEd Project. Follow her on Twitter @mcurtisnc3.