White House Working On Plan To Expand Immigrant Rights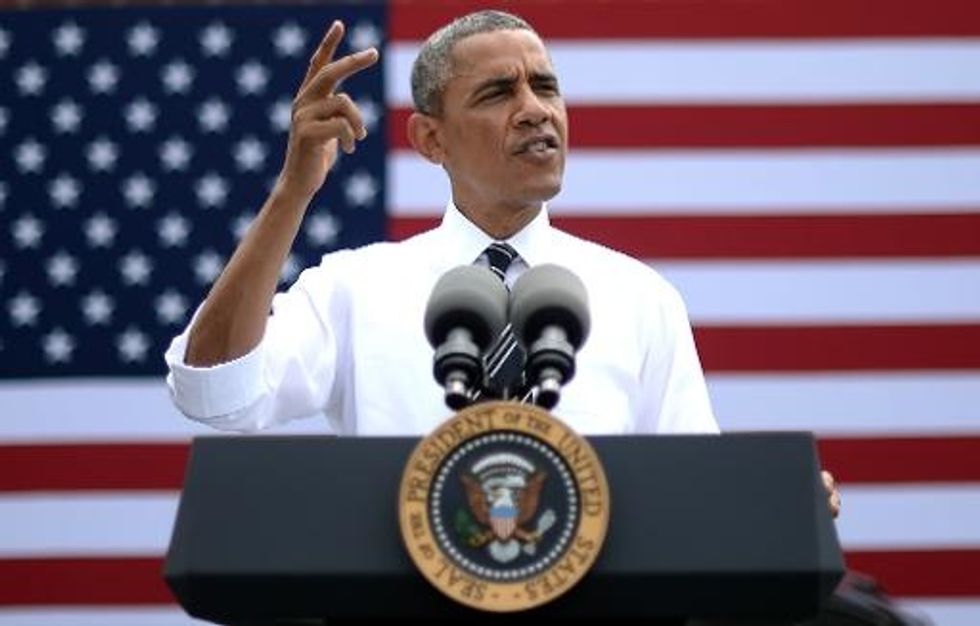 By Christi Parsons, Brian Bennett and Lisa Mascaro, Tribune Washington Bureau

WASHINGTON — Even as President Barack Obama grapples with the crisis of immigrant children arriving at the Southwest border, White House officials are laying the groundwork for a large-scale expansion of immigrant rights that would come by executive action within weeks.
Officials signaled strongly Friday that Obama's move would shield from deportation large numbers of immigrants living in the country illegally, as advocacy groups have demanded.
Roughly 5 million of the estimated 11 million people who entered the country without legal authorization or overstayed their visas could be protected under a leading option the White House is considering, according to officials who discussed the proposals on condition of anonymity.
Obama said last month that because Congress had failed to act on comprehensive immigration reform, he would take executive action to "fix as much of our immigration system as I can on my own."
That move will come by the end of the summer, White House senior adviser Dan Pfeiffer told reporters Friday. Some officials had advocated waiting until after the November midterm election.
Any such move would prompt a major clash with congressional Republicans, and at least some White House officials appeared to relish the prospect that the GOP might overreach in its response and act in a politically self-destructive manner.
When the decision is announced, it will "increase the angry reactions from Republicans," Pfeiffer said.
"I would not discount the possibility" that Republicans would seek to impeach Obama over his next immigration moves, he said, adding that House Speaker John A. Boehner (R-OH) had "opened the door to impeachment" by his plans to sue Obama for allegedly exceeding his executive authority.
Pfeiffer made his comments at a breakfast for reporters sponsored by the Christian Science Monitor.
Boehner repeatedly has ruled out calls for impeachment proceedings, and his lawsuit against Obama has been widely seen as an effort to provide an alternative for Republicans infuriated by what they see as too much unilateral action by the president.
But the open references to impeachment at the White House on Friday suggest that administration officials are trying to shape the political battleground in advance — portraying Republicans as obstructionist before launching a broad-sweeping executive action on a front where conservative sensitivities are particularly keen: immigration policy.
The White House is entertaining a range of possibilities that would speed up deportations in some cases but forestall them in many others.
Obama could use his executive powers to expedite deportations in response to the current border crisis, in an effort to clear the large numbers of unaccompanied minors gathering daily in the Rio Grande Valley in south Texas.
At the same time, he seems likely to act to prevent deportations of many of the immigrants already living, working and raising children in the U.S.
One option would allow immigrants who are parents of U.S. citizens to apply for temporary legal status which would let them work legally in the U.S. Because children born in the country automatically receive U.S. citizenship, that option could affect about 5 million people, researchers estimate.
A second option would be to allow temporary legal status for the parents of young people already granted deportation deferrals by the Obama administration. That would affect a smaller, but still sizable, number of people.
So far, more than 520,000 people have received permits to stay and work in the U.S. under the administration's Deferred Action for Childhood Arrivals program, which was created in 2012 for young people who were brought to the U.S. as children.
Leading Republicans, including Senator Ted Cruz of Texas, already have called for ending the deferred action program, and any move to expand it by including parents would be certain to draw a furious response from conservatives.
Wary of the president's potential course of action, Republicans were both irritated by Pfeiffer's threat and critical of what they saw as an effort to stir up Democratic voters and financial donors.
The campaign arm of the House Democratic leadership began a fundraising drive featuring Pfeiffer's impeachment forecast within hours of his making it.
"We have a humanitarian crisis at our border, and the White House is making matters worse with inattention and mixed signals," said Boehner's spokesman, Michael Steel.
"It is telling, and sad, that a senior White House official is focused on political games, rather than helping these kids and securing the border," he said.
As his aides worked on the longer-term immigration plan, Obama on Friday met at the White House with the presidents of Honduras, El Salvador and Guatemala, hoping to enlist their help in stemming the flow of young migrants.
An estimated 57,000 unaccompanied minors, mostly from Central America, have crossed into the U.S. from Mexico since last October.
Obama told the presidents that children who don't have "proper claims" to admission to the U.S. will have to go back home.
Aides said the leaders also agreed on the need to address poverty and violence in Central America.
"The American people and my administration have great compassion for these children," Obama told reporters, with the other presidents at his side. "But I also emphasized to my friends that we have to deter a continuing influx of children putting themselves at risk."
How to do that — and how to pay for it — continued to stymie Congress.
Republicans, who balked at the administration's request for $3.7 billion to increase the number of deportation courts, bolster border security and care for the children who have arrived, proposed a scaled-back plan Friday for less than $1 billion. Senate Democrats have proposed $2.7 billion. Neither is expected to win support from both chambers.
With Congress only a few days from its long August break, money is running out to care for the youths and process their immigration cases.
Border Patrol agents have been working overtime, and Customs and Border Protection has racked up large bills to provide food and transportation to handle the influx.
If Congress doesn't approve more spending, agency officials will have to divert money from programs that speed up cross-border trade and cargo, Customs and Border Protection chief Gil Kerlikowske said in a C-SPAN interview.
Money, though, is only part of the problem.
House Republicans have insisted on amending a 2008 law that guarantees hearings before unaccompanied children can be returned to their home countries. Senate Democrats mostly oppose that idea.
The White House has sent mixed messages, initially saying Congress should change the law, then backing down after opposition from Senate Democrats. White House officials now say Congress should approve the additional funds first.
Republicans have also been split on immigration, with many conservatives arguing that Congress should not act because the administration cannot be trusted to enforce the immigration laws.
But a majority of GOP lawmakers appeared prepared to break ranks with the conservatives and move ahead for a vote next week.
"The vast majority of our members want to solve this and do it in a targeted way that actually addresses the problem," Rep. Steve Scalise (R-LA), the incoming GOP whip, said after a closed session Friday of House Republicans.
Under the House Republican proposal, Congress would reimburse states for deploying National Guard troops, as Republican Gov. Rick Perry of Texas has done, and speed up processing of the children's immigration claims. The House proposal would also allow law enforcement personnel to operate on public lands beyond what is now allowed, a long-standing issue in some border states.
"If we do nothing, the president is going to blame us for doing nothing," said Rep. Marlin Stutzman (R-IN). "We have to step up and show we're going to do this in an orderly, lawful, compassionate way."
AFP Photo/Jewel Samad