Why Misery Is Being Weaponized In War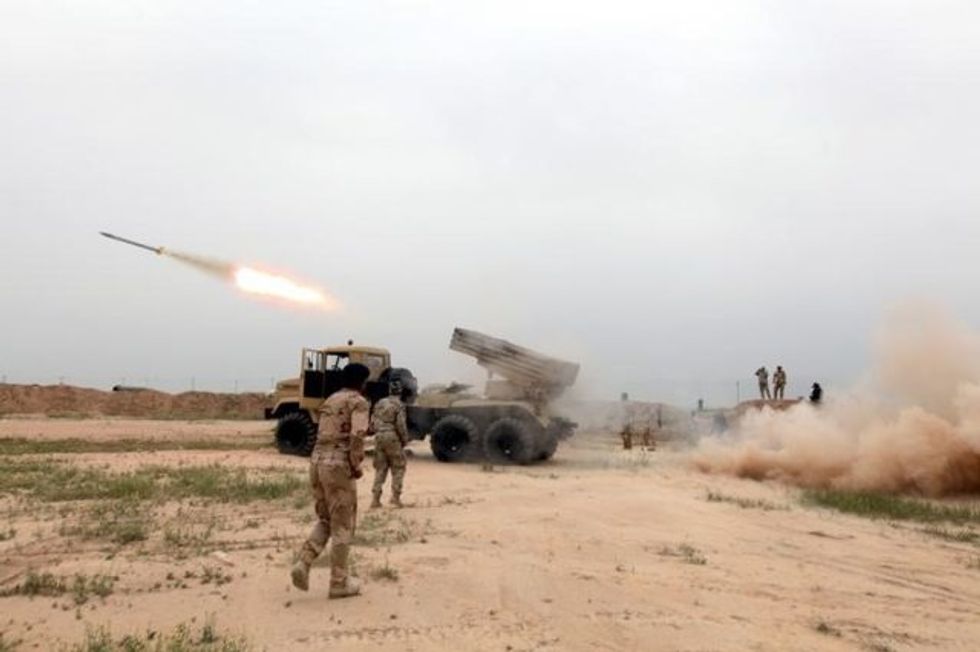 Reprinted with permission from The Globe And Mail.
In the film Sicario, in which murderous drug cartels ravage communities along the U.S.-Mexico border, there is a sobering moment when a black-ops agent working for the United States explains the barbarism that terrorizes people.
"You will not survive here," he tells an FBI agent, devastated by the savagery she has seen. "You are not a wolf. And this is a land of wolves now."
Millions of people, caught in conflicts the world over, are finding that line applies to where they live, too. Misery as a strategy is spreading, with devastating consequences.
Government forces and armed groups compete for power by targeting civilians, inflicting starvation upon men, women and children, and destroying infrastructure even at the cost of unleashing deadly diseases. This is a prime reason 68 million refugees are fleeing their homelands, the largest human exodus since the Second World War.
Consider one example, on the edge of the Arabian Peninsula. Last week, the Saudi-led coalition killed at least 29 children in Yemen in an airstrike against the country's rebel Houthis. Eight million citizens – think of the entire populations of Boston and Rome – are now on the verge of starvation as a result. This isn't a natural disaster, caused by drought. It is but one instance of the weaponization of misery.
Since mid-June, United Arab Emirates forces have laid siege to Hodeida, a Red Sea port held by the Houthis and the country's main gateway for food, fuel and a lifeline for its central and northern regions. Many civilians in Hodeida are hungry, thirsty and sick. A quarter of the city's children are acutely malnourished; for residents of all ages, potable water is scarce. Some 162,000 residents are believed to have contracted cholera since April, 2017.
What's happening in Hodeida is the Yemen war in microcosm. Cholera is a national threat: In 2017, the country witnessed the worst outbreak in modern history, with over one million suspected cases. More than two million people are displaced, the vast majority internally. There would certainly be a Yemeni refugee crisis – such as those of South Sudan or Syria, both of which have seen millions flee the country – if Yemenis could escape. Most cannot.
Since March, 2015, when Saudi Arabia and the UAE entered the war to oust the Houthis and reinstall the internationally recognized Yemeni president in the capital, Yemen has been under blockade and much of it under intense bombardment. The Saudis and their allies loosen the cordon slightly, and temporarily, whenever the catastrophe is prominent in the news. Still, some 22 million people, in a country of 29 million, urgently need humanitarian aid.
Such siege warfare is meant to starve and exhaust the enemy. The Saudi-led coalition wants to squeeze the Houthis into submission. But its tactics – chiefly, a blockade but also the bombing of cities and villages, or school buses – cause systematic and fatal harm to civilians in its enemy's territory.
The Saudis and Emiratis, with a nod from the United States and other Western governments, blame the Houthis. They have a point. The Houthis have interfered with aid delivery and killed civilians. But the Saudi-led coalition is by far the strongest combatant and its Western allies are the most influential powers involved. Together, they are the ones that can now do the most to end the horrors befalling Yemeni civilians.
If Hodeida is a microcosm of Yemen, then Yemen, in turn, is a microcosm of an increasingly prevalent mode of warfare that uses misery as a strategy.
Examples include mass displacement and ethnic cleansing in Myanmar and the atrocities perpetrated by both sides of South Sudan's civil war. In Syria, Bashar al-Assad's regime purposely shells and barrel-bombs civilians – even those in hospitals – to compel rebels to surrender. It has also used chemical weapons to terrorize the population. The Assad regime is open about its intentions. It sows misery to further its military and political ends.
Are today's conflict actors more willing to countenance civilian suffering than in recent decades? It's hard to measure, but certainly seems so. The explanation may lie in the sheer brutality of the wars, as in Syria or South Sudan, or the complexity of proxy conflicts involving states with contradictory war aims and no real connection to the people whose homes sit on the battleground, as in Yemen. It may lie in the poor example set by world powers claiming to safeguard international norms. Or it may simply be a consequence of global disorder itself.
Whatever the reason, the glaring failure of warring parties to protect civilians is a major driver of the global refugee crisis. Millions are displaced relatively close to home, where, with fighting raging around them, they often remain in mortal danger – from willful war crimes and malign neglect. Famine increasingly haunts war zones – because combat destroys crops, combatants deny succor to the hungry and war ruins livelihoods, leaving many civilians too poor to buy what food may be available.
Preventing and resolving these manmade emergencies ought to be among today's foremost moral imperatives. Unless governments and ordinary citizens are prepared to take action against those who use misery as a military strategy, the 68 million men, women and children now fleeing for their lives will surely grow in numbers.
And, as in Sicario, the wolves will rule the land.
Frank Giustra is a global philanthropist and trustee of International Crisis Group.
Robert Malley is the President and CEO of International Crisis Group and was President Obama's White House Coordinator for the Middle East, North Africa and Gulf Region.