Why Obsess Over Billionaires' Opinion Of Elizabeth Warren?
@EricBoehlert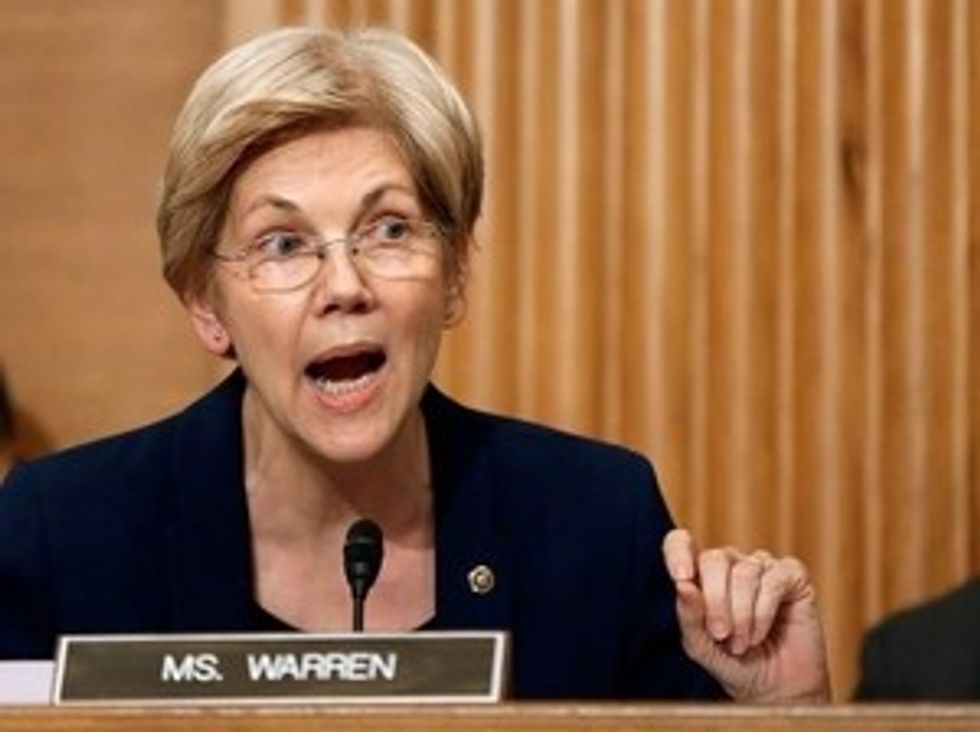 Reprinted with permission from Daily Kos.
It turns out the media's obsession with the superrich isn't confined to the world of celebrity and entertainment. In politics, the press also seems utterly fascinated with how the 0.1 percent live, and especially what their political leanings are. For the 2020 campaign, that means a barrage of coverage about what Wall Street bankers and billionaires think about Elizabeth Warren and her populist agenda. They don't trust her! Some like her! Some won't donate! On and on it goes, as the press scurries to document the opinions of the superwealthy, but there's no explanation for why they're supposed to matter so much.
"From corporate boardrooms to breakfast meetings, investor conferences to charity galas, Ms. Warren's rise in the Democratic primary polls is rattling bankers, investors and their affluent clients, who see in the Massachusetts senator a formidable opponent who could damage not only their industry but their way of life," read a typical passage from The New York Times recently, as the press continues to be deeply fascinated with what the financial community thinks of the Democratic nominee, and keeps treating financial opinions as important political news.
The headlines keep coming:
"As Warren Gains in Race, Wall Street Sounds the Alarm"
"Wall Street donors are so worried about Elizabeth Warren that they are snubbing Democrats in 2020 Senate races"
"In a Pick-Your-Poison Election, Wall Street Likes Warren Over Trump"
"Warren has a plan for Wall Street — and Wall Street isn't panicking"
"Elizabeth Warren is winning grudging respect among some on Wall Street"
"Warren Would Take Billionaires Down a Few Billion Pegs"
"The Wall Streeters who actually like Elizabeth Warren"
The never-ending emphasis sends a clear message that the votes and donations of Wall Street bankers and billionaires matter more than other people's. But they don't. It's reminiscent of the media's 2016 campaign obsession with coal miners, followed close by its obsession with those who have manufacturing jobs, which sent the obvious signal that white working-class male voters were the ones who counted the most.
It's clear that Warren's agenda, and her rise in the polls, have gotten the attention of Wall Street. She's running on a billionaire wealth tax to help pay for her $52 trillion Medicare for All plan. Her wealth tax proposal would also impose a 2 percent tax on net worth between $50 million and $1 billion. "Our democracy has been hijacked by the rich and the powerful," Warren often says on the campaign trail.
Buy why is the press so hypersensitive to Wall Street's take on Warren? Obviously, Democrats have never been the election darlings of Wall Street executives and billionaires, who traditionally vote Republican. So it's not as if it's a natural constituency for reporters to focus on during the Democratic primary. Yes, there is a portion of that financial audience that donates to Democrats, and most candidates want to keep receiving that money. But those donations pale in comparison to the small-donor, grassroots money that fuels most Democratic campaigns these days.
Yet again and again, journalists push the premise that it's a big problem that Wall Street isn't supporting a prominent Democrat this election. For instance, the Times recently interviewed "more than two dozen hedge-fund managers, private-equity and bank officials, analysts and lobbyists" to find out what they thought, and feared, about Warren's campaign. CNBC also checked in with "hedge fund managers and private equity executives" to chronicle their Warren complaints. And I'm just wondering: On paper, is it possible to find a coalition of voters less likely to support a Democrat than hedge-fund managers, private-equity and bank officials, analysts and lobbyists? I seriously doubt it. That's like doing a news report on how college history professors aren't supporting Trump in 2020. Yes, and … ?
The press focus reflects the media's worshipful culture of the superrich and its conviction that of course it matters if they don't like a Democrat, even though it doesn't really matter much at all. Billionaire Leon Cooperman made headlines when he posted a whiny open letter to Warren, castigating her policies and claiming she was beating up on the rich. But why does his opinion even constitute news? "The fact that each random billionaire's thoughts on Elizabeth Warren is a news story is itself a powerful demonstration of the disproportionate political influence of the very rich," Matthew Yglesias noted on Twitter.
The fact is that financiers are not an integral part of the Warren campaign. Through the first three quarters of the year, she raised just $215,000 from people in the securities and investment industry, according to the Center for Responsive Politics. And that's typical for Democrats who simply don't pull huge donation numbers from that industry. Through the third quarter, Pete Buttigieg had raised $935,000, trailed by Cory Booker who has raised $927,000 from the finance industry, Joe Biden ($889,000), and Kamala Harris ($765,000), according to figures from the center.
Warren's populist agenda has clearly sparked concerns from Wall Street financiers and billionaires. But the press shouldn't pretend that those voices matter more than those of everyday voters in the Democratic election season.
Eric Boehlert is a veteran progressive writer and media analyst, formerly with Media Matters and Salon. He is the author of Lapdogs: How the Press Rolled Over for Bush and Bloggers on the Bus. You can follow him on Twitter @EricBoehlert.
This post was written and reported through our Daily Kos freelance program.