With 'Bridge Of Spies,' Steven Spielberg Continues His Fascination With American History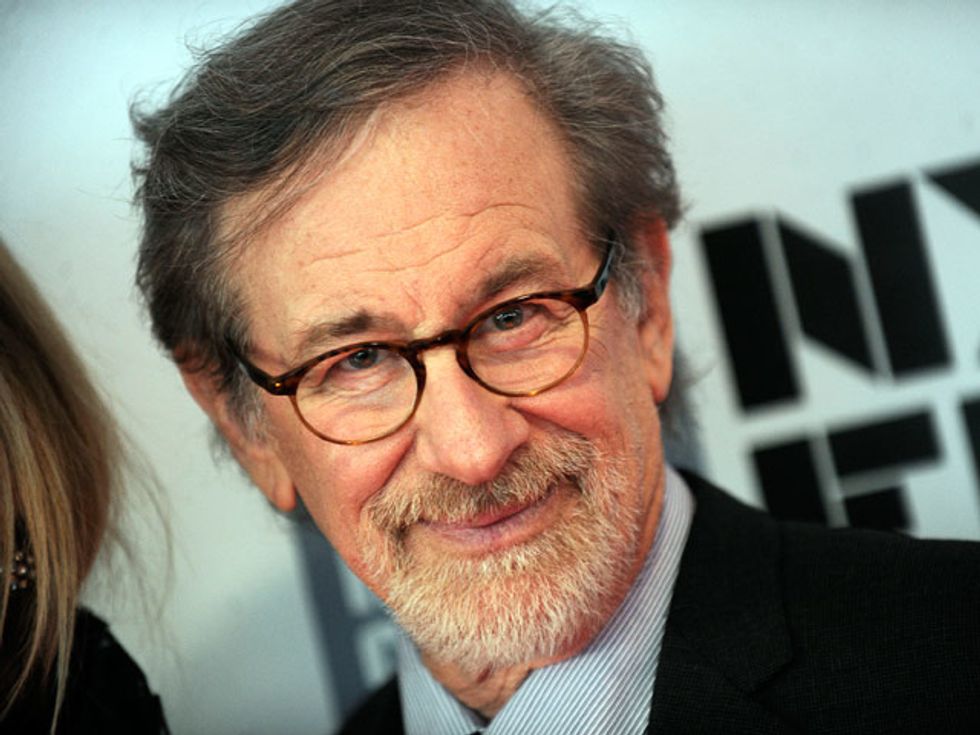 By Rene Rodriguez, Miami Herald (TNS)
We all had him pegged wrong. Turns out that what the director of E.T. the Extra-Terrestrial and Jurassic Park and Close Encounters of the Third Kind and Raiders of the Lost Ark really wanted to do when he grew up was to be a historian.
"While I was making all my big popcorn movies, I was always hoping that some day I could take a break from it," Steven Spielberg says. "I always wanted to tell the stories that really interested me in my personal life, which are stories about things that actually happened."
Bridge of Spies centers on the extraordinary but little-known true story of James B. Donovan (played by Tom Hanks), a Brooklyn insurance lawyer who was assigned to defend Soviet Union intelligence officer Rudolf Abel (Mark Rylance) against charges of espionage.
Donovan lost the case. But his plea to the judge to spare Abel's life paid off later, when Donovan was able to use him as a trading chip to negotiate the return of Air Force pilot Francis Gary Powers, whose U-2 plane had been shot down while flying through Soviet airspace.
There are other complications in the story (most of the second half of the 140-minute movie takes place in Germany). But Bridge of Spies folds neatly into Spielberg's body of work as another period drama recounting an episode in America's tumultuous history, this one a Cold War tale.
Spielberg says he came across the story almost by accident. He happened to be in the office at DreamWorks Studios the day Matt Charman, a British playwright and screenwriter, came to pitch a movie based on Donovan's story.
"It was a natural fit," says Bridge of Spies producer Kristie Macosko Krieger, who has worked alongside Spielberg for almost 20 years. "Steven didn't know that James B. Donovan was the one who had orchestrated the spy swap. He was like 'Is that real? Did that really happen?' He's exactly the same today as he was the day I met him. He's got a child-like sense of wonder. He never gets tired of hearing stories, of reading screenplays, of watching great films. It's in his DNA."
Spielberg, who turns 69 on Dec. 18, says he was intrigued by the project because the story resonated so deeply with his own childhood memories, growing up in Phoenix during the height of the Cold War.
Bridge of Spies is about the art of the conversation," he says. "In the Cold War, when words could be interpreted as lethal weapons, there was a great deal of danger in what was said and even more danger in the things that went unsaid. The saber that was always rattling was nuclear Armageddon. As a child of the 1960s — I call myself a Sputnik kid — I was very much aware of what the stakes were. In junior high, we were shown films about what to do if you saw a big white flash in the sky and how you had to duck and cover. This was part of my life: Watching Sputnik fly over my neighborhood at night, thinking it was a spy satellite that was listening to every word we were saying right through the roof of our house."
That sense of paranoia permeates Bridge of Spies, which depicts the stress felt by Donovan and his family as he persisted in trying to provide Abel with the best defense possible — even kicking his case all the way up to the Supreme Court — to the strong, sometimes violent disapproval of his fellow Americans.
Like Spielberg's 2012 film Lincoln, Bridge of Spies focuses on a man intent on doing what's right and upholding constitutional law, even when it defies the opinion of the public and the government. To play the street-smart but profoundly ethical Donovan, Spielberg thought of Hanks, who quickly signed on. To polish Charman's screenplay, Spielberg tapped brothers Joel and Ethan Coen, who had been angling to collaborate with him on a project.
"The Coens heard I was making a spy movie, and they had always wanted to make a spy movie, because they're in love with the genre," Spielberg says. "They asked if I needed any work done on the script. They did a rewrite and deepened the characters and the bizarre irony in a story that only could have happened in the real world, because it was too unbelievable to make up."
Bridge of Spies is the latest in a series of historical dramas – from Empire of the Sun to Schindler's List, Saving Private Ryan to Munich,Amistad to War Horse – that have come to occupy as much space in Spielberg's filmography as his genre movies. Yet the new film contains only two of the elaborate setpieces that are Spielberg's signature: The long opening sequence, in which we first meet Abel in his Brooklyn apartment and follow him on a mission (involving the famed "hollow nickel") while he's shadowed by a squad of plainclothes FBI agents, and a mid-film showstopper depicting Powers in his plane being shot down by a Soviet missile.
The rest of the movie compresses more than five years of real-world time into one year of movie time.
"I never wanted to present Bridge of Spies as a movie in which every single moment is true," Spielberg says. "In order to preserve a sense of drama and suspense and make a spy thriller, we invented things that never happened. But all the big nuts and bolts of the superstructure of the story did occur."
More importantly — and, for Spielberg fans, of particular interest — is that the film is, outside of those two setpieces, among the talkiest of all his pictures, second perhaps only to Lincoln. And yet that movie, which was essentially about the passing of an amendment, was so mesmerizing and compelling that it grossed almost $300 million worldwide and won two Oscars (it was nominated for 10 others).
Although the trailers made it looked as exciting as the Hall of Presidents attraction your parents dragged you to when you visited Disney World, Lincoln turned out to be a dynamic piece of cinema, as carefully constructed and shot as the arrival of the T. rex in Jurassic Park or the shark's final attack against the crew of the Orca in Jaws. The difference is that Lincoln offered words and ideas instead of stunts and monsters.
"My camera is a little more active in Bridge of Spies than it was in Lincoln," Spielberg says. "To me, when I'm shooting scenes that contain a lot of dialogue, camera movement is part of the storytelling. It's almost like subtitles for the audience: 'Pay a little closer attention from this moment until the end of the shot.'
"There's a scene in Lincoln in which he has his cabinet around the table and has to justify why he needs the 13th Amendment signed and why he needs them to back him on getting these votes. Most of Daniel (Day-Lewis)'s speech is done in one shot. There's only one cutaway. The camera starts very wide at the far end of the table and starts slowing moving in to the president. I didn't shoot that scene the way I might have normally done, which is to cover every single person in the room and get their reactions to what Lincoln what saying.
"I didn't think their reactions were as important. And what Lincoln was saying was so complex, I didn't want to cut away, because the second you cut away the audience tunes out. The more cuts I have in a movie, the more I'm imposing on the audience to tune out and then re-engage seconds later. I wanted to give the president the room. I wanted to give him that moment to express — not just to his own Cabinet but to movie theater audiences — why it was so essential that the 13th Amendment be passed into law."
The technique sounds simple. But in an era where movies are cut and paced at increasingly faster speeds to appease the shrinking attention spans of audiences, movies such as Lincoln and Bridge of Spies — commanding films about complicated chapters in history that take their time — stand out. Bridge of Spies is, in a way, a surprise from Spielberg, who might have been expected to end his three-year absence from filmmaking with a big, commercial entertainment.
Those are coming. Already finished and slated for release next year is The BFG, an adaptation of Roald Dahl's novel about a friendly giant, which marks Spielberg's first collaboration with screenwriter Melissa Mathison since E.T. The director is currently in pre-production on Ready Player One, due in late 2017, based on Ernest Cline's novel, a love-letter to 1980s pop culture (including Steven Spielberg movies) in the guise of a futuristic sci-fi thriller about a video game competition.
But for now there is Bridge of Spies, a skillful, thoughtful movie about moral quandaries, duty and obligation imbued by a spirit and tone that is retro and low-key. It is practically anachronistic as far as Hollywood studio pictures go, something Spielberg believes you'll be seeing a lot more of in the future.
"I try very, very hard not to repeat myself," he says. "The scariest thing I could do is start imitating my own style. I had never been in the spy genre before, even though this is a story about gentleman spies, not cloak-and-dagger spies with silencers and assassins. This is more about very smart people in conversation with each other, and the sword of Damocles hanging over their heads is that if they make the wrong decisions, it's the end of the world.
"And yes, it is a throwback in a way. I think we're always on the cusp of something new, and then we always like to return to something familiar. Technology has provided filmmakers with a chance to make movies more economically than ever before. Pretty much anybody who has a story to tell can tell it. There are distribution systems like YouTube and Snapchat that allow you to get your personality and humor out there. But then you have Jurassic World (which he executive-produced and has grossed $1.6 billion). I've been waiting 15 years to go back to Jurassic Park. But when I finally found a story I liked, it was all about returning to the spirit and tone of the first movie.
"So my feeling is Thomas Wolfe is right: In your own life, you can't go home again. But you sure can go home again as a filmmaker and a storyteller. I think you'll see that with the new 'Star Wars' and even with 'Ready Player One.' They will use all the technology of the digital world to bring us back to a different era of storytelling."
Photo: Steven Spielberg at the Premiere of 'Bridge of Spies' at the 53rd New York Film Festival on Oct. 4, 2015 in New York City. (Abaca Press/TNS)