Yet Another Battle For Vietnam Veterans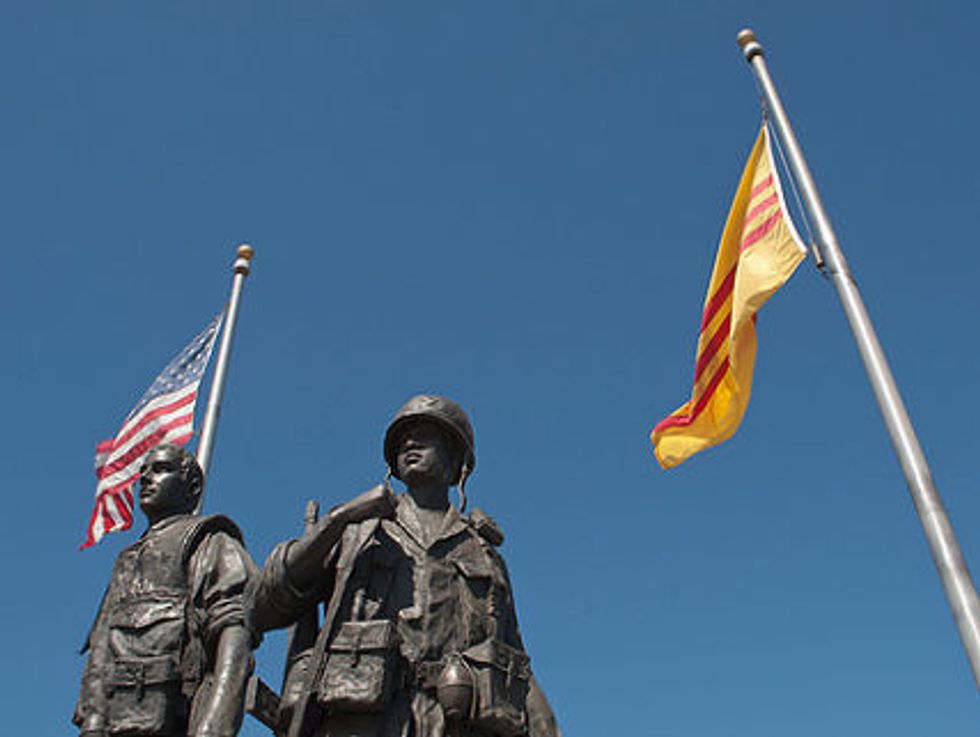 Rick Weidman can walk onto a stage and sense when he's facing a crowd of Americans who think they have no reason to care about Vietnam veterans.
Weidman has been advocating for his fellow veterans nearly all his adult life. He knows how to change the mood of a room.
He starts by asking people to stand.
Stand if you're a veteran, he says. He rattles off the wars and conflicts: Iraq and Afghanistan, Vietnam, Korea, World War II and everything in between.
He continues.
Stand if your mother or father served.
Stand if your kid served.
Stand if your aunt or uncle served.
Stand if your brother or your sister served.
By the time he's done with the list, usually more than 90 percent of the people in the room are on their feet.
Now, they're ready to talk about Vietnam.
"The key is this," he told me in a phone interview from his office in Washington. "You have to understand that the men and woman who serve our country are not 'them' and 'they.' They're 'us.'
"I tell people all the time, 'they are not separate from you and your life. They come out of your community, and they return to your community. It's a covenant between the American people and those who serve. We need to honor that sacred obligation.'"
Weidman is executive director for policy and government affairs for the Vietnam Veterans of America, which has just joined a class action lawsuit in Hartford against the armed forces.
Their argument: thousands of Vietnam veterans suffered from post-traumatic stress disorder before it was a recognized illness and were wrongfully discharged because of it.
Their demand: upgrade the veterans' discharges so that they qualify for benefits and the medical coverage they deserve.
Vietnam veteran John Shepherd Jr. filed the original lawsuit. His legal team is with the Yale Law School's Veterans Legal Services Clinic. (Full disclosure: My stepdaughter is a Yale law student who works for another clinic in the same organization, but she is not involved with this case.)
Weidman says he understands the government's resistance.
"They (the government) smell that this is only the first step," he said. "When we win this, and win it we will, we'll open the door to litigation for the veterans of Iraq and Afghanistan, too."
Weidman says that since the 9/11 terrorist attacks, nearly 37,000 members of the U.S. military have been given a "catch-all 'personality discharge."'
"We're seeing this all the time," he said. "A woman was raped and reported it. She had five promotions and two or three deployments, but they did a psychiatric exam after she was raped and decided that she had a personality disorder — and that it was a pre-existing condition.
"That's not defying logic," he said. "That's flat-out lying."
When you're a Vietnam veteran, it seems, some fights never end. Last year, photographer Nick Ut and I reported a series chronicling the long-term impact of Agent Orange in Vietnam and on our veterans here at home. It took years for our veterans to get medical coverage for illnesses related to Agent Orange exposure, and the men's children born with disabling illnesses are still ineligible for coverage.
I confessed to Weidman that, after the series ran, I was frustrated to find a mostly apathetic public. How, I asked, do you get Americans to care about veterans of a war that ended, badly, in 1975?
Weidman had graduated from college and turned down a deferment to serve as a medic in Vietnam. He is loyal to the bone, but he makes no attempt to romanticize his fellow veterans.
"Frankly, we're not warm and cuddly," he said. "We don't have very nice stories to tell. But we did our job pretty well under difficult circumstances and came home to a wall of silence."
He chuckled. "Remember Kojak?" he said, referring to the 1970s TV show. "Every time they needed a person on top of a roof with a gun, it was a Vietnam veteran. As if that explained everything."
Thanks to recent media coverage, and the devastating impact of the Iraq and Afghanistan wars, more Americans know about PTSD. That's good news, he said, but it's not great.
"I'll believe things have changed the day I see a headline that says, 'Man who lied to get out of the draft holds up liquor store.'"
He chuckled again, but neither of us were laughing.
Connie Schultz is a Pulitzer Prize-winning columnist and an essayist for Parade magazine. She is the author of two books, including …and His Lovely Wife, which chronicled the successful race of her husband, Sherrod Brown, for the U.S. Senate. To find out more about Connie Schultz (con.schultz@yahoo.com) and read her past columns, please visit the Creators Syndicate Web page at www.creators.com.
Photo of Westminster Vietnam Memorial by "InSapphoWeTrust" via Flickr.com