Acting ICE Chief Addresses Anti-Immigrant 'Hate Group'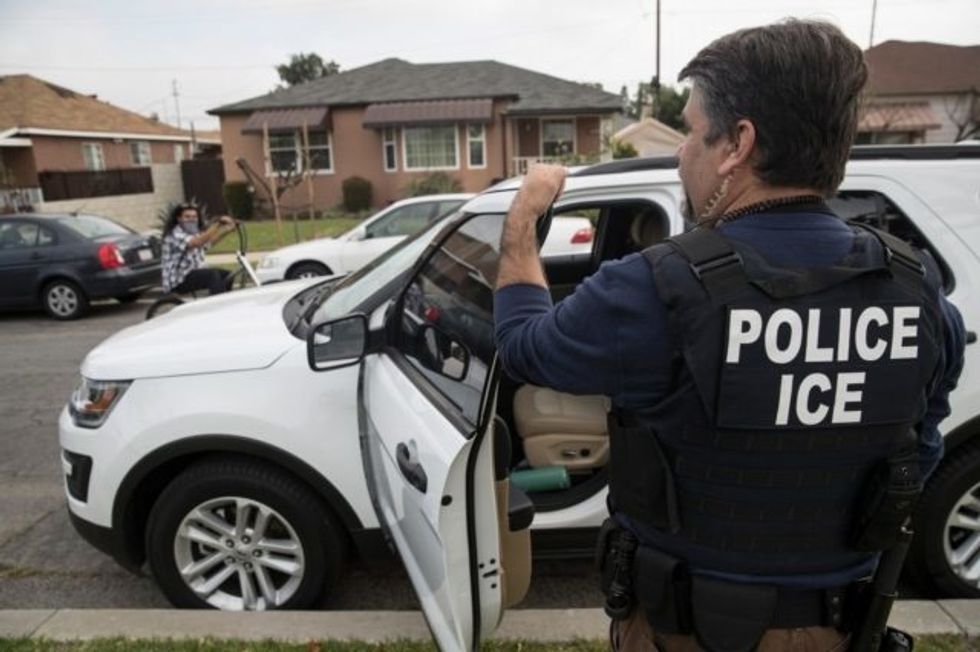 Reprinted with permission from Shareblue.
Trump has moved the Republican Party away from dog-whistle racism, preferring instead to be openly hostile toward immigrants and non-white people in general.
And Ronald Vitiello, the acting director of U.S. Immigration and Customs Enforcement (ICE), is following Trump's lead by attending an annual media event sponsored by an anti-immigrant hate group.
Vitiello attended the "Holding Their Feet to the Fire" media event hosted by FAIR, the Federation for American Immigration Reform, which the Southern Poverty Law Center (SPLC) has designated as an anti-immigrant hate group.
FAIR's leaders have ties to white supremacists, and their ads have been rejected in the past for being racist. According to SPLC, the FAIR media event that Vitiello attended "regularly brings together radio hosts, nativist hate groups and politicians."
And during an interview at the event, Vitiello shrugged off the Trump administration's unconscionable family separation policy — a policy so horrific, it has received worldwide condemnation and even drawn credible comparisons to what happened to families in Nazi Germany.
But according to Vitiello, none of that matters, because "only 2,500 people were affected by that situation."
One of those affected was an 18-month-old toddler named Mariee, whose mother brought her to seek asylum in America after fleeing violence in their home country of Guatemala. But Mariee was instead sent to a detention center, where she became ill — and died shortly after being released.
Children were detained in cages while euphemistically named "tender age" detention facilities were being created to hold children under the age of five. These baby jails sparked outrage as images of crying children flooded television screens during the summer.
The Trump administration was warned that its zero-tolerance policy would cause "significant risk of harm to children" — but continued anyway, knowing full well that their policy would force young children to be ripped from the arms of their parents.
Some parents even allege they were tricked into signing away their rights to ever see their children again.
But to the Trump administration, the fact that these are all immigrant parents and immigrant children seems to make their lives and families matter less.
Vitiello isn't alone; many other senior officials in the Trump administration also have ties to the anti-immigrant hate group.
According to SPLC:
Ian Smith, a former employee of IRLI [legal group affiliated with FAIR], resigned his position at the Department of Homeland Security after emails shared by The Atlantic appeared to tie him to white nationalists Richard Spencer and Jared Taylor. John Zadrozny, who worked for FAIR, is now at the State Department following his stint at the Domestic Policy Council. Julie Kirchner, who served as FAIR's executive director for 10 years, left the organization in 2015 to be an immigration adviser to the Trump campaign and is now the Citizenship and Immigration Services ombudsman. Robert Law, a senior policy adviser to U.S. Citizenship and Immigration Services (USCIS), previously worked as a lobby director for FAIR.
Vitiello's dismissal of the pain felt by thousands of families is sadly on par for the Trump administration, and for many Republicans in Congress.
"Vitiello's appearance at FAIR's gathering signals a growing alliance between the federal government and the anti-immigrant movement," SPLC states. "Furthermore, it underscores the already blurred lines between the anti-immigrant movement and federal government."
Published with permission of The American Independent.