Another Anti-Affordable Care Act Talking Point Destroyed By Facts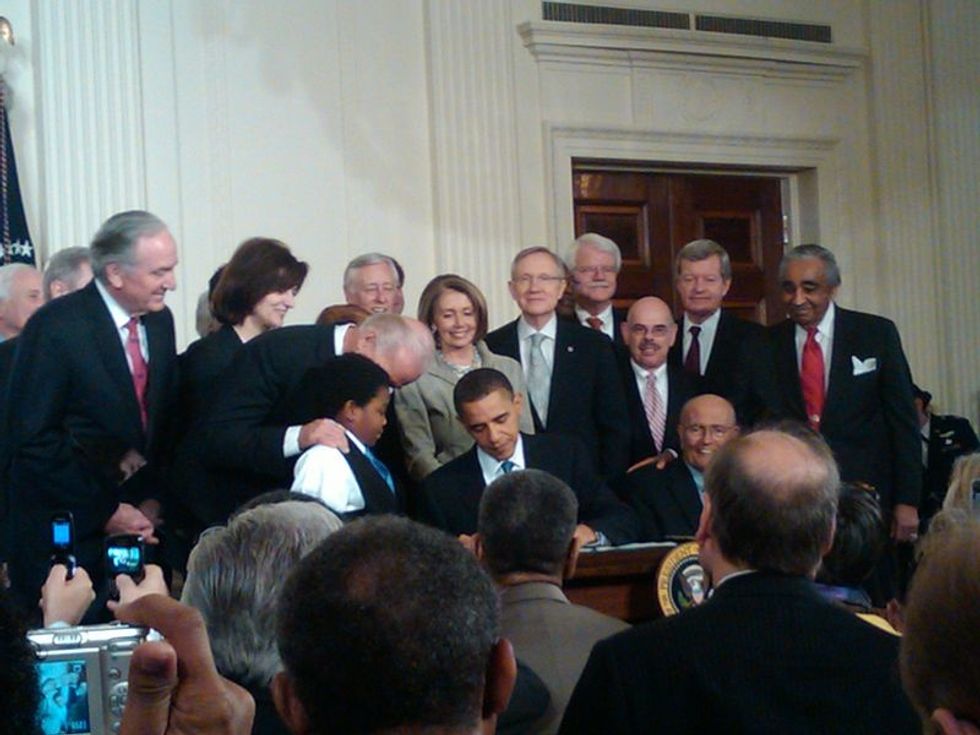 To follow @JimPethokoukis on the day of a Bureau of Labor Statistics jobs report is to see gears cranking in the right-wing spin machine.
The Money & Politics columnist-blogger for the Koch-funded American Enterprise Institute and a frequent guest on CNBC's Kudlow Report is a trained journalist, not an economist. But he's much better at reading the monthly jobs report than most of his conservative brethren. And every month — regardless of how good or bad the numbers are — he'll generally find some talking point for the right-wing media to fixate on.
Usually he'll focus on what the unemployment rate would be if the labor force participation rate were as high as before the recession —  spoiler: much worse — and then he'll remind you of what the Obama economic team promised (back before anyone had any idea how bad the recession was) the unemployment rate would be by  now —  spoiler: much better.
Then you're likely to hear prominent Republican voices repeat this analysis as the day goes on. The data are based on fact, but read with a slant. It would be like constantly pointing out what the unemployment rate would be without government cuts — better — or what it would be if the Obama administration enjoyed government spending similar to the Reagan administration — even better.
Pethokoukis was one of the key players in feeding the myth that the Affordable Care Act was leading to a dramatic increase in part-time workers at the expense of full-time employment. This is based on the premise that the law will require employers with more than 50 employees to provide health insurance coverage, something that 98 percent of these companies already do.
He has been writing about the Obamacare's "part-time" problem since at least May. And he tweeted about it regularly:
"Where did the full time jobs go over the last SEVEN MONTHS?" – economist Robert Brusca

— James Pethokoukis (@JimPethokoukis) September 6, 2013
Then suddenly on Tuesday — when we finally got the September jobs report that had been delayed by the government shutdown — Pethokoukis began debunking his own talking point:
ICYMI: Death of a talking point? Obamacare and part-time jobs http://t.co/3Mli9KrEyW

— James Pethokoukis (@JimPethokoukis) October 23, 2013
Why? The numbers that he'd been relying upon — while at times noting that such indications were volatile — had been proven wrong.
The Wall Street Journal's Ben Casselman explains in his story "Don't Blame Health Law for High Part-Time Employment":
"Part-time employment rose during the recession and remains far above historical norms. Critics of the 2010 Affordable Care Act have suggested the trend could be due to its provision that requires many companies to offer health insurance to full-time employees beginning in 2015. That rule, critics argue, provides companies with an incentive to hire part-timers — and some employers have said they are already shifting to part-timers. But recent jobs data provide little evidence that's happening."
He explains that the rise in part-time workers was a "statistical blip" and he proves it by noting, "The share of part-timers who say they usually work between 30 and 34 hours at their main job has been roughly flat over the past three years, at about 28 percent." These are the workers who would be most affected by an Obamacare-motivated cut in hours.
Pethokoukis was honest enough to let his followers know that the talking point was dead, and share Casselman's reporting.
But the damage was already done.
MSNBC's Chris Hayes walked his viewers through how pervasive the debunked talking point had become in Republican circles on Tuesday night.
Hayes points out that Moody's Mark Zandi — who advised GOP presidential nominee John McCain — has been debunking this myth for weeks, noting that he'd expected to see a rise in part-time workers motivated by the Affordable Care Act. It just wasn't in the data — unlike the substantiated job losses we know we're experiencing because of the sequestration and the government shutdown.
You can be sure that Pethokoukis will disregard this talking point and return to the labor force participation rate or some other measure that makes the economy look terrible.
But the talking point will live on.
Just like the talking point that Congress has exempted itself from Obamacare, even though it didn't. Or the one about special waivers for the president's pals. And don't forget "death panels," the lie from four years ago that still will not die.
The truth is at least 3.4 million more Americans now have health insurance thanks to the Affordable Care Act. While Healthcare.gov clearly isn't operating as well as it needs to, we're only in the first few weeks of the rollout of the health care marketplaces. Senator Chris Murphy (D-CT) points out that when Romneycare rolled out, only .003 percent of the population that eventually signed up — 123 of 36,000 — did so in the first month.
The question remains: If Obamacare is really so bad, why do Republicans still need to lie about it?