AOC Seems To Be Growing -- In The Best Possible Direction
@FromaHarrop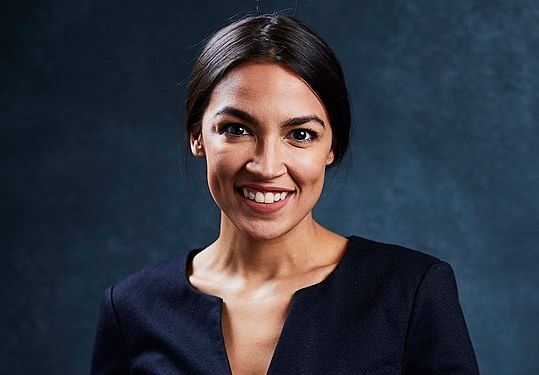 Alexandria Ocasio-Cortez has been giving interviews of late, serious interviews. The New York representative is clearly maturing. The celebrity-obsessed lefty has turned into a working member of Congress. That's good for all who want the Democratic fringes to stop attacking their moderates and join them — and moderate Republicans — in preventing a fascistic Trumpian future.
If you are sensing distaste of both the far left and the far right, your hearing is fine.
Ocasio-Cortez recently described herself as "evolving, learning, challenging myself, but also rooted and grounded in who I am and why I'm here." Sounds promising. As second ranking Democrat on the powerful House Oversight Committee, all should welcome this great improvement over her early fundraising hailstorms against "enemy" Joe Biden.
Further down in that New York Times interview, Ocasio-Cortez was asked what changed the most about her since she took office. Her answer was short of satisfactory. "We were in transition between an older party and a newer one, in terms of where we were coming from ideologically."
The Democratic Party of Joe Biden looks a heck of a lot like the older party, the Franklin Delano Roosevelt party that did big things in the face of massive conservative opposition. Biden has overseen a nearly $400 billion investment to curb climate change, the lowest unemployment in 54 years and major cuts in health care costs. Perhaps his greatest feat was the $1.2 trillion infrastructure package to fix bridges, roads and public transportation — and expand broadband internet.
Ocasio-Cortez voted against it.
And that was a turning point for much of her Queens-Bronx constituency, which was also tiring of the nonstop showing off. As a result, Democrats started launching primary challenges against her. Speaking of which, Ocasio-Cortez reportedly tried to find someone to primary Rep. Hakeem Jeffries, a fellow New York Democrat, in 2022. His "sin" was moderation. Jeffries is now the highly polished and capable House Minority Leader.
Can Ocasio-Cortez win back our love? First she has to win back our respect. Democrats can't get things done unless they win elections. For the longest time, Ocasio-Cortez didn't seem to care whether Democrats won or not. She joined her hero Sen. Bernie Sanders in torching Hillary Clinton's 2016 campaign for president — even after Trump was the Republican nominee. You see winning elections wasn't as important as building the movement. Or, as Bernie put it, "the moovement."
Clinton, Ocasio-Cortez explained, was "this consummate insider that was bankrolled by corporate money." Which led the interviewer to ask why then has Ocasio-Cortez refused to join other Democrats in abandoning Twitter, now X. It is owned by Elon Musk, a consummate insider with, we hear, a lot of corporate money. Though Musk has used Twitter to frustrate the investigation into Trump's efforts to overturn the 2020 election, Ocasio-Cortez still feeds his social media company her 13 million followers.
By the way, it's fine with me that she has been working with Rep. Matt Gaetz on legislation to ban members of Congress from trading stocks. Gaetz may be an extraordinarily creepy Florida Republican, but the cause is good.
Ocasio-Cortez conceded that this cooperation might make some in the progressive wing "suspicious" of her. Radicals in both parties take this childish view that their champions commit ideological treason when they share an elevator with the other side. Anyhow, she added defensively, the Republican actually leading on that legislation was the moderate Brian Fitzpatrick of Pennsylvania.
That's progress for a Democrat who, in times past, couldn't even work with moderate Democrats. Ocasio-Cortez is growing up, and that's a good thing.
And so do we love Ocasio-Cortez now? Not yet. First we must forgive her. That will be slow in coming.
Reprinted with permission from Creators.