Bernie Sanders Meets Ben & Jerry's?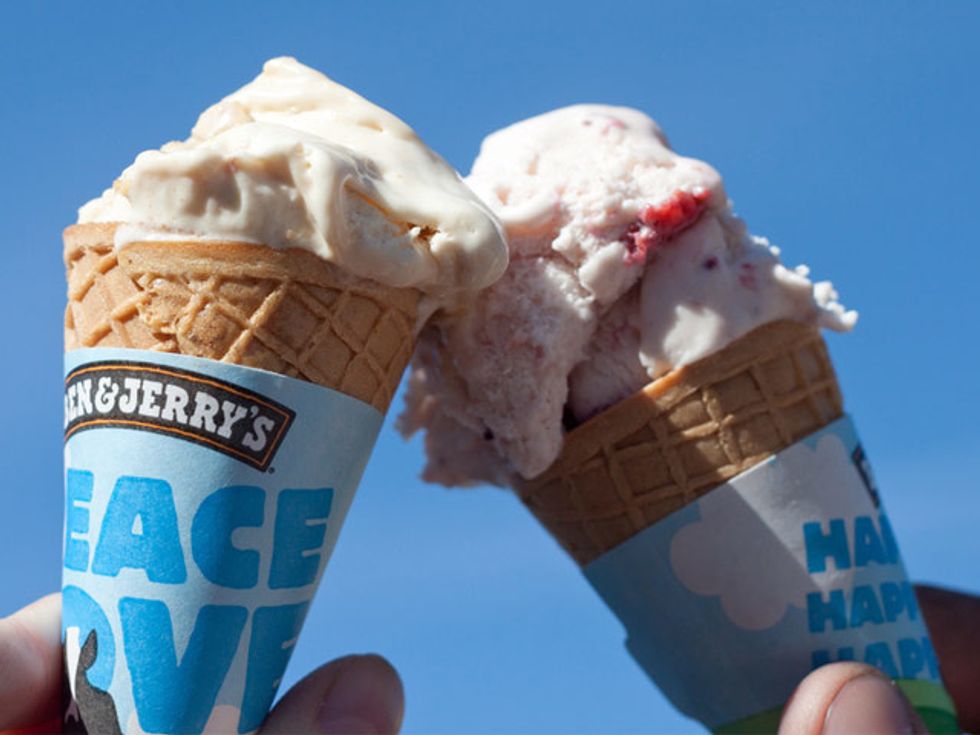 The mess all began late Tuesday night, when RNC communications director Sean Spicer accused Bernie Sanders (I-VT) of taking a very interesting corporate donation:
Free ice cream made by the iconic Vermont company was indeed handed out at the rally, according to various media reports.
The Ben & Jerry's company quickly responded, however: No, the company did not donate the ice cream.
@seanspicer Ben Cohen and Jerry Greenfield (citizens) donated the ice cream. We have similar values as the Senator, but are non-partisan.

— Ben & Jerry's (@benandjerrys) May 27, 2015
It should also be noted that Ben and Jerry themselves are no longer the heads of Ben & Jerry's, having sold the company 15 years ago to the multinational corporation Unilever.
As for those "similar values," the company does continue to donate ice cream to not-for-profits within Vermont, and they encourage their national shops and franchises to do likewise in their local communities.
In this case, however, Ben and Jerry (the people) were just customers, who bought the ice cream and handed it out.
But then Spicer just had to keep on going — and demand some answers from the company.
.@benandjerrys great. There are still laws. One is you can't donate without reporting it to the Federal Election Commission

— Sean Spicer (@seanspicer) May 27, 2015
Tune in for the continuing debate this weekend — on the Sundae shows, of course.
This got us thinking, though. Back in 2003, when fellow Vermonter Howard Dean declared his own candidacy for president, the Ben & Jerry's company cashed in on the event by selling a limited-edition product, "Maple-Powered Howard," which was available at select stores in Vermont. (Ben Cohen, however, actually supported Dennis Kucinich.)
So we decided to think of a few possible Bernie Sanders-themed flavors. Here are our immediate choices:
Ice Cream Socialist Twist
Single-Payer Seven-Layer
Red Scare Velvet
The Confectionist Manifesto
Free College All-Nighter Coffee
"This Land Is Your Land" Folk Music Fudge — featuring a ribbon of chocolate
Raspberry Revolution Swirl
And of course, all of you out there can feel free to chip in with your own.
Photo: Chapendra via Flickr.