Can America Stand Rand? Cranking Up His 'Libertarian' Campaign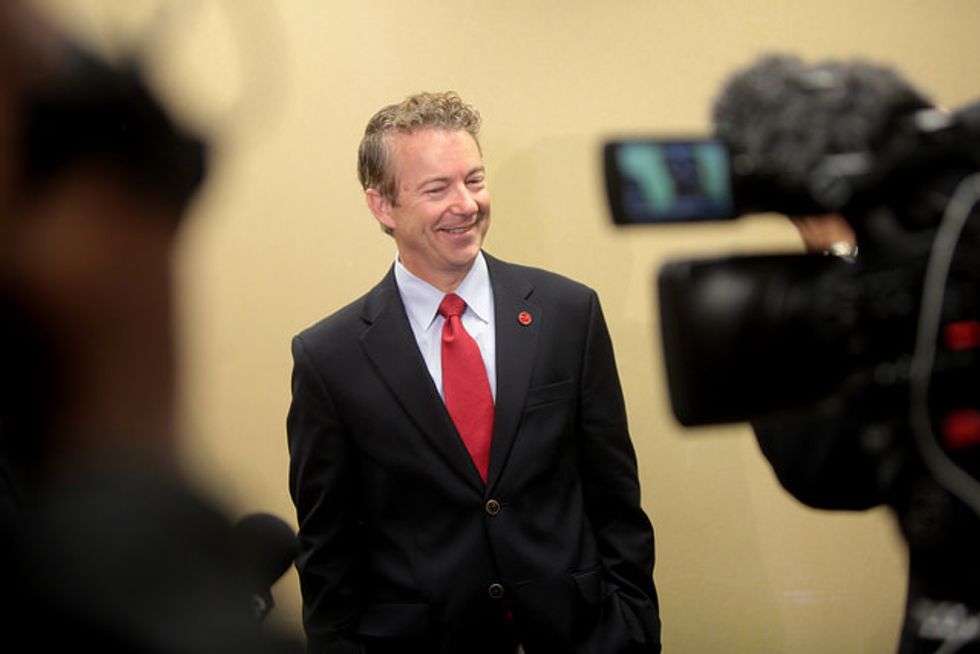 Platitudes typically litter the announcement speech of every aspiring president, and Rand Paul's address in Louisville today was no exception. "We have come to take our country back," he thundered—or tried to thunder—"from the special interests that use Washington at their personal piggy bank."
Exactly what those special interests might be, he neglected to say — although they probably don't include the oil or coal lobbies he tends to favor. He went on to rant against "both parties" and "the political system," not to mention "big government," deficit spending, and the federal debt. Naturally he prefers "small government" because "the love of liberty pulses in my veins."
Yet Paul delivered these encrusted clichés with impressive energy, to an enthusiastic crowd featuring enough youthful and minority faces sprinkled among the Tea Party types to lend a touch of credibility to claims that he is a "different kind of Republican." Speaking about urban poverty and education, the Kentucky Republican even name-checked Dr. Martin Luther King, Jr. — a gesture that too many elected officials in his party, especially from the South, still find difficult. (His father Ron Paul, watching from the audience, may have stifled a chuckle, recalling how his racist newslettersregularly excoriated the late civil rights leader as a "pro-communist philanderer" and worse, while blasting Ronald Reagan for signing the bill that made King's birthday a national holiday.)
Appealing to younger and minority voters, Paul wisely emphasized his ideas about cutting back the machinery of surveillance and incarceration. Likewise, he kept the required paeans to economic "freedom" sufficiently vague to avoid alienating potential supporters, like students who might not appreciate his hostility to federal loans and grants, and families whose survival depends on food stamps and unemployment benefits that he would slash.
The upside of a Paul campaign may be that his dissenting perspective on issues such as Iran, Cuba, and the surveillance state brings a small degree of sanity to the Republican primary debate. Although he parroted much nonsense about the Obama administration's foreign policy, he dared to say that the goal of diplomacy "should be and always is peace, not war."
Equally beneficial would be a frank discussion of the libertarian delusions that underlie his economic platform – and the real effects that such policies would have on American communities, families, and workers.Paul still hates the auto bailout, although killing it would have cost another million jobs. While he rails against deficit spending and Obama's economic stimulus, the clear consensus is that unemployment would have soared without those measures. No doubt he agreed with his father's repeated warnings that government spending would lead to "hyperinflation" and depression, but we have seen precisely the opposite: a revived economy, recovering employment, and inflation that remains too low to worry any sane person.
Among Paul's easiest targets today was the IRS, which he promises to diminish or even abolish with his favorite "new idea," a flat tax. That was a fresh proposal, perhaps, back when right-wing academics Robert Hall and Alvin Rabushka unveiled it in a 1983 book titled Low Tax, Simple Tax, Flat Tax. There is no reason to believe that Rand Paul's flat tax would differ significantly from theirs in design or impact; namely, to worsen inequality, raising the burden on the poor and middle class while benefiting the very rich.
Mocking the federal proclivity to spend more than the IRS collects, Paul chortled today, "Isn't $3 trillion enough?" But while he promises to "balance" the budget, his 17 percent flat tax wouldn't collect even that amount — which means enormous cuts in every budget sector, from education and infrastructure to defense.
Authors Hall and Rabushka described their flat tax as "a tremendous boon to the economic elite" and noted, candidly, "it is an obvious mathematical law that lower taxes on the successful will have to be made up by higher taxes on average people." We shall see whether Paul is as honest as the authors of his tax plan.
Photo: Gage Skidmore via Flickr