Democratic Candidates Push Back On Shoddy Campaign Coverage
@EricBoehlert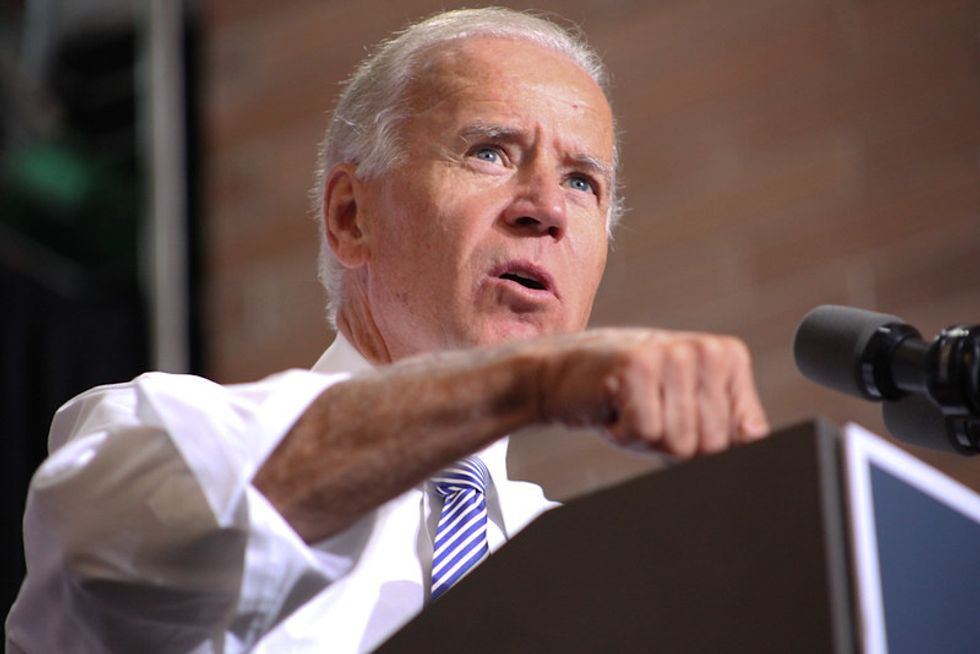 Reprinted with permission from Alternet
Democrats running for president have a new message for the news media: We're not going to take it anymore.
No longer willing to stoically suffer through bad, misleading press coverage, Democrats are borrowing a page from Republicans by going public with their complaints and demanding journalists do better. But unlike Republicans who often "work the refs" by griping about imaginary slights in hopes of better treatment in the future, Democrats are calling out the press with wholly accurate claims of media malpractice.
Last week, Joe Biden's presidential campaign sent a blistering letter to New York Times editor Dean Baquet, reprimanding the paper for helping spread Donald Trump's debunked conspiracy theory about Joe Biden and his son's business dealings in Ukraine. It's "part of a larger strategy not to let the same coverage that corrupted the 2016 election happen this time around," a campaign source told CNN's Brian Stelter.
The stinging critique from Biden came one day after the Times published an opinion column from discredited right-wing author Peter Schweizer, once again hyping the Biden/Ukraine story. Schweizer, who wrote a patently dishonest book about Hillary Clinton in 2015 alleging all sorts of made-up crimes—a book the Times helped market and promote during the campaign—has been peddling the Biden smear all year within the far-right media ecosystem.
It was the Times that trumpeted Schweizer's book Clinton Cash as the "the most anticipated and feared book" of the 2016 campaign season. And it was the Times that forged an exclusive alliance with the Breitbart-backed book (published by a Rupert Murdoch-owned subsidiary), and used the factually erroneous tome as a guidepost for Hillary Clinton 'gotcha' articles.
As for this campaign cycle, even after mainstream news outlets had completely debunked the hollow claims about Biden that Schweizer was peddling, the Times invited the smear's architect, who has a soft spot for plagiarism, to spread more partisan attacks via the newspaper. Also, note that it was the Times that got caught last May trying to peddle the GOP's anti-Biden storyline about Ukraine in the first place.
And yes, the right-wing media feasted on the Times' handiwork last spring, and presented it as confirmation that Biden is corrupt. More recently, the Times often tied Trump's attempt to get a foreign player to interfere with an American election with the bogus allegations Biden has faced regarding Ukraine, suggesting that both Trump and Biden were being sullied in the process.
The Biden campaign's aggressive response last week represents a new approach for prominent Democratic candidates. In the past, party stalwarts often ignored press slights, likely feeling that media critiques weren't why they were running for president and that candidates didn't want to get distracted from larger, more important issues. But after Hillary Clinton beat Donald Trump by 3 million votes yet still lost the election thanks to some of the most openly hostile, sexist, and unfair campaign coverage in modern American history, Democratic campaigns are moving faster and much more forcefully to call out bad behavior and pressure news organizations to do better.
My sense is also that for way too long, Beltway Democrats remained wedded to the idea that the press was actually their friend and ally, and that The New York Times for instance, was on the "side" of progressives. But the Times, of course, has been at the forefront of tearing down a long list of Democratic nominees in recent years.
Today, determined not to get 'Hillary'd,' or 'Gore'd,' or 'swift boated' like previous Democratic nominees Hillary Clinton, Al Gore, and John Kerry, who all lost extremely closes races after being treated unfairly by the press (led by dubious Times coverage in all three instances), more Democrats are stating up front that they're not going to politely stand back and ignore what they see as unfair and unprofessional media coverage. In 2016, the press obsessed so much over the phony Clinton email "scandal" that coverage of her policy initiatives got obliterated. In 2000, the press took the GOP bait and spent the entire campaign depicting Gore, previously known as a Boy Scout-like politician, as a craven liar. And Kerry was the subject of a vicious, extended smear campaign as partisan Vietnam War veterans, cheered on by Republicans, lied about his war record while the Beltway press amplified the bogus swift boat claims for weeks on end.
The Biden campaign last week also dispatched letters to both Facebook and Twitter, urging them not to run an ad that spread the debunked theory about Biden and Ukraine. "Whether it originates from the Kremlin or Trump Tower, these lies and conspiracy theories threaten to undermine the integrity of our elections in America," the campaign stressed.
Biden hasn't been alone among candidates voicing clear media critiques. In the wake of yet another rash of mass shootings, Beto O'Rourke was asked if he thought Trump's racist, anti-immigration rhetoric had led to immigrants being targeted. "Like, members of the press, what the fuck?" the Democrat responded. "It's these questions that you know the answers to."
Bernie Sanders also recently offered up a blunt critique of the news media. "There are six major media conglomerates, including Time Warner which owns CNN, which control about 90% of the media in this country in terms of what we see, hear and read. Between you and me, that is a very dangerous situation," he told CNN's Anderson Cooper. "The CEOs make tens of millions of dollars a year in compensation. They have an agenda, and I worry about that, as I do worry about concentration of ownership in agribusiness, in Wall Street and in many other areas." (Democratic candidate Tulsi Gabbard has aired critiques of the press this campaign season, but they strike me as being un-serious and often incoherent.)
There's no question Democrats face in uphill battle on this front, not only because they're getting a late start in the larger debate, but because the Beltway press responds differently to media critiques coming from the left and the right. Eternally spooked by the conservative claim of "liberal media bias," journalists tend to be hypersensitive to GOP allegations of malpractice. At the same time, political journalists often ignore criticism, or become extremely defensive when their work is questioned by Democrats and liberals.
Nonetheless, the ongoing media debate is one that Democrats desperately need to part of. And for the 2020 campaign, they will be.
Eric Boehlert is a veteran progressive writer and media analyst, formerly with Media Matters and Salon. He is the author of Lapdogs: How the Press Rolled Over for Bush and Bloggers on the Bus. You can follow him on Twitter @EricBoehlert.
This post was written and reported through the Daily Kos freelance program.