Early Voting Is Changing Election Day, Campaign Dynamics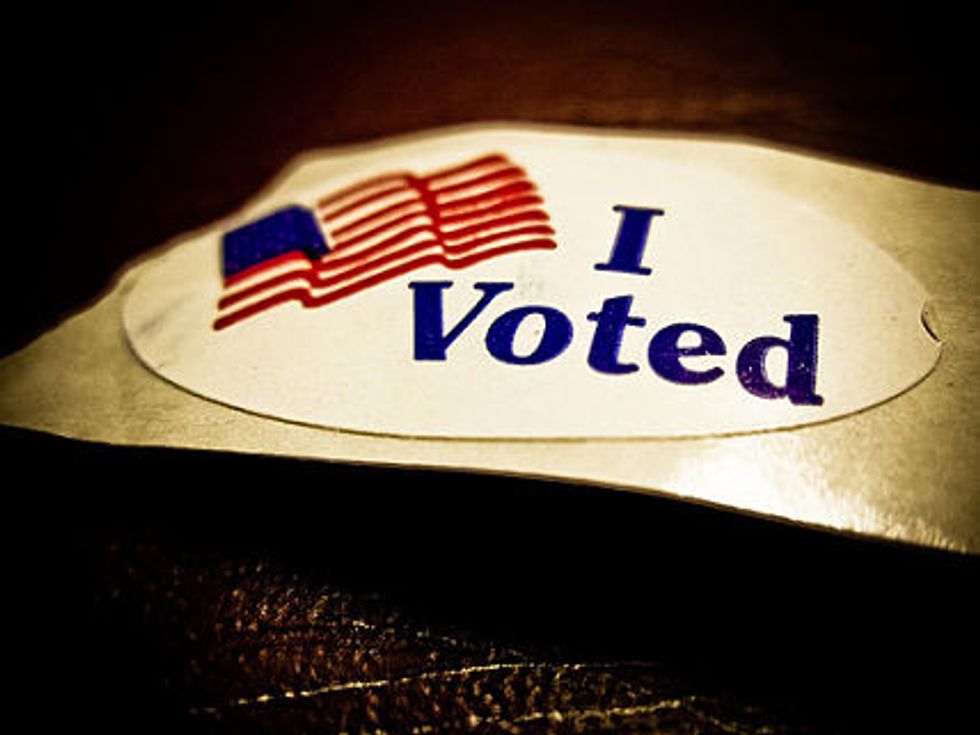 By Kurtis Lee, Los Angeles Times
The midterm election may be weeks away, but tens of thousands of ballots have already been cast in a reprise of an increasingly powerful political tool: early voting.
In North Carolina, which has a pivotal U.S. Senate contest at the top of the ticket, voting began Sept. 5 when absentee ballots were mailed to voters. As of Friday about 15,000 voters — the majority of them Democrats — had requested ballots ahead of Nov. 4.
On Thursday, Iowans, who will choose between Democratic U.S. Rep. Bruce Braley and Republican state Sen. Joni Ernst in a competitive race for an open Senate seat, began to vote both in person and through early absentee ballots.
Already, more than 145,000 voters have requested absentee ballots, with Democrats outpacing Republicans by about 38,000 requests, according to the Iowa secretary of state's office. In 2010, Democrats in the Hawkeye State cast 19,000 more early ballots than did Republicans.
In September, states including Georgia and Minnesota allowed voters to cast ballots early. California and Arizona offer similar voting options in early October.
From Maine and Florida to Wisconsin and Alaska, 35 states allow voters to fill out ballots at polling stations or mail them prior to Election Day.
"In reality, the days of an actual election 'day' are long gone," said Michael McDonald, a political scientist at the University of Florida who specializes in elections and voter turnout. "It's a solid election month, if not more in some places, and will continue to expand."
Indeed, McDonald, who oversees the United States Elections Project, which closely tracks voting statistics, has found that ballots cast before Election Day increased from 4 percent in 1972 to 25 percent in 2010.
In Colorado, a new law instituting all-mail elections will receive its first major statewide test as Democratic Sen. Mark Udall looks to stave off a challenge from Republican Rep. Cory Gardner in a marquee race. The Colorado governor's race is also the focus of intense attention, as Democrat John Hickenlooper faces Republican Bob Beauprez. And the Denver suburbs feature a tight congressional race.
Last year, the Democratic-controlled legislature passed the all-mail ballot rule, which requires a ballot to be mailed to every registered voter, arguing it would ensure more voter participation. Republicans strongly opposed it, saying it was unnecessary for a state with traditionally high turnout. In 2010, about 51 percent of those eligible to vote cast ballots — among the highest turnout percentages in the country.
Colorado, which mails ballots in mid-October and has been an epicenter for media ad buys this year, joins Washington and Oregon as states with all-mail elections.
"When you know ballots are all by mail, it makes the ground game of a campaign that much more important, because campaigns have to chase those ballots and try to get them turned in," said Eric Sondermann, a Denver-based political analyst.
Moving up the timing of the vote has forced campaigns to change. Ads and arguments that once were saved for right before Election Day are now unleashed earlier, in many cases. Gardner and Udall went on air with TV ads before Labor Day — rare moves for Colorado campaigns, which have traditionally waited until mid-September, Sondermann said.
Both state parties say they'll adjust to the all-mail rule.
"We'll have a strong get-out-the vote effort to chase ballots … one that rivals a presidential year effort," said Colorado Republican Party Chairman Ryan Call, who noted that the party has opened more than a dozen field offices in the Denver suburbs to target unaffiliated voters, who often decide the outcomes of statewide elections.
Rick Palacio, the state's Democratic chairman, said his party will build off the ground game laid by President Barack Obama, who won the state in 2008 and 2012.
"Everyone has a chance to vote early and encourage others to vote early," Palacio said. "We'll get ballots and drop it off for people. It's as if Nov. 4 is just really a deadline for Coloradans to get in ballots into the clerk and recorder offices."
New voting laws in some key battlegrounds are also being closely watched. In North Carolina, Democratic Sen. Kay Hagan is facing Republican state House Speaker Thom Tillis; the seat is one of six Republicans would need to pick up to gain control of the Senate.
North Carolina's Republican-controlled legislature enacted stricter elections laws that, among other things, eliminated same-day voter registration and reduced the early on-site voting period from 17 days to ten. The laws have been upheld through several court challenges from groups like the American Civil Liberties Union and the National Assn. for the Advancement of Colored People.
Other states to reduce early voting windows since the 2010 midterms include West Virginia and Georgia, which both have Senate battles at the top of the ticket this fall.
"It's the big unknown as to how these laws will impact the early vote here. It could be down just a few percentage points, it could be double digits," said John Davis, a veteran political analyst based in Raleigh, N.C. He noted that early voting in the state four years ago accounted for about 36 percent of all votes cast. "It's an off-year election, so the natural thought is Republicans will be better off if those percentages are lower."
Photo: Vox Efx via Flickr