On Ebola, Scott Brown Confuses 'Political' Correctness With Actual Correctness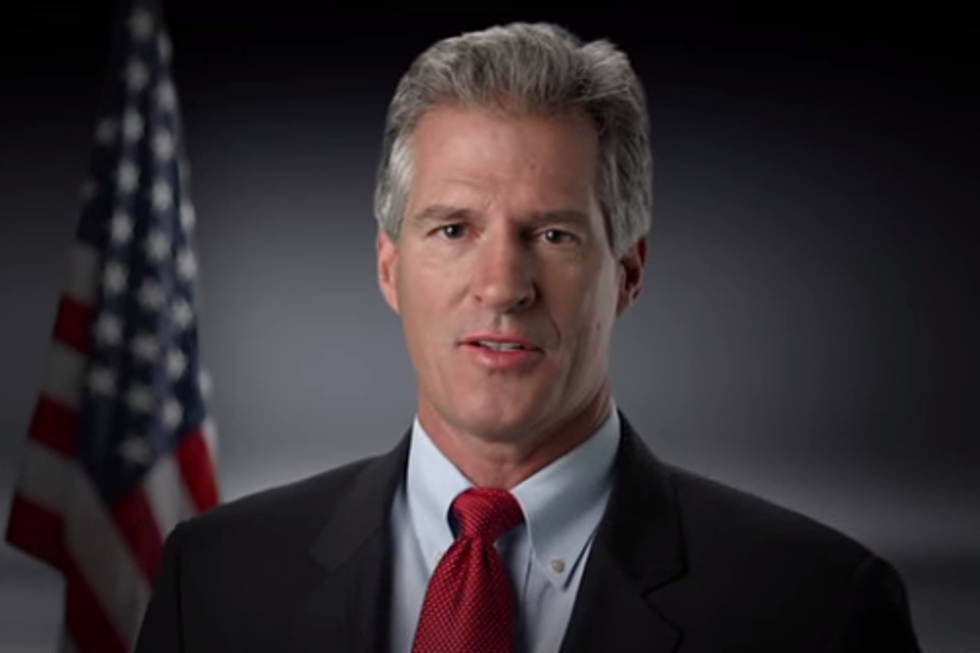 Since the Ebola virus first appeared in the United States, many Republican politicians have been eager to exploit the public health crisis for political gain. But, with apologies to Senator Ron Johnson (R-WI), none has been more determined to scare Americans to death than former Massachusetts senator and current New Hampshire senatorial candidate Scott Brown.
Trailing incumbent Democrat Jeanne Shaheen in the polls, and always keen to tie his opponent to the unpopular President Obama, Brown has missed no opportunity to try to spin the disease to his advantage. Among other examples, Brown has accused Senator Shaheen of putting "loyalty to President Obama and his policies above doing what's right to keep Americans safe"; warned that Ebola-infected foreigners — who may or may not be terrorists — could cross the "porous" U.S.-Mexico border at will; and even declared that "we would not be worrying about Ebola right now" if Mitt Romney had been elected president in 2012.
Brown's favored solution to the problem is to ban air travel from the Western African nations that have been stricken with Ebola. On Friday, he renewed his calls for a travel ban in response to the news of a new patient in New York City.
"Ebola has now spread to New York City, the largest city in the United States and less than 300 miles from New Hampshire," he said in a statement. "The person who brought it there passed through enhanced screening at the airport and exposed himself to countless other people by riding the subway, taking a taxi and going bowling. Still, Senator Shaheen is waffling on a travel ban."
"The way to stop mass infection is by swift and decisive action, including a travel ban and quarantining health workers returning from countries where Ebola is prevalent," Brown continued. "This is not a time for political correctness; it's a time for common-sense prevention mechanisms."
Brown appears to be confusing political correctness with regular correctness. The available evidence suggests that a travel ban would not solve the Ebola problem. In fact, it could make it even worse.
That doesn't trouble the would-be senator, however.
"We don't need to be experts to deal with this issue," Brown said during a Thursday night debate with Shaheen. "It's common sense."
(Ironically, during the same debate, Brown blasted President Obama for appointing Ron Klain — a man "with no experience in his field" — to coordinate the administration's Ebola response. Apparently, while senators don't have to be experts, czars do.)
It's not hard to understand why Brown would like keep the Senate race focused on national issues. President Obama is far less popular than Senator Shaheen is in New Hampshire, and Brown doesn't exactly have great credibility on local issues. But the fact that public health officials in New York City aren't nearly as panicked over the latest case as the Republican candidate in New Hampshire is should speak volumes. Whether Granite State voters see it that way, however, could be a different story. After all, it wouldn't be the first time that national issues have swung a Senate race at the last minute.
Screenshot: YouTube
Want more political news and analysis? Sign up for our daily email newsletter!