Endorse This: Does Jeb Bush Side With Trump Against The Pope?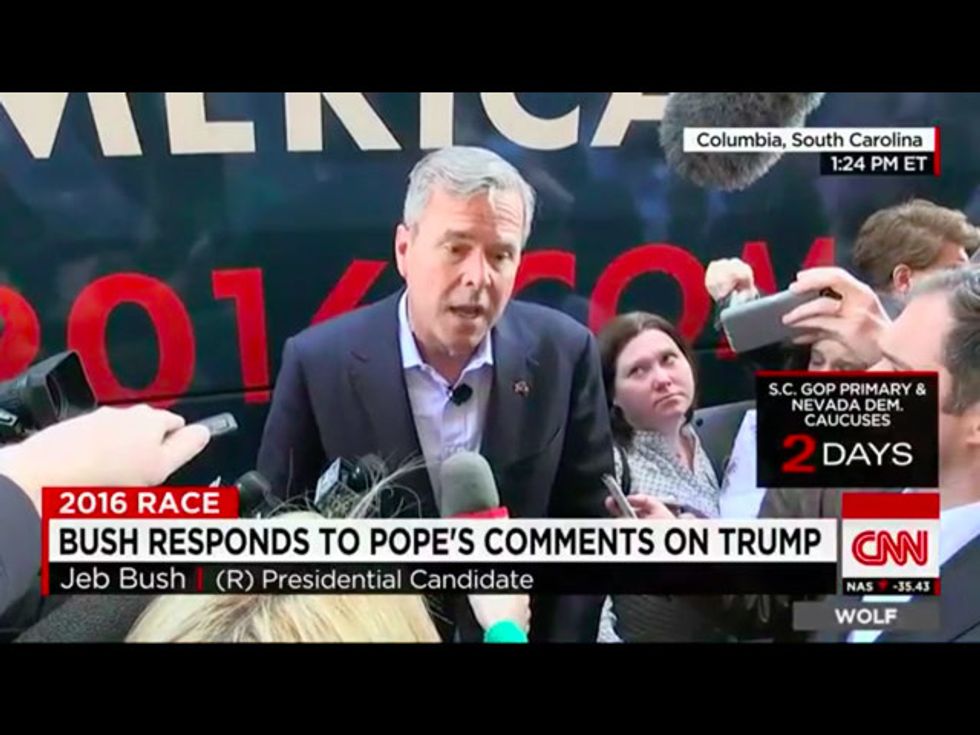 Jeb Bush has now taken a stand on the new round of political attacks between Donald Trump and Pope Francis. Jeb's response to the whole flare-up: The Pope should stay out of this.
"I don't question anybody's Christianity, because I honestly believe that that's a relationship that you have with your Creator," Jeb said "And it only enables bad behavior when you hear that someone from outside our country talks about Donald Trump."
Reporters also asked Bush to respond to Francis' comment, "a person who thinks only about building walls, wherever they may be, and not building bridges, is not Christian."
"I don't know what that means," Jeb responded.
He further explained: "I support walls, fencing where it's appropriate, sure. I also believe that we ought to have other parts of this: For leading the Border Patrol, using drone technology, using GPS technology, across the board. We ought to have a strategy to protect our border, and that is clear. But that is not an un-Christian thing to do — to make sure people don't come across our border illegally. That's a just thing to do."
Just think: After all the vicious insults that Donald Trump has heaped upon Jeb Bush and his entire family (admittedly, almost all of them true) Jeb can't even bring himself to side with The Pope against The Donald.
Video via CNN.
Get More to Endorse Delivered to Your Inbox