Endorse This: Trump's Plan For GOP Reconciliation? Threatening "Riots"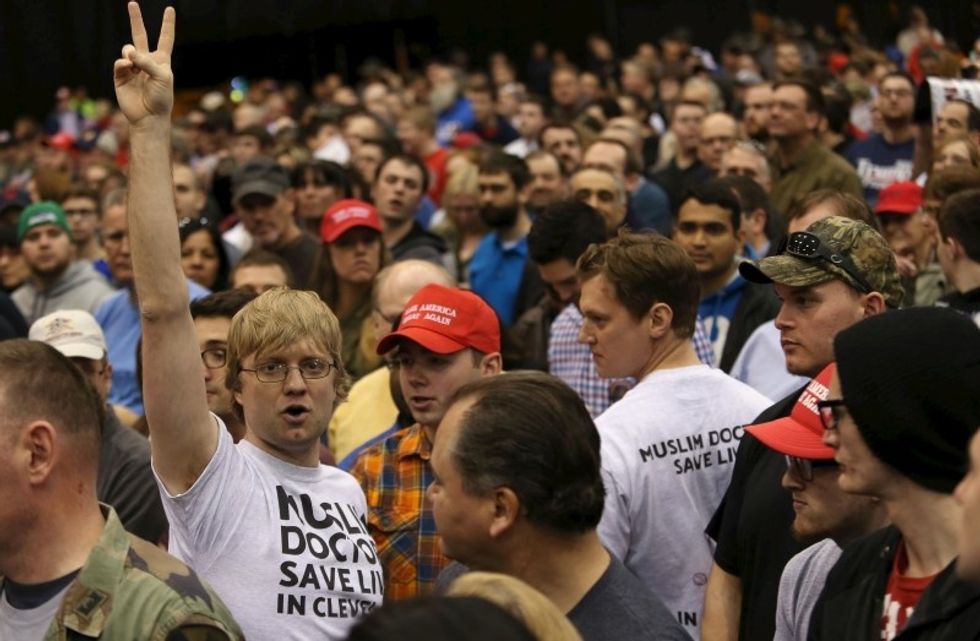 What's the most ridiculous political video you've seen today? Tweet @nationalmemo with the hashtag #EndorseThis and we may use it in our next newsletter!
After a big night in Florida, Illinois, and elsewhere yesterday, Donald Trump was asked by CNN's Chris Cuomo how he planned on unifying the Republican Party, should a brokered Republican National Convention prevent him from winning the nomination on the first ballot — a scenario kept alive last night after Ohio Governor John Kasich won his home state.
Trump bristled at the thought.
"If we're 20 votes short or if we're 100 short and we're at 1,100 and somebody else is at 500 or 400 because we're way ahead of everybody, I don't think you can say that we don't get it automatically," he said. "I think you would have riots. I think you would have riots."
Donald Trump's relationship with violence is no longer some hush-hush affair. Donald has openly admitted that he likes seeing protestors at his rallies hurt, and he's offered to pay the legal fees of those charged for doing so. Including, it seemed, John McGraw, the man who assaulted a protestor at a recent Trump rally. Asked about it later, McGraw recalled: "You bet I liked it. Knocking the hell out of that big mouth … The next time we see him, we might have to kill him."
In a doublespeak typical of nearly all of his candidacy, Trump clarified later that he said he would have "his people" "look into" paying McGraw's fees  — but, certainly, he didn't pay them. The same way he doesn't associate with white supremacists or is actually self-funding his campaign.
This time, though, Trump's take on the violence — which, again, he certainly wouldn't lead, even though he brought it up on national television — is so openly aggressive that one wonders what it is he wants out of the political world. Trump has our attention. He has power, he has money, he has the devotion of a cult-like following.
The only thing Trump could want more of is, well, chaos.
Video via Raw Story.
Photo: A protester is removed from the crowd as U.S. Republican presidential candidate Donald Trump speaks at a campaign rally in Cleveland, Ohio March 12, 2016. REUTERS/Aaron Josefczyk