Ferguson, Missouri, Is Not An Exception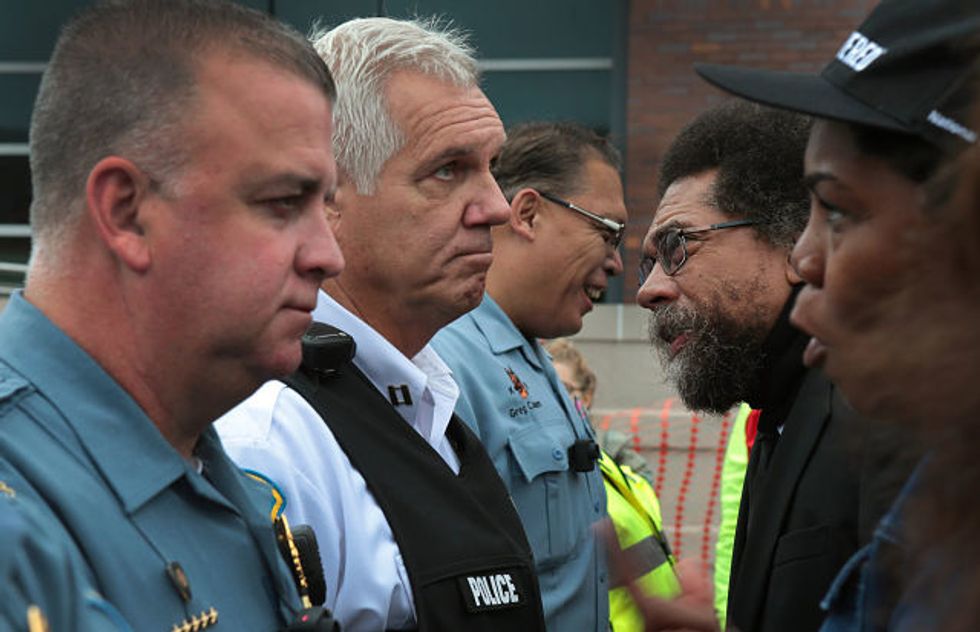 By now, it should come as news to no one that Ferguson, Missouri, has a lousy excuse for a police department.
The behavior of many of its officers, as seen in news reports during last year's protests and rioting over the shooting of Michael Brown, was thuggish, unprofessional, and contemptuous of the people they supposedly serve. Still, it's welcome news that a new Justice Department report quantifies the department's failings, vindicating the mostly African-American populace that has complained about them for years.
It lacerates Ferguson for "a pattern or practice of unlawful conduct … that violates the First, Fourth and Fourteenth Amendments … and federal statutory law." Ferguson police, according to the report, treat the mostly black and largely poor inhabitants of the St. Louis suburb as a municipal money machine. "City and police leadership," says the report, "pressure officers to write citations independent of any public safety need, and rely on citation productivity to fund the City budget."
We also learn that Ferguson police are in the habit of harassing and arresting people without any legal basis. One man, for example, was sitting in his car when an officer approached and, without a shred of reason, called him a pedophile and demanded to search the vehicle. When the man declined, citing his Fourth Amendment rights, the officer is said to have pointed a gun to his head and arrested him. He ended up charged with eight counts, including "making a false declaration."
It seems that when asked for his first name, he gave a shortened version: "Mike" instead of "Michael." The man lost his job because of that arrest.
That race is at the root of this mistreatment is attested to by statistics. For instance, the report tells us black drivers in Ferguson are more than twice as likely as white ones to be searched during traffic stops even though white drivers are significantly more likely to be found with contraband. It's also attested to in emails sent by city officials, such as a "joke" about an African-American woman who has an abortion and is later sent a reward check from Crimestoppers.
That the Justice Department released this report at the same time it exonerated Officer Darren Wilson in the Brown shooting seems designed to make a point: That particular Ferguson police officer may not be guilty, but the Ferguson Police Department most certainly is.
Even that condemnation, though, is ultimately too small. To process this report as just an indictment of one small town is to provide an escape hatch for the many people disinclined, through their own lack of moral courage and intellectual honesty, to admit that the whole darn country has a habit of racially stratified "justice." We miss the point if we treat Ferguson as some bizarre exception.
So let's close the escape hatch. Ferguson's statistics are not shocking. To the contrary, they are replicated nationally. And the Kafkaesque experience of "Michael" reflects everyday reality: Last January, a black man named Chris Lollie was arrested in St. Paul, MN for sitting on a public bench in a skyway between buildings, waiting for his children to get out of school. In September, a black man named Levar Jones was wounded by a state trooper in Columbia, SC, who shot him while he was obeying the trooper's orders. Last Thanksgiving, a black man named Brandon McKean was stopped in Pontiac, MI, for walking with his hands in his pockets in 32-degree weather.
And so on. Black men and women being manhandled, mistreated and misjudged by the "justice" system is the opposite of uncommon. To whatever degree we pretend the biggest issue here is the sins of one small town, we sanction that ongoing injustice and postpone a reckoning long overdue.
Ferguson is not an exception. It's an example.
Leonard Pitts is a columnist for The Miami Herald, 1 Herald Plaza, Miami, FL, 33132. Readers may contact him via email at lpitts@miamiherald.com.
Photo: Cornel West (second from right) speaks to Ferguson Police Capt. Rick Henke as clergy try to minister to officers in front of the Ferguson Police Department on Monday, Oct. 13, 2014, in Ferguson, MO. Capt. Rick Henke and Sgt. William Mudd resigned Thursday, March 5, 2015, sources confirmed. (Robert Cohen/St. Louis Post-Dispatch/TNS)