Georgia: Kemp's Expanding Offensive Against Minority Voters
@EricBoehlert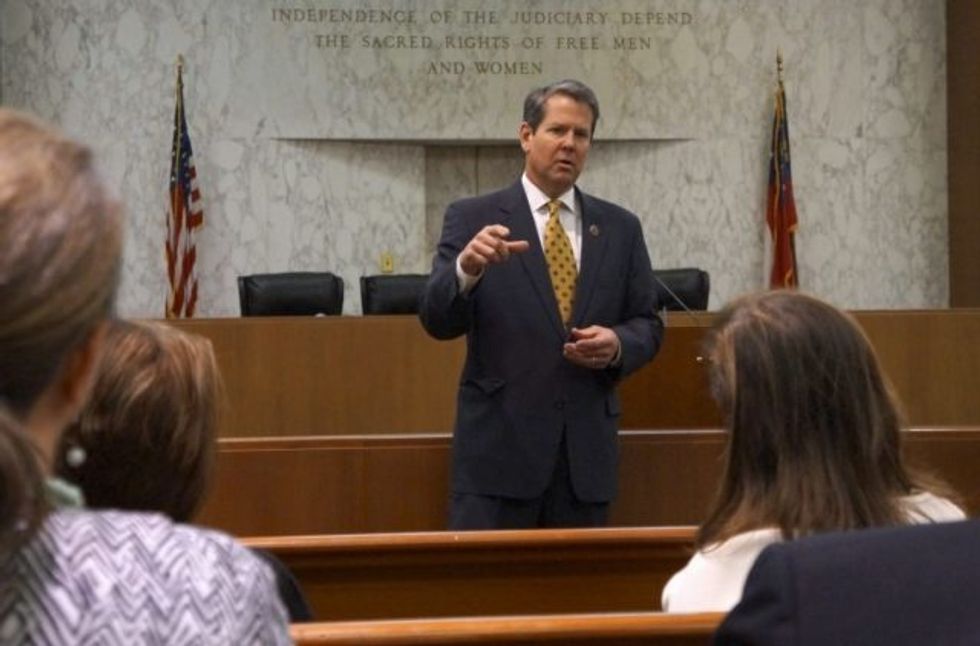 Reprinted with permission from Shareblue.
Georgia Secretary of State Brian Kemp's determined strategy to kick people off the state's voter rolls included making sure 107,000 voters are ineligible simply because they opted not to participate in elections recently.
The news comes as Republican Kemp, running for governor in the state, is under intense scrutiny following an Associated Press report documenting how Kemp's office was holding up the registrations of over 53,000 voters.
These registrations were being delayed by Kemp's office because of an "exact match" verification process, which disproportionately impacts minority voters. The AP report revealed that while Georgia's population is 32 percent black, 70 percent of the registrations being delayed by Kemp's office were for black voters.
And now comes word that in July of 2017, 100,000 citizens were removed simply for not casting a vote in a recent election. During that month, "more than half a million people — 8 percent of Georgia's registered voters — were cut from the voter rolls," according to APM Reports.
Kemp's opponent, Democrat Stacey Abrams, would become the first black woman governor in the United States if she won. She has described Kemp as a "remarkable architect of voter suppression."
By itself, maintaining voter rolls isn't a bad thing. Federal law requires that states make sure rolls are updated. But it's remarkable that Georgia tossed so many voters because they hadn't cast a ballot recently.
Under "use it or lose it" laws favored by a handful of Republican state legislators, voters who skip election cycles must contact local election offices to maintain their eligibility. If they didn't vote in 2012 or 2016, and then didn't return mailed-out confirmation notices, it's possible they'll find themselves off the voter rolls in November.
Because the laws are relatively new, and because many voters likely don't know they're supposed to check in with their local election office, tens of thousands of Georgia vote may discover they can't vote this Election Day.
How does this help Republicans in Georgia?
"The state has undergone a dramatic influx of African Americans and Latinos whose votes could challenge Republican dominance, and her campaign is trying to turn out people of color, who are more likely to be infrequent voters," APM Reports notes. "If the race is close, the July 2017 purge could affect the outcome."
Its research shows that in Ohio, which also has a "use it or lose it" requirement, the law disproportionately affected urban, Democratic-leaning counties.
Voter suppression continues to be a hallmark of the GOP election strategy.
Published with permission of The American Independent.