New Jersey Governor Christie Appoints Republican Jeffrey Chiesa To Senate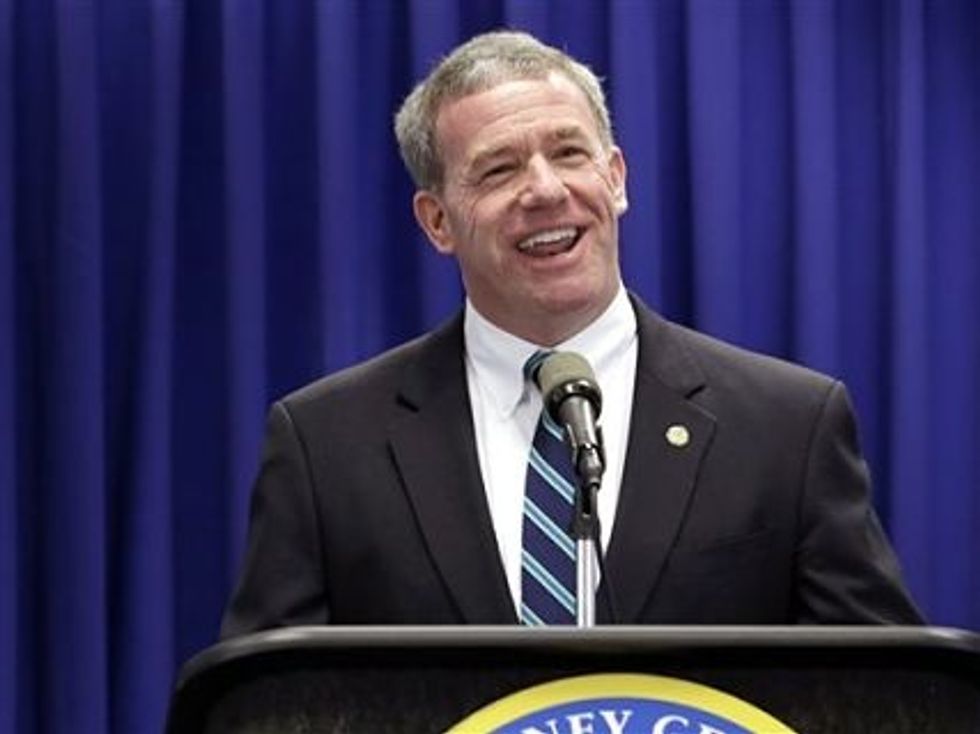 In a press conference on Thursday afternoon, Governor Chris Christie (R-NJ) announced his appointment for an interim senator to fill Senator Frank Lautenberg's (D-NJ) seat after his passing on Monday. New Jersey attorney general Jeffrey S. Chiesa will serve as New Jersey's interim U.S. senator until the state holds a special election on October 16th.
Governor Christie said he had put considerable thought into this decision, knowing that Senator Lautenberg had been ill. "I knew this day might come, so I didn't just start thinking about this on Monday. I've been thinking about it on and off for some period of time."
Chiesa — whom Christie said Thursday he knows "almost as well as I know my family" — is a close political ally to the governor. From 2002-2009, Chiesa worked in the U.S. Attorney's office in New Jersey, and he served as chief counsel to Christie for nearly two years before being nominated as attorney general.
Christie said that Chisea will not be a candidate in the primary or the special election.
During the press conference Chiesa, a registered Republican as of 2000, was asked which issues he will consider to be most pressing when he arrives in Washington. He answered more than once that because of his background, border security is the most important issue. This suggests that he could quickly become a key player in the ongoing immigration debate. Past that, Chiesa admitted that a majority of issues are unfamiliar to him — but vowed to discuss these with his new colleagues and use his best judgment to make decisions based on the interests of the people of New Jersey.
Governor Christie faced criticism from his own party after announcing the October date for the special election, only three weeks before the general election on November 5. Some have speculated that Christie fears  appearing on the same ballot as Newark mayor Cory Booker, a popular Democratic Senate candidate.
Former representative Dick Armey (R-TX) said that Christie's decision to hold an October election is "debilitating stupidity." Furthermore, The Newark Star-Ledger said his decision is "a shameless move that will waste at least $12 million and risk the integrity of the vote."
Christie defended his decision during Thursday's press conference, saying, "I think my decision was faithful to the intent of the Constitution." Christie also addressed criticism that the special election will cost taxpayers an additional $12 million dollars, attesting that in the context of the state's $32 billion budget, the cost is rather minimal when considering the Constitutional duty to provide citizens with a properly elected senator.
Governor Christie plans to announce a nominee to replace Chiesa as New Jersey attorney general on Monday, June 10th.
AP Photo/Julio Cortez, File