Greece Misses Debt Payment, Is Cut Off From Financial Lifelines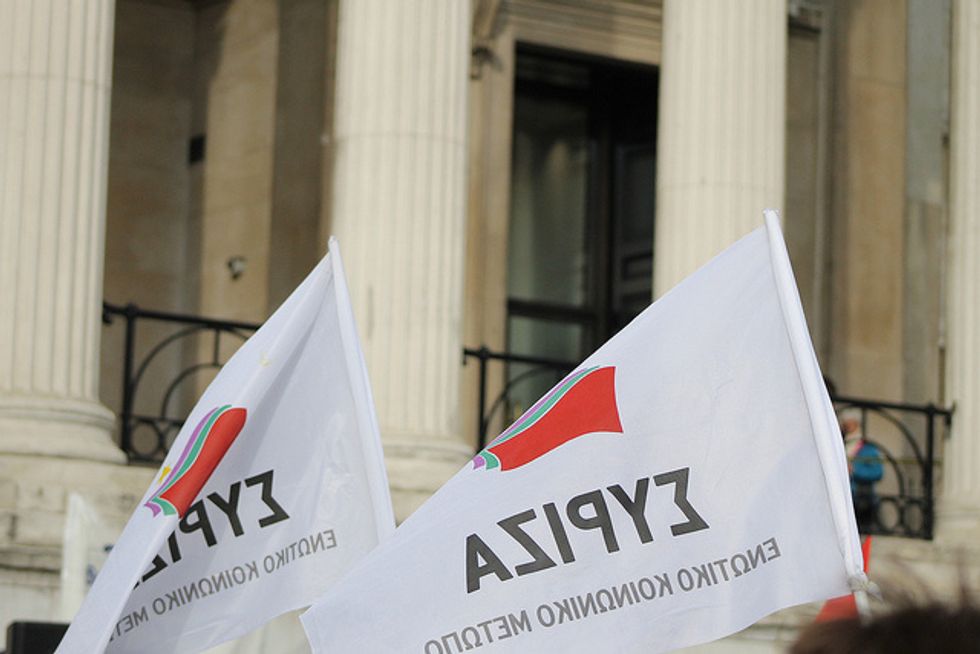 By Henry Chu and Pavlos Zafiropoulos, Los Angeles Times (TNS)
ATHENS — A near-bankrupt Greece was cut off from its financial lifelines Tuesday after it became the world's first developed country to fail to repay money due the International Monetary Fund and lost access to the European bailout loans that have helped keep it solvent.
A last-minute request by Athens for an extension of its current bailout, which expired late Tuesday, was rejected by the other 18 nations that use the euro currency. But they left the door ajar to Greece's proposal for a new rescue package — its third in five years — though fresh aid could take weeks or even months to negotiate.
"Asking for a new program is always possible. Greece is a member of the Eurozone … and it can ask for financial support," said Jeroen Dijsselbloem, who heads the group of 19 Eurozone finance ministers. "That is quite a procedure to go through."
Greece's failure to pay $1.8 billion owed to the IMF put it in an embarrassing club of deadbeat nations whose current members are Sudan, Somalia and Zimbabwe. The missed payment, which resulted in the IMF declaring Greece in arrears, though not officially in default, shuts Athens off from further IMF funds. The outcome was largely expected after the collapse of talks between Greece and its international lenders Friday.
The situation in the Mediterranean nation is unlikely to change immediately. But without continued IMF or European funding, Athens will soon default on other major debts and run out of cash to pay public-sector salaries and pensions, possibly around the middle of July.
Conditions in Greece are already bleak, with residents restricted to about $66 a day in ATM withdrawals after officials declared a weeklong bank shutdown to stanch the tide of cash flooding out of the country's financial system. Some Greeks have loaded up on groceries and fuel ahead of a snap referendum this weekend that could determine whether their beleaguered nation remains a member of the currency union.
But without continued IMF or European funding, Athens will soon default on other debt obligations and run out of cash to pay public-sector salaries and pensions.
Dijsselbloem said finance ministers would hold another conference call Wednesday after Greece submitted revised proposals, a sign that European and Greek officials were attempting to set aside some of their mutual rancor and start groping again toward an agreement.
In a twist to an already unpredictable drama, German Chancellor Angela Merkel said Greece's referendum scheduled Sunday — a move that shocked its Eurozone partners — had to be completed before new bailout proposals could be seriously considered, whereas a senior Greek official suggested the vote could be called off if conditions warranted, despite Athens' previous insistence that the will of the people was paramount.
"The government decided on a referendum. It can also decide differently," Deputy Prime Minister Yannis Dragasakis told state-run television.
There remained some confusion over what Greeks will be voting on. The ballot apparently asks for a "Yes" or "No" to the bailout terms put forward by Greece's creditors last week before talks broke down; the left-wing government of Prime Minister Alexis Tsipras, which calls the offer "humiliating" and hurtful to the poor and elderly, is leading the "No" campaign.
But Eurozone officials have said that, with the expiration of Greece's current bailout Tuesday night, their proposals are moot. Instead, one leader after another from Europe's biggest countries — Germany, France, Italy and Britain — has warned Greeks that they will essentially be deciding whether their nation stays within the Eurozone or tumbles out of it.
Being forced to reintroduce its own currency, at a fraction of the euro's value, would bring economic chaos and even greater misery, at least in the short term, to a land already in the grip of a major depression. But it would also deal a severe blow to the vision of collective peace and prosperity that the continent's leaders have been pursuing since World War II through the establishment of the European Union.
Under rainy skies Tuesday night, thousands of Greeks flocked to Athens' main square to proclaim their support for the EU and to urge a "Yes" vote in the referendum. The large turnout was similar to that of a "No" protest held in the same plaza the night before.
"I have more faith in the Europeans than I do in this government," said a 37-year-old woman named Marianna, who declined to give her last name. She waved a large EU flag.
Tsipras' government insists that a "No" vote would not spell the end of Greece's embrace of the Eurozone but would actually strengthen his hand in further negotiations, a contention his critics dismiss as a fantasy.
His new proposals Tuesday were broadly outlined in a letter to Dijsselbloem and, news reports said, amplified by the Greek finance minister during the Eurozone finance chiefs' conference call.
In the letter, Tsipras proposed a new European bailout — without, apparently, any more involvement of the IMF — that Greece would use to service its debts for the next two years. At the same time, there would be a restructuring of Greece's crippling public debt, which most analysts agree is not sustainable. Last, Tsipras requested an extension of Athens' current bailout for "a short period of time," to bridge the gap.
The Eurozone shot down the extension request, as it had already done once before. It kept open the possibility of a new rescue package but hinted that it would entail as much, if not more, sacrifice and austerity as previous bailout plans demanded.
"The situation in Greece, in the Greek economy, in the Greek banks, has deteriorated even more, unfortunately, so it's a very difficult path to consider," Dijsselbloem said.
Tsipras' submission of a new deal surprised many observers, and came amid rumors that he was under pressure from opposition politicians and officials within his own radical Syriza party to keep trying for a deal with Greece's creditors. The Greek negotiating team abruptly pulled out of talks Friday upon Tsipras' decision to call a referendum.
There was also speculation that Athens was backtracking because its hopes of enough regional investor turmoil to send European lenders scurrying to offer better terms had not materialized. Although stock markets in Europe have fallen, the euro has remained stable in value this week, and the all-important borrowing costs for economically weaker Eurozone countries such as Italy and Portugal have not risen to anywhere near crisis levels.
European officials insist that they have safeguards in place to keep Greece's problems from rocking their economies. In Washington, President Barack Obama said that, "for the American people, this is not something that we believe will have a major shock to the system."
But if the Greek government blinked, then the rest of the Eurozone at least winked, with leaders pleading Monday to Greece to return to the bargaining table.
On Tuesday, Merkel said that the expiration of the current bailout package and Greece's failure to make the IMF payment did not pull the plug on negotiations.
(Times staff writer Chu reported from London and special correspondent Zafiropoulos from Athens. Staff writer Jim Puzzanghera in Washington contributed to this report.)
(c)2015 Los Angeles Times. Distributed by Tribune Content Agency, LLC.
Photo: Ben Folley via Flickr