IRS Ruling Moves Us Forward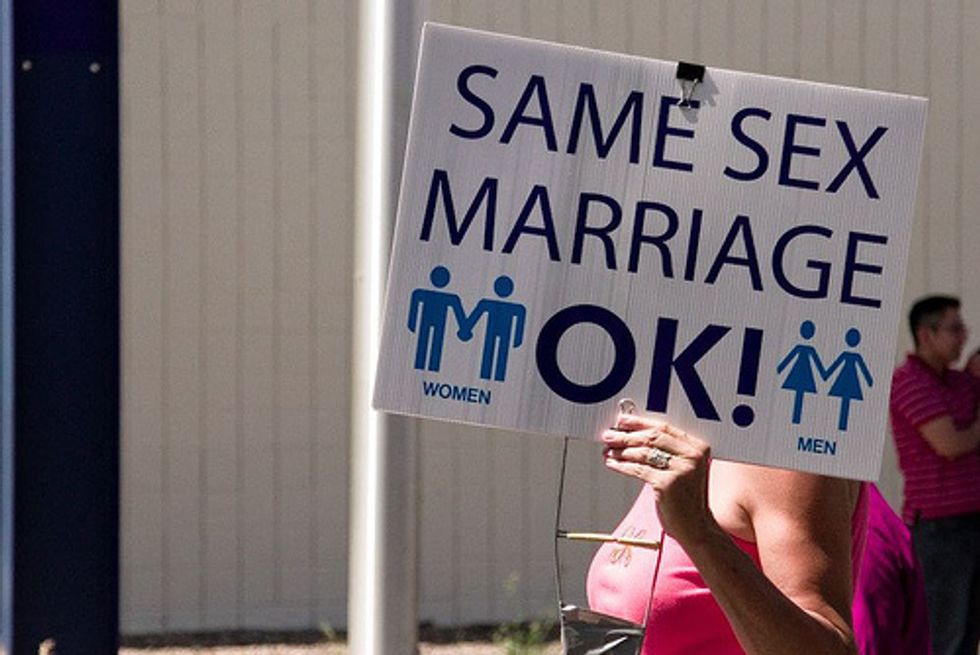 Abraham Lincoln said it best.
As the drums of disunion began to drown out the softer melodies of comity and reason, Lincoln, a candidate for U.S. Senate, warned a convention of Illinois Republicans that the nation could not escape its moment of decision.
"A house divided against itself cannot stand," he said in a celebrated 1858 speech. "I believe this government cannot endure permanently half slave and half free. I do not expect the Union to be dissolved — I do not expect the house to fall — but I do expect it will cease to be divided. It will become all one thing, or all the other."
The showdown he foresaw came three years later, when the guns began to fire at Fort Sumter
Today we face another division of the house — and another looming showdown. This one will not be resolved with guns — the violence will be rhetorical — but it will be difficult, nonetheless.
We took a step toward the showdown last week when the IRS announced that married, same-sex couples will now be allowed to file joint federal tax returns, just as married opposite-sex couples do. Adam and Steve — or Keisha and Rose — will be entitled to all the federal exemptions and deductions marriage provides, even if they live in states that prohibit same-sex marriage. Washington will recognize their union, even if North Carolina does not.
You may think that is simply proof North Carolina and other recalcitrant states are on the wrong side of history — again — and will eventually and belatedly have to concede the fact. You're right, except that it may not be as eventual and belated as you think.
Consider Article IV, Section 1 of the U.S. Constitution, which reads, in part, as follows: "Full faith and credit shall be given in each state to the public acts, records and judicial proceedings of every other state."
It's called the "full faith and credit clause." What it means is that each state honors and recognizes the official acts of other states. It is why, if you owe child support in Alabama, you still owe it in Alaska. And why, if you lost a civil suit in West Virginia, you are still liable for damages in South Dakota. And why, if Massachusetts considers you married, Mississippi does, too.
Or at least, that's the theory. While that rule still applies for most of us, same-sex couples face a patchwork of laws under which their marriages might go from recognized to unrecognized and back again simply by taking a road trip. But if your home state says you're married, and the federal government says you're married, can Mississippi really say that you are not?
That is the question at the root of the impending showdown and sooner or later — likely sooner — it will go to the courts, probably all the way to the top. The Constitution saying what it says, the Defense of Marriage Act having been partly overturned, the tide of public acceptance being what it is, it is hard to imagine the answer will be favorable to the foes of marriage equality.
Once again, the hidebound elements in this country will be dragged, kicking and screaming, into the present. Once again, change will come. Once again — as was the case with segregation, women's rights, workers' rights — that change will be something that is imposed by the many upon the obstinate few.
That is regrettable. Change that is imposed is almost invariably change that is resented. And resentment brings challenges of its own. On the other hand, if those hidebound elements truly require dragging, kicking and screaming, last week's IRS ruling suggests the rest of the country stands ready to accommodate them.
Abraham Lincoln spoke a verity for the ages, one America would be well-advised to heed. Make no mistake: The showdown is inevitable.
A moment of decision is coming once again to this divided house.
(Leonard Pitts is a columnist for The Miami Herald, 1 Herald Plaza, Miami, Fla., 33132. Readers may contact him via email at lpitts@miamiherald.com.)
Photo: Lynn Schibeci via Flickr Commons