Jindal Hedges On Whether He'll Vote For Trump: 'We're Not Gonna Let Him Win The Nomination'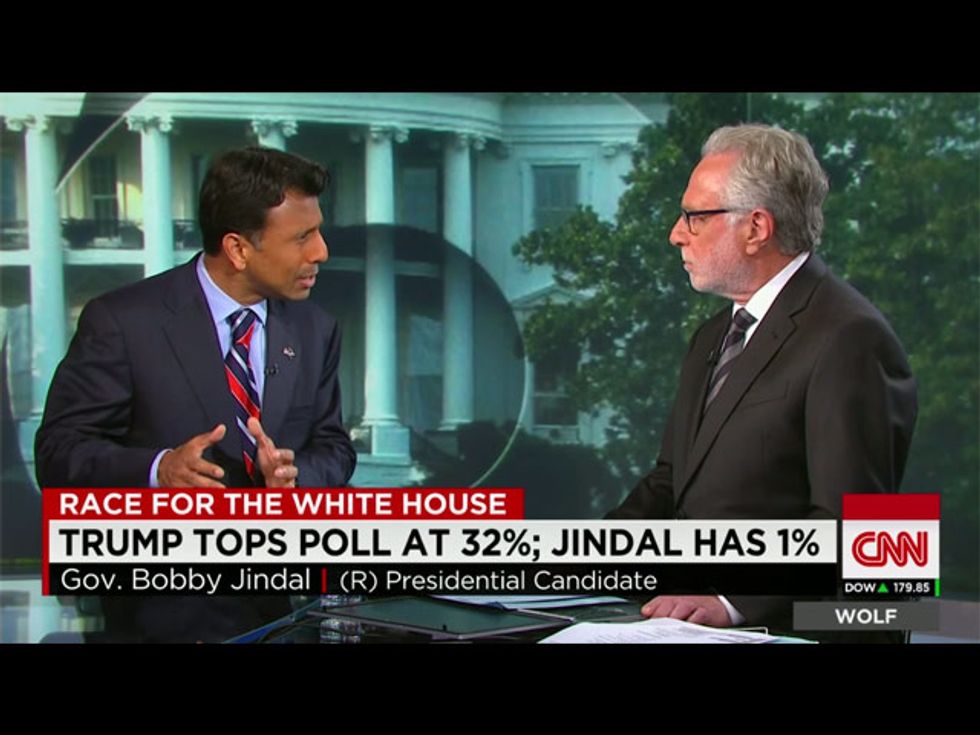 Bobby Jindal is the latest among the bottom-tier Republican candidates to try to elevate his profile by charging against Donald Trump, calling him utterly unfit to lead the Republican Party or become president. But he's having trouble answering a pretty basic question.
Jindal delivered a blistering speech Thursday at the National Press Club, in which he laid into Trump with such epithets as "non-serious," "a carnival act," "shallow," "full of bluster," and "an egomaniacal, unserious person" who has no policy ideas or even (based on Trump's past political positions) any conservative principles.
In an interview with CNN, however, Wolf Blitzer pointed out that Jindal has signed the Republican National Committee's pledge to support the eventual nominee. So after declaring that Trump is absolutely unfit to lead, would Jindal still support Trump if he were to become the nominee?
"Well, Wolf, that's why I'm here today, to stop that from happening," Jindal answered.
"We've got to stop that hypothetical from happening. He's not a conservative. Not only is it dangerous that he could implode against Hillary — what's even more dangerous is, what happens if he gets elected?" Jindal continued.
"People say, 'Oh, it's dangerous, you can't have this madman near the nuclear codes.' It's not just that. What's more dangerous is, here is — we've got a man, there's no ideology, there's no policy, there's no intellectual curiosity. He's only for himself. You know, he's said his favorite book is the Bible — he couldn't name one verse that he liked or had an impact on his life. Wolf, I don't think he's read the Bible, because he's not in it."
When Blitzer asked the question again, Jindal again responded: "I'm working hard to make sure he's not the nominee."
Blitzer then had to ask the question a third time — noting this time that Trump himself signed the RNC's loyalty pledge, like all the other candidates including Jindal, and after much pressure and courting to do so from RNC chairman Reince Priebus. So, would Jindal support Trump to be President of the United States if the latter were to win the nomination?
"We're not gonna let him win the nomination," Jindal said. "That's what this is about. This is about saying — this is bigger than the Republican Party, it's about our country."