U.S. Building Coalition For Syria Strikes, Kerry Says
@AFP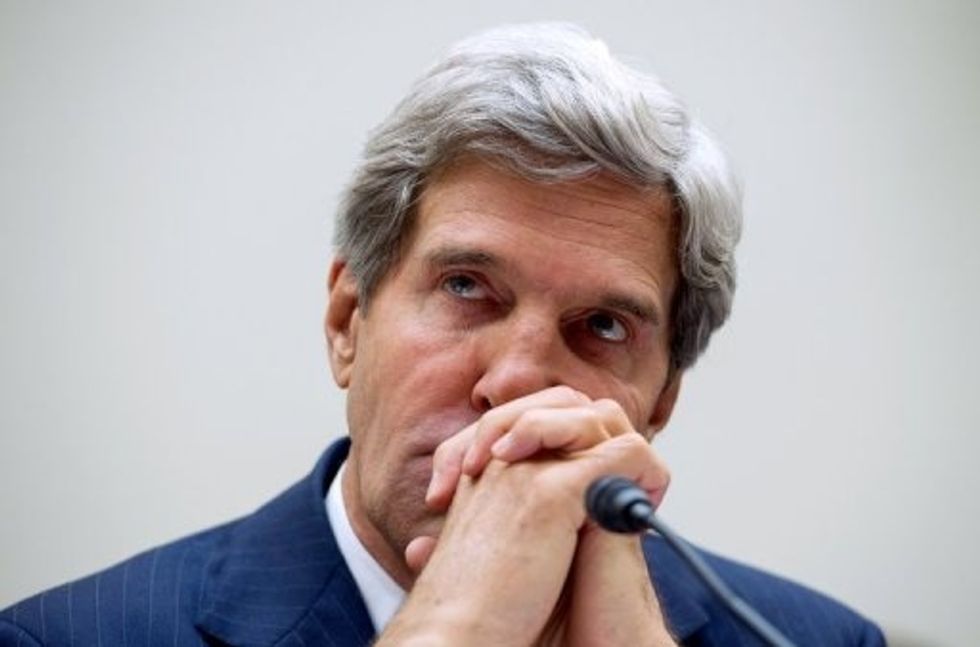 WASHINGTON (AFP) – An international coalition for action against Syria is growing, Secretary of State John Kerry told U.S. lawmakers Wednesday, adding that Arab nations had even offered to pay for any strikes.
"We are building support with … other countries, among them the Arab League," Kerry said, as the U.S. administration tried to sell its plan for military action to punish Syria for its use of chemical weapons.
"Specific countries that have talked in terms of acting" were "Saudi Arabia, the Emirates, Qataris, the Turks and the French."
The move comes after an alleged chemical weapons attack on a Damascus suburb last month, which the U.S. says killed 1,400 people.
The United States had reached out to more than 100 countries already and 57 had agreed chemical weapons were used, and 37 of them had said so publicly, Kerry told a House committee.
President Barack Obama has insisted that the regime of Syrian President Bashar al-Assad's regime has crossed a red line against the use of chemical weapons and should be punished and his military capability degraded.
"Thirty-one countries or organizations have stated publicly or privately that the Assad regime is responsible for this attack, and that was before our evidence package was put together," Kerry said.
"And 34 countries or organizations have indicated that if the allegations prove to be true, they would support some form of action against Syria."
He even suggested the United States had too many offers of help as he sought for a second day to persuade U.S. lawmakers to back Obama's plan for limited missile strikes against the Syrian regime.
"A number of them have asked to be part of a military operation," he said.
"The Turks, a NATO country, have condemned it, pinned it on Assad, asked to be part of an operation.
"The French have volunteered to be part of an operation. There are others who have volunteered. But frankly … we got more volunteers that we can use for this kind of an operation," Kerry said.
"With respect to Arab countries offering to bear the cost and to assist, the answer is profoundly yes, they have. That offer is on the table," Kerry, adding it was "quite significant."
"Some of them have said that if the United States is prepared to go do the whole thing the way we've done it previously in other places, they'll carry that cost. That's how dedicated they are to this."
But he stressed: "Obviously, that is not in the cards and nobody is talking about it, but they are talking about taking seriously getting this job done."
He was appearing before the House Foreign Affairs committee on the second day of the administration's blitz on Capitol hill to persuade lawmakers to approve limited military strikes against Syria.
In a sign of public opposition to the plan, anti-war demonstrators held up red-stained hands behind Kerry's head in a silent protest as he spoke.
Lawmakers are now drafting a resolution to go before Congress which would give the U.S. administration a 60-day deadline for military intervention, which could be extended once for 30 more days. It would also bar any American boots on the ground.
Asked if the time limit was acceptable to administration, Kerry said it would be preferable to have "a trigger in there" if Assad used chemical weapons again.
He indicated that a move to give the White House a further 60 days every time such arms were used would be acceptable.
AFP Photo/Jim Watson