Embattled McCarthy Dares His Own GOP Caucus To Oust Him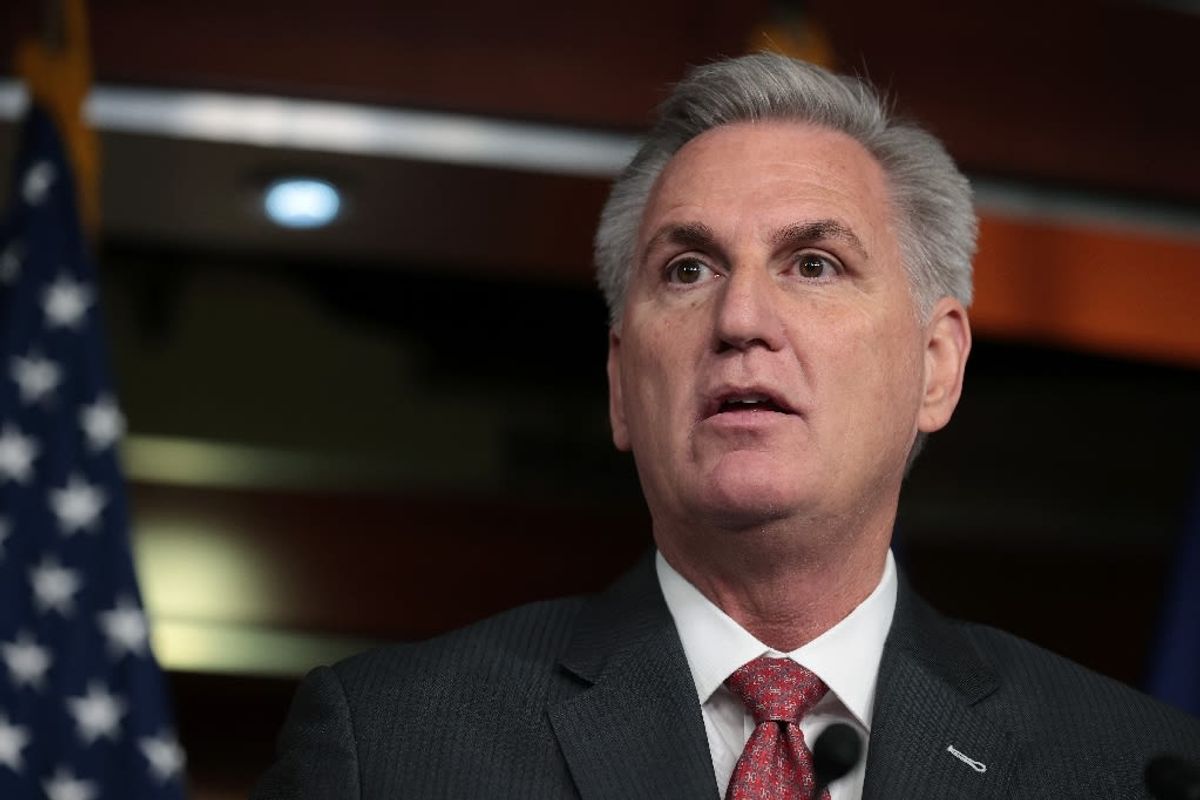 Speaker Kevin McCarthy's frustration with his own House Republicans continues to grow as he dared them to oust him during a closed door meeting of the GOP Conference on Thursday morning.
The Speaker "dared members from his own party who have been threatening to oust him to bring a motion to vacate to the House floor," The Messenger reports.
McCarthy "said he's not scared of the motion, which — if approved — would vacate him from the No. 1 leadership post," The Messenger adds, citing a source in the room.
"Move the f—ing motion," he dared them.
That meeting was supposed to be focused on investigations but reportedly also included heated conversations on the rapidly approaching September 30 deadline to fund the government and avoid an October 1 shutdown.
Punchbowl News cofounder Jake Sherman reports he asked the speaker "what was going on" with "this funding mess," as McCarthy was headed in to the meeting.
"Yeah, I don't understand how members, they have no complaint about the [Department of Defense] bill. But they don't want to pass it," McCarthy told Sherman.
"I got a small group of members who don't want to vote for [a continuing resolution], don't want to vote for individual bills and don't want to vote for an omni," he added, referring to a massive all-encompassing "omnibus" bill.
"I'm not quite sure what they want," McCarthy said.
Minutes later Sherman reported: "House Republicans are meeting behind closed doors. The stated topic is investigations. But [McCarthy's] now talking about funding. 'We don't win shutdowns,' he's telling his colleagues 16 days from funding expiring."
McCarthy appeared to mock Democrats by telling his fellow House Republicans, while using his speech, to also attack his fellow Republicans, which Sherman called McCarthy's "'where we are' pitch."
U.S. Secretary of Energy Jennifer Granholm "can't charge her car," McCarthy told his members, referring to reports of a hardware problem on an electric Cadillac that caused problems on a trip earlier this summer.
Sherman, paraphrasing McCarthy, reports he said: "Two 'liberal newspapers' say Biden shouldn't run again. Pelosi getting asked about whether Biden and Harris should run again. 'And we can't pass our DOD bill?'" McCarthy said. If we get in a shutdown, McCarthy said, how do we get out of it. Biden, [McCarthy] said, would have articles written making him look like the adult in the room."
McCarthy appeared to continue to blast Republicans.
Sherman reports McCarthy told his members, "If you think we have more leverage in a shutdown, I don't think that. You give all the power to the administration. If you have an honor flight coming in, they'll put bike racks around the monuments so they can't see them. 'Our power is if we pass appropriations bills and make Democrats defend their votes.'"
He also "effectively said he's not afraid of a motion to vacate. He said any speaker would do roughly what he's doing."
The motion to vacate is part of the concession package McCarthy reportedly agreed to that allowed him enough votes to win the gavel in January after a contentious battle and 15 attempts.
Reprinted with permission from Alternet.