New CBO Report: Trump's Refusal To Pay Obamacare Subsidies Will Raise 2018 Premiums By 15 Percent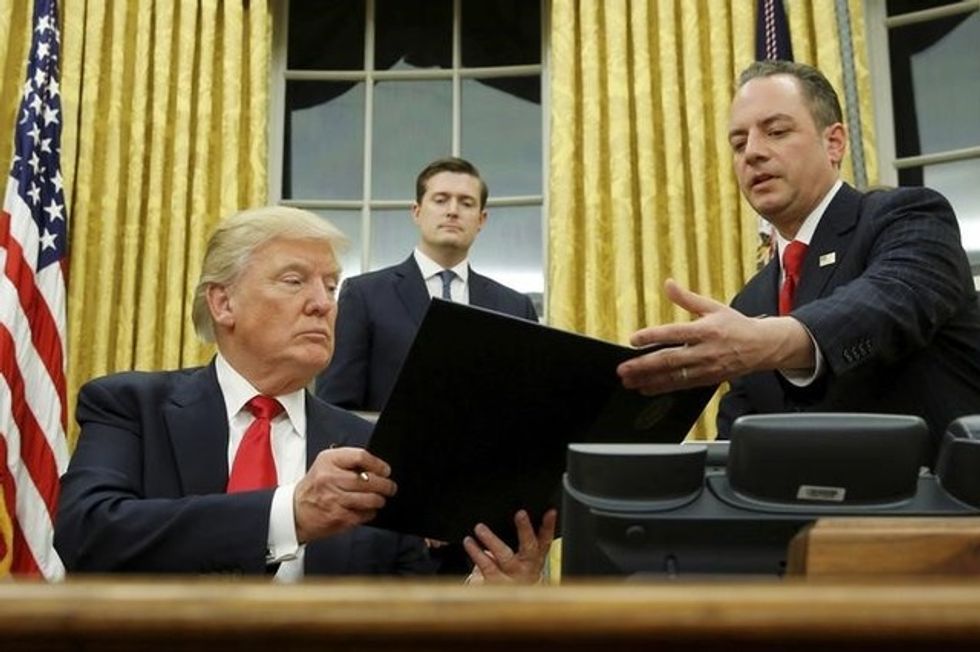 Reprinted with permission from AlterNet.
President Trump is poised to punish 12 million Americans getting health care through Obamacare's non-group policies by raising their premiums 15 percent in 2018. That's the conclusion of a report released Thursday by the Congressional Budget Office/Joint Committee on Taxation on the impact of Trump's refusal to say if the federal government will pay the Affordable Care Act's subsidies in 2018.
"In 2018, the agencies project, the average benchmark premium will be roughly 15 percent higher than it was in 2017, largely because of short-term market uncertainty—in particular, insurers' uncertainty about whether federal funding for certain subsidies that are currently available will continue to be provided—and an increase in the percentage of the population living in areas with only one insurer in the marketplace," the CBO/JCT said.
In 2017, 12 million people bought non-group health plans through the ACA's exchanges, of which 8 million received subsidies. The CBO/JCT report says the number of individuals seeking Obamacare coverage and receiving subsidies is slated to grow by 1 million in 2018. But a lack of subsidies and higher premiums, if implemented, would reverse that.
"That increase in enrollment in 2018 is limited by projected premium increases due to near-term market uncertainty and by announced reductions in federal advertising, outreach, the enrollment period, and other enrollment efforts, which push enrollment down," CBO/JCT said, referring to other efforts by the executive branch to sabotage Obamacare.
Trump's intransigence about paying Obamacare subsidies is one facet of marketplace chaos created by Republicans that is making health care more expensive. In Congress, a handful of senators are making a final effort to repeal Obamacare and eviscerate Medicaid, which analysts said could cause 32 millionpeople to lose coverage over the next decade.
Meanwhile, the Senate Health Education Labor and Pensions Committee has been holding bipartisan hearings since Labor Day to pass legislation before the end of September that deals with the projected premium hikes for 2018—which were confirmed by the CBO/JCT report.
Notably, the congressional report said that Obamacare's insurance markets had stabilized by this year and were allowing private insurers to profit, as opposed to the ACA's earlier years when people who didn't have coverage enrolled and dealt with long-simmering illnesses. In other words, without GOP intervention, there would be no increase in 2018's premiums.
"Data about insurers' profitability in the first quarter in 2017 are consistent with the market's being stable," CBO/JCT said. "Insurers' profitability, as measured by the share of premiums that goes toward their administrative costs and profits rather than paying for claims, has increased in 2017 to move closer to pre-ACA levels. That evidence suggests that the premium increases in 2017 were a sufficient adjustment by insurers to account for the underlying health risk of the non-group population."
Trump has created market chaos that insurers are responding to by saying they will charge more to meet their profit goals. Put another way, the president has found a way to make health insurance more expensive for millions of people—if they can afford to keep it.