New Disclosures On Roger Stone's Ties To Assange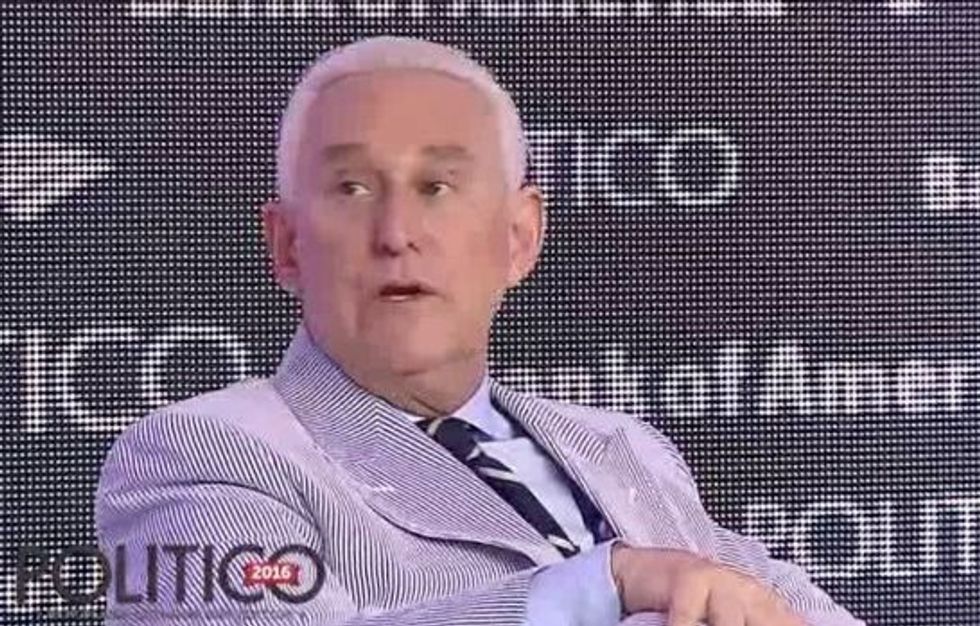 Reprinted with permission from AlterNet.
Additional links between Roger Stone and WikiLeaks have come to light as President Donald Trump's ally faces mounting scrutiny about his activities prior to the 2016 presidential election.
A new report this week from the Wall Street Journal found that Stone sent an email to his associate Sam Nunberg on Aug. 4, 2016, saying that said he had had dinner with WikiLeaks founder Julian Assange the previous night. CNN reports that, on that same day, Stone went on the fringe online right-wing show InfoWars and predicted that Assange had major evidence of wrongdoing by the Clinton Foundation.
"Let's remember that their defense to all the Clinton Foundation scandals is not that 'we didn't do,' but 'you have no proof, yes, but you have no proof,'" Stone said. "I think Julian Assange has that proof and I think he is going to furnish it for the American people."
The next day, he praised Assange on Twitter.
Stone says that he didn't meet with Assange and that the email to Nunberg was a "joke." It's not really clear what's supposed to be funny about the email, but Stone did provide the Journal with evidence that suggests he was in Los Angeles on Aug. 3, nowhere near Assange's location in London's Ecuadorian embassy.
Nevertheless, this potential connection is just one more link between Stone and WikiLeaks that may cause him trouble. The Journal says the email came up in Stone's testimony for special counsel Robert Mueller before a grand jury.
Rep. Adam Schiff (D-CA), the ranking Democrat on the House Intelligence Committee, said Stone never turned the email over during his testimony as a part of the body's investigation into Russian interference in the 2016 election, a sign he may not have been completely honest before Congress.
And Nunberg—the associate Stone emailed about Assange—has previously suggested Stone might have something to hide. Before eventually deciding to cooperate with Mueller, Nunberg initially said he would refuse to testify. He told CNN that investigators want him to testify against Stone.
"They want me to say that Roger was going around telling people he was colluding with Julian Assange. That's what they want. I'm not going to do it," Nunberg said.
The connecting dots that continue to emerge could put one of Trump's most ardent allies in real legal jeopardy.
Cody Fenwick is a reporter and editor. Follow him on Twitter @codytfenwick.