Nikki Haley Tweet Feeds 'Rumors' About Pence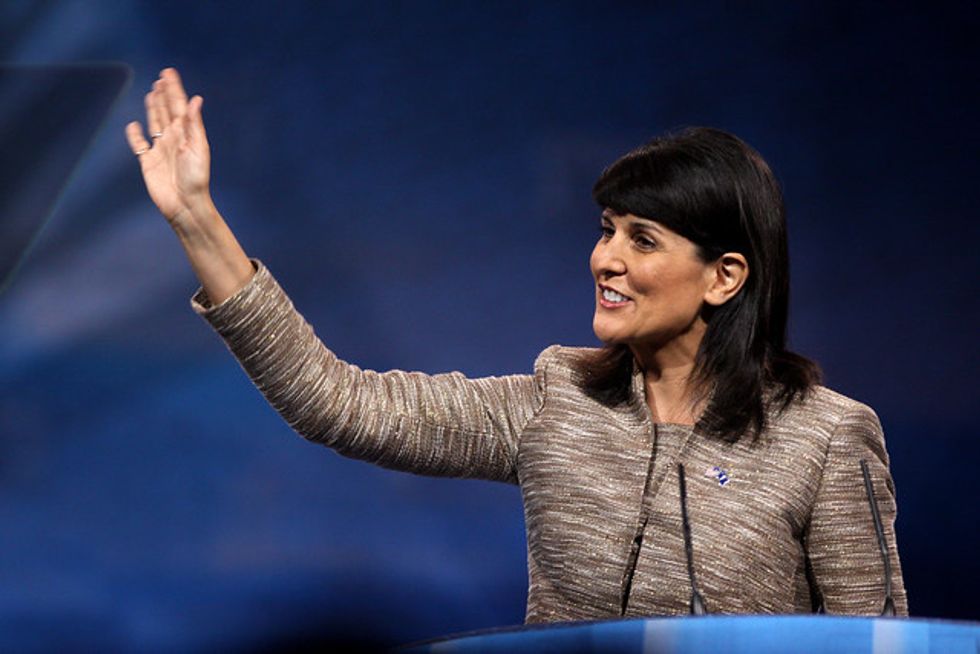 Trump's former U.N. ambassador Nikki Haley floated a rumor Wednesday about her possibly replacing Mike Pence on the 2020 Republican ticket.
"Enough of the false rumors," Haley wrote to her over 450,000 followers. "Vice President Pence has been a dear friend of mine for years. He has been a loyal and trustworthy VP to the President. He has my complete support."
The statement, which quickly spread online, does little to tamp down those rumors, though.
Bloomberg White House reporter Jennifer Jacobs said that "key White House aides know exactly" what the story is about, adding, "Haley almost begging reporters to explain the 'rumors.'"
"That's one way to dispel 'false rumors' — broadcast them to your 450,000 followers, 98% of whom had never heard the rumors," noted conservative activist Bill Kristol.
As Trump's vice president, Pence has often been the subject of public humiliation, including on the subject of whether Trump wants to keep Pence around for another term or would support a future run for the White House.
In June, Trump made it clear he wouldn't publicly endorse a possible 2024 run by Pence. A host on Fox News asked Trump if he would give his vice president an "automatic endorsement" for the race. Trump refused.
"I love Mike," he said. "We are running again. You're talking about a long time, so you can't put me in that position."
In Trump's first year, Pence began to arrange what was described by some as a "shadow campaign" for the presidency. He set up his own PAC (Great America Committee) and hosted Republican donors at his official residence.
When news of those actions surfaced, Pence slammed the stories. He described the reporting as "disgraceful and offensive" and said the reporting was "categorically false."
Pence has kept his PAC active in the two years since, however.
Last November, reporting indicated that Trump still had questions about Pence's commitment to the ticket.
According to the New York Times, Trump repeatedly asked aides and advisers if Pence is still loyal to him.
Haley's tweet fans the flames of rumors that have always dogged Trump and Pence, and they put Pence in a weak position with a presidential ticket already facing considerable political headwinds.
Published with permission of The American Independent.