NRA Forced To Drastically Reduce Midterm Spending
@EricBoehlert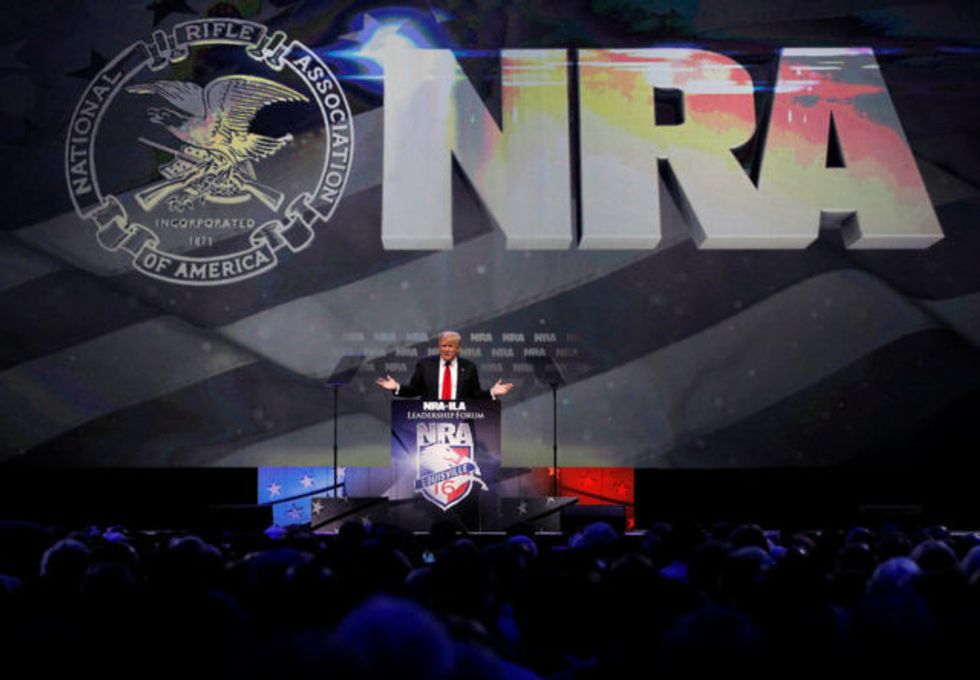 Reprinted with permission from Shareblue.
Republicans trying to fend off a Democrats blue wave this year are going to have do it without much aid from a longtime, deep-pocketed ally, the National Rifle Association.
At a time when it's reeling from falling revenues, the NRA has drastically pulled back its financial support for GOP campaigns during this midterm cycle.
To date, the radical gun group has pledged just $1.6 million dollars to Republican campaign efforts this midterm election cycle. That's compared to the $16 million the group poured into GOP coffers in 2014.
"That decline comes as the FBI investigates whether the group illegally received money from Russia to fuel its support of President Donald Trump during the 2016 election and as the group has seen a decline in dues that has deepened the group's operating deficit," McClatchy reports.
The decline also comes in the wake of horrific mass shootings in America, after which the NRA refuses to engage in honest debate about gun safety.
The group's paltry campaign support this year is especially stark considering the NRA broke the bank in 2016 on behalf of the GOP, spending $54 million to boost Republican campaigns. Of that, $32 million went to help Trump win the White House.
In contrast to the NRA's weak giving this election cycle, gun-safety group Giffords PAC, created by former Arizona Rep. Gabrielle Giffords, who was shot in 2011, has already handed out $3.6 million to date, McClatchy reports.
Also, Everytown for Gun Safety, a pro gun-control group, has nearly matched the NRA this cycle, spending just under $1.5 million to date.
It's possible the NRA just doesn't think Republicans have much of a chance this November, and so the group is going to save its money instead of spending it on lost electoral causes.
But it's also increasingly clear that the NRA is bleeding cash.
A recent audit reviewed by OpenSecrets indicates that for the last two years, thanks to plummeting income from dues-paying members, the NRA has been piling up large deficits.
Specifically, the NRA ran up a $14 million deficit in 2016, which then ballooned to $31 million in 2017. That's a sharp reversal from 2015, when the NRA posted $27 million in positive assets.
Sorry, GOP, but the cupboards are bare at the NRA.
Published with permission of The American Independent.