NRA Spy Butina Accepts Plea Deal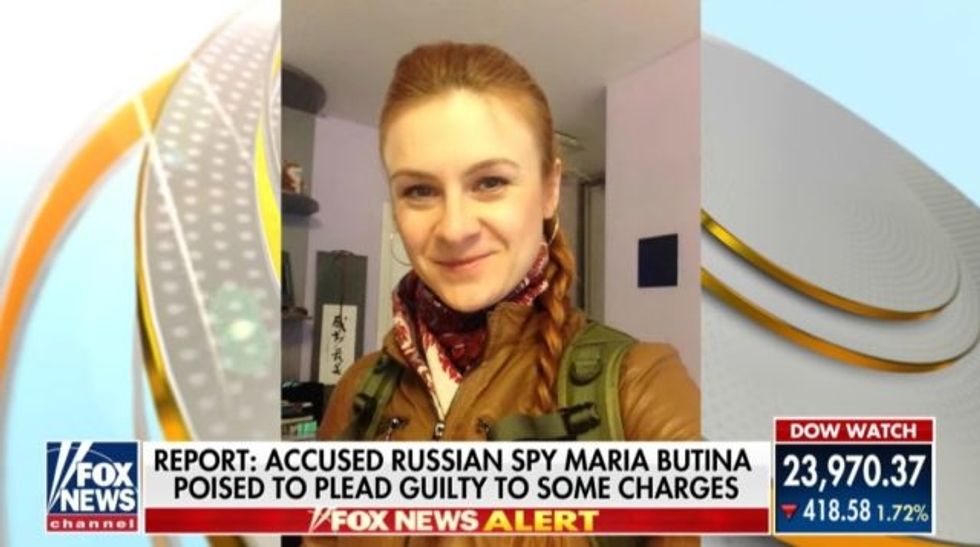 Reprinted with permission from Shareblue.
Months after being arrested, lifetime NRA member and alleged Russian spy Maria Butina requested a court appearance to change her "not guilty" plea.
Butina was arrested in July and charged as a Russian spy intent on infiltrating conservative organizations, including the National Rifle Association (NRA).
In a joint filing with the prosecution, lawyers for Butina wrote to the judge in the case saying Butina wishes to change her "not guilty" plea, and "the parties have resolved this matter," according to the Washington Post.
Butina allegedly used her cover as a graduate student at Washington D.C.'s American University to ingratiate herself in conservative circles and push forward the Kremlin's agenda.
According to the Post, "prosecutors said her goal was to advance the foreign policy aims of the Kremlin and that she was acting at the direction of a Russian government official, Alexander Torshin, a former senator who now serves as deputy director of the Russian central bank."
The news that Butina seems ready to plead guilty, and possibly work with prosecutors, is the latest in a string of bad news for the NRA. In the 2018 midterms, NRA-backed candidates lost all over the country, signalling Americans are tired of the gun violence the group helps perpetuate. The organization is in such dire straits that it can't even afford to provide coffee for employees anymore.
While only 30, Butina ran in circles with several high-level conservatives. House Democrats, soon to be in the majority, are concerned about Butina's interaction with Trump's national security adviser, John Bolton. In 2013, both Bolton and Butina spoke at a pro-gun roundtable discussion, leaving Democrats wondering how much interaction an alleged Russian agent had with Trump's top national security aide. (Trump's first national security adviser, Michael Flynn, pleaded guilty to lying to the FBI about his interactions with Russian agents, and is now cooperating with special counsel Robert Mueller's investigation.)
Butina also had interactions with at least one member of Congress. On more than one occasion, she dined with outgoing Rep. Dana Rohrabacher (R-CA), often referred to as "Putin's favorite congressman" for his unsavory ties to Russia. Rohrabacher, who embraces far-right fringe conspiracy theories and has called U.S. intelligence agencies liars when defending Mother Russia, denies any wrongdoing. Rohrabacher lost his re-election efforts in the 2018 midterms as part of the decimation of the Republican Party in California.
If Butina is cooperating with federal prosecutors, there could be real consequences for the NRA and the untold numbers of conservative activists she worked with.
Published with permission of The American Independent.