Netflix Drama 'House Of Cards' Returns En Masse
@AFP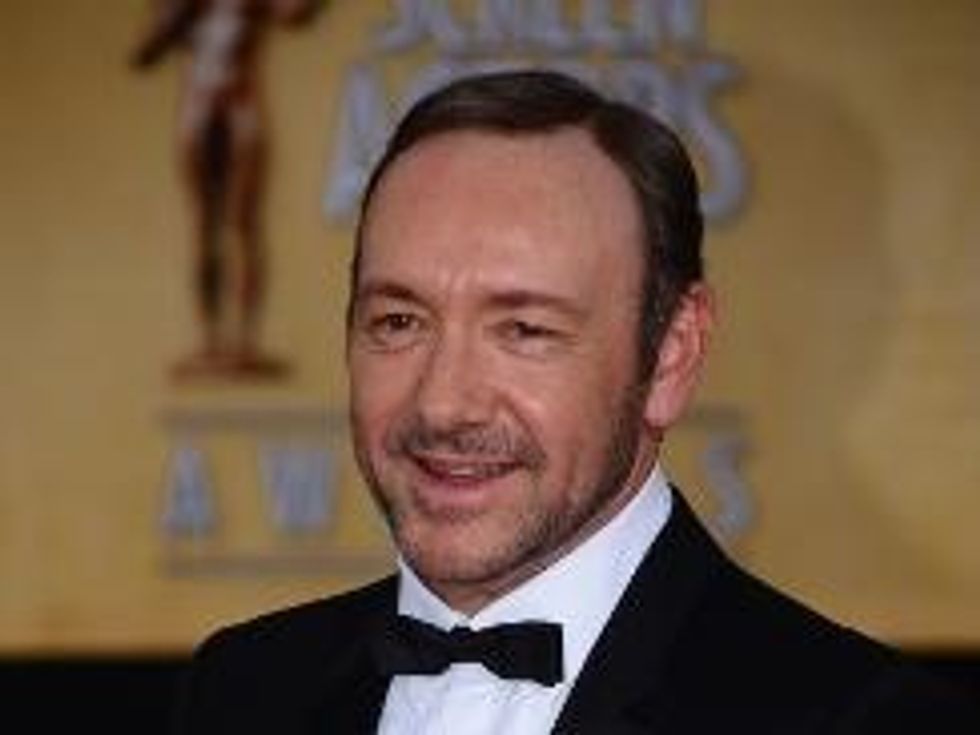 Washington (AFP) – What better way to spend Valentine's Day but to binge out on the machinations of the most duplicitous Washington power couple ever to grace the small screen?
"House of Cards" returns Friday to Netflix, the Internet streaming video service that threw away the Hollywood playbook a year ago when it sent out all 13 hour-long episodes of its flagship original drama in one fell swoop.
It will do so again this time to its 31 million subscribers in the United States, plus those in Canada, South America, Britain, the Netherlands, Scandinavia and Finland.
Oscar-winner Kevin Spacey stars as the vengeful and manipulative congressman Frank Underwood, with Robin Wright as his wife and willing accomplice Claire, and Kate Mara as ambitious young reporter Zoe Barnes.
Netflix has ordered up a third season, and hinted there may be even more, after "House of Cards" collected nine Emmy nominations, the first ever for an Internet-delivered series, and won Wright a best-actress Golden Globe.
The show goes on
"We think there is plenty of great storyline" to keep the show running, Netflix spokesman Joris Evers told AFP.
Political dramas are already a winning fixture on American television, with ABC's "Scandal" starring Kerry Washington resuming its third season on February 27 and cable channel Showtime's spy-focused thriller "Homeland" renewed for a fourth season.
How accurately "House of Cards" — whose presentational style follows the eponymous post-Margaret Thatcher BBC miniseries set in Westminster — portrays real-life Washington is debatable.
"Honestly, the egos and the quest and thirst for power is very prevalent in Washington," Republican congressman Jeff Duncan, who like the fictional Underwood hails from South Carolina, told Politico.com.
But President Barack Obama only wishes that Washington could be as "ruthlessly efficient" as it appears on "House of Cards," he told a gathering of technology executives in December.

A dirty path to power
Season two of the show, which is actually filmed north of Washington in the city of Baltimore, finds Underwood assuming the vice presidency, having ruthlessly undercut rivals and even murdered someone in a protracted act of revenge after earlier being denied the promised post of secretary of state.
"One heartbeat away from the presidency and not a single vote cast in my name. Democracy is so overrated," snickers Underwood in one of his signature asides to the viewer, according to TV critics who got an early look at the new season.
Eschewing mainstream television's fixation with ratings, commercial-free Netflix won't comment on how many people stream "House of Cards," saying only that it is "one of the most popular series" in its lineup.
But Evers disputed the notion that Netflix series are usually watched in one sitting, despite the possibility created by shunning the one weekly episode format favored by other smash-hit shows such as the now-ended "Breaking Bad".
"We find that our members typically watch two, sometimes three episodes at a time. It is pretty rare for people to marathon-watch entire series," Evers said.
Repulsive and corrupt?
Brian Carso, a constitutional history professor at Misericordia University in Pennsylvania and fan of the show, sees in "House of Cards" the complicated relationship in American politics between the lofty ideal of virtue and the cold hard reality of power.
"There's something oddly attractive about Frank Underwood and Claire Underwood and Zoe Barnes and the various other players," he told AFP, "and yet they're also repulsive and corrupt — I mean, big-time corrupt."
Political science professor Jeffrey Bosworth of Mansfield University, also in Pennsylvania, thinks Spacey's portrayal of Underwood "plays into public cynicism about politicians and what motivates them" — namely, greed.
"Because Americans are so cynical about politicians, the show appears to be an 'honest' view of our political class," he said.
But Jessica Seigel, who's expecting 30 to 40 people for a "House of Cards" viewing party Friday at Swarthmore College, says the show isn't putting off her dream of one day working in Washington's corridors of power.
"It is slightly discouraging that you see this corruption," the political science student said, "but at the same time it encourages me as someone who really cares about changing Washington to be more involved."
AFP Photo/Frederic J. Brown