Pennsylvania Sees A Run On Same-Sex Marriage Licenses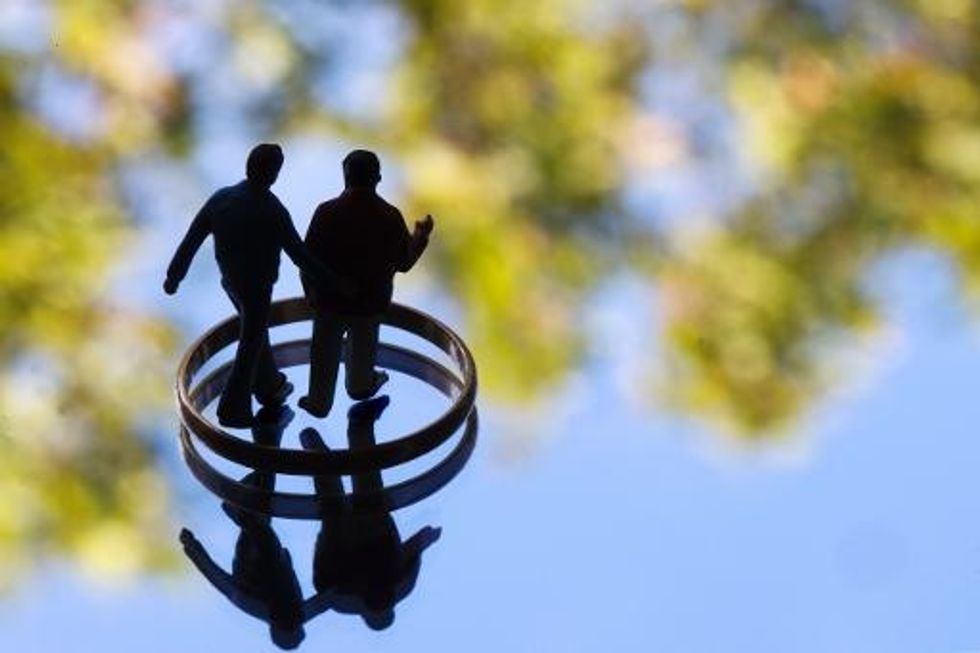 By Jennifer Lin, The Philadelphia Inquirer
PHILADELPHIA — On Day One of legalized gay unions in Pennsylvania, same-sex couples lined up Wednesday outside the city's Marriage License Bureau even before the doors opened at 8 a.m.
In the dreary corridors of City Hall, the smiles of couples were incandescent.
Even a guard at the ground-floor security check-in was prompted to cheer, "Congratulations, guys!" as happy pairs made their way to the fourth-floor office.
For many, this was a moment they doubted would happen.
Jerry Hofer and Paul Nye, both 58, have been together for 30 years. Next week, they hope to be married by their friend, Mayor Michael Nutter.
The couple became engaged on April 12 and thought they would have to go to another state to apply for a marriage license. "The proposition of doing this in Pennsylvania seemed daunting," said Hofer, who works in medical education.
They had wanted to apply for a marriage license immediately after Tuesday afternoon's court ruling, but arrived at the bureau a half hour too late.
Deidra Roots, 51, and Francine Allen, 63, got a marriage license in Cherry Hill, New Jersey, last January after New Jersey legalized same-sex marriages. But Roots wants to change her last name to Allen and could not under state law — until Tuesday.
That's when U.S. District Judge John E. Jones 3rd struck down the state's ban on same-sex marriages, clearing the way for the Commonwealth to legalize gay marriage.
After consulting with city clerks, Roots was told that the ruling now recognizes her marriage license from New Jersey and she could apply to change her name at the Department of Motor Vehicles.
"I'm going straight to DMV," said an ecstatic Roots.
On Wednesday evening, Susan King, 49, and Barbara Hall, 45, plan to share with their two sons — Eli, 12, and Noah, 7 — the news of their marriage plans.
"They know about the fight for marriage equality," said Hall, a writing teacher at Haverford College.
King, a law professor at Widener University, said they will tell the boys, "Now we can get married, Pennsylvania has said we can get married."
The couple was too busy grading papers Tuesday to file for a license after the news. But the women were among the first in line Wednesday morning.
Hall said she had watched as one state after another legalized same-sex marriages and did not expect to feel so profoundly when her home state of Pennsylvania was now following suit.
"I feel respected and included in a new way," Hall said. "We've been living a married life for a long time."
Eliza Callard, 40, a writer, and Emily Gavin, 43, an occupational therapist, celebrated the news Tuesday by having dinner with Callard's parents.
Her father, Dan Callard, told them, "You had a wedding 15 years ago and everyone who loves you knows you are already married."
But her parents urged them to "hurry and get a license before they take it away."
And so before Gavin had to be at work, they filled out the paperwork as a married couple.
AFP Photo/Joel Saget
Want to stay updated with the latest progress in the fight for marriage equality? Sign up for our daily email newsletter!