The Price Rises On Houston's 'Cheap' Housing
@FromaHarrop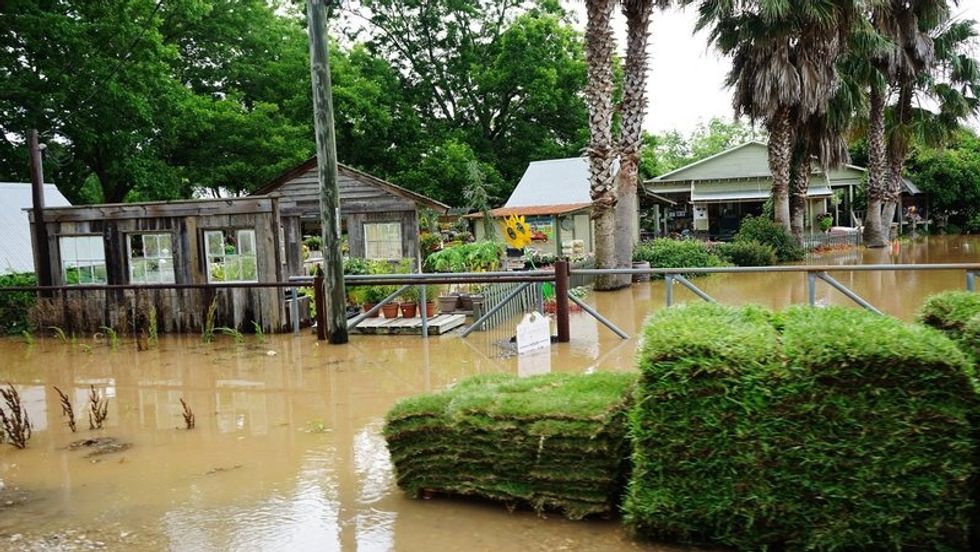 Reprinted with permission from Creators.
As the floodwaters recede, much of Houston's famously "affordable" housing may seem less of a bargain. We're not just talking about rising rents, inevitable with so many units destroyed. We are talking about the emotional cost of having to move in with friends, rebuild and buy new furniture more than once in a lifetime.
Floods have been a regular occurrence in Houston, but the city's lack of zoning and sloppy land-use practices made matters worse. Developers had covered land that could absorb water and built willy-nilly in floodplains.
The disaster in Houston has put many conservatives on the defensive. Houston was their urban model. Developers could put almost anything anywhere, which lowered the cost of living. By unfavorable comparison, "elite" coastal cities that regulate development have relatively high housing costs.
But it's an extreme creed that portrays regulation as the enemy of investment. In the real world, smart regulation can protect investments.
Libertarian Joel Kotkin has long touted Houston as "America's Opportunity City" — the product of its freeway-driven sprawl and no zoning. "The once-depopulating Fifth Ward," he wrote approvingly, "has seen a surge of new housing — much of it for middle-income African-Americans."
That was pre-Harvey. Last week, Fifth Ward residents found themselves waist-deep in water, their possessions ruined. Now they fear that nearby industrial sites may be leaking toxic compounds into the mix.
Kotkin's Center for Opportunity Urbanism now blames the area's clay soil (doesn't absorb water well) and flatness (doesn't drain well) for much of the flooding. Well, isn't that all the more reason to preserve wetlands and pave less?
The constant carping at expensive coastal cities tends to ignore that their land areas are hemmed in by major bodies of water. Houston could grow and grow into the limitless Texas plains. The Atlantic Ocean curbs New York's sprawl. The Pacific limits San Francisco's.
In praising the Houston way, Kotkin points out that the average one-bedroom home rents for 60 percent less in Houston than in San Jose, California. It's odd how free-marketeers often ignore free markets. The cost of housing is high in San Jose because lots of people want to live there. It's a supply and demand thing.
Some people consider long commutes in heavy traffic a fair trade for more square footage. Others want a walkable environment ensured by urban planning and are obviously willing to pay for the privilege. It's a free country.
Conservatives unwilling to seriously confront climate change are trying to avoid evidence of its role in the Houston calamity. The Wall Street Journal fights the notion, widely shared by leading climatologists, that global warming has made storms like Harvey fiercer.
"No amount of flood control could have prevented damage from a once-in-500-years storm," an editorial said.
Perhaps true, but Harvey was Houston's third 500-year flood in three years. Something's happening up there, ya think?
Of course, all debates on Houston's affordability must now be conducted in the past tense. With an estimated 60,000 housing units no longer viable, rents are sure to rise. Furthermore, the "affordable" housing seems to have suffered far more in the floods than the luxury buildings.
Another risk is that taxpayer hearts will harden toward the National Flood Insurance Program. In the wake of Katrina, Sandy and now Harvey, this subsidy for homeowners who live in flood-prone places has come under increasing attack. Serious reform would place the risks more squarely on the owners of vulnerable properties.
However one feels about the Houston way, our fourth-largest city has excelled as a vibrant center for commerce, culture, medicine and education. May Houston recover as Opportunity City — but also add to its list of nicknames Responsibility City.
Follow Froma Harrop on Twitter @FromaHarrop. She can be reached at fharrop@gmail.com.To find out more about Froma Harrop and read features by other Creators writers and cartoonists, visit the Creators webpage at www.creators.com.