Rubio: I Will Never Vote For Trump — Maybe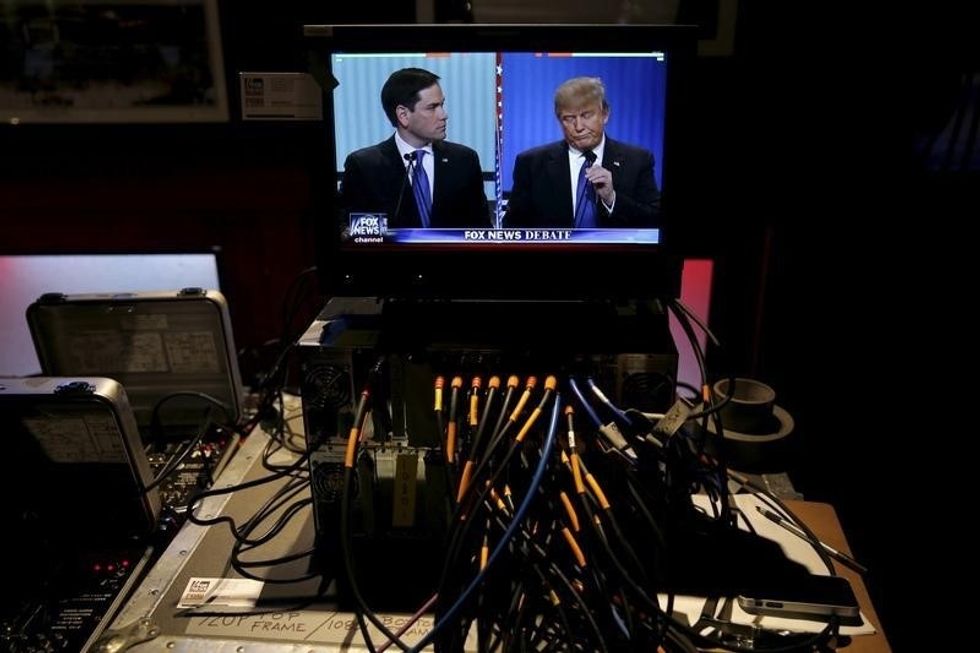 Marco Rubio is now waffling on what was seemingly a bold declaration by his campaign: No, he says, he won't vote for Donald Trump, but that's only because he totally swears Trump won't be the Republican nominee — but if it does happen, then, yeah, Rubio will vote for him.
In short, Rubio has gone from "Never Trump," to "Never Trump" in name only — perhaps meriting a new acronym for a certain class of Republicans, "NTINO."
A little background: In the last two weeks or so, a hashtag called #NeverTrump has sprung up online, a vehicle for conservatives to pledge that they would never vote for Donald Trump under any circumstances. To a degree, it has represented an honorable response against the seeming takeover of the GOP by a fascist demagogue.
Last weekend, Rubio's campaign posted a bold message in which he came on board — or did he?
The problem, though, is that at Thursday's debate all three rival candidates confirmed that they would honor their pledge to support Trump if he becomes the Republican nominee — including Rubio. For his part, the senator justified the decision by contrasting Trump with the Democratic choices of either Bernie Sanders or Hillary Clinton, even getting a round of applause by invoking Benghazi.
Rubio appeared Friday on Kentucky Sports Radio, for that state's caucuses this Saturday.
Radio host Matt Jones asked: "So I just want to ask you: Is it 'Never Trump' — or is it, 'Yes Trump,' if he's the nominee?"
"Well, I mean for me, I'm never voting for Donald Trump in the Republican primary. I mean, and I don't think—"
Jones interrupted: "Well, but you're running in the Republican primary!"
The key audio clip has been uploaded by the pro-Democratic group, American Bridge 21st Century:
"Yeah, that's what I mean. I mean, that's the point that I was making," Rubio said. "But let me just say this: I get it. What you're asking me, I get the question. And I think what it opens our eyes to is, think about that — if it was anybody else in first place right now, we would not be asked this question. I mean, you don't see Bernie Sanders being asked, 'Would you vote for Hillary Clinton?' If the frontrunner was me, or anybody else in this race, you wouldn't have people asking that question. They're asking it about Trump for a reason — and that is, he is fracturing the Republican Party and the conservative movement."
As the conversation continued, Jones explained that he is himself a Democrat, but his mother is a lifelong Republican. "She says, 'I will not vote for Donald Trump — no matter what,' and she says, 'because of how much I love the country, et cetera,'" Jones said. "I'm just asking you, just yes or no — I know you won't vote for Hillary. But if it's Hillary and Trump, will you not vote, or will you cast the vote for Donald Trump?"
"No, I mean, I get it, I get the question you're asking," an apparently flustered Rubio said in response. "I said it last night — I'm gonna vote for the nominee, it's not gonna be Donald Trump. I can't even imagine that — I don't even want to imagine that right now, to be honest with you, because I don't believe it's gonna happen."
"Okay, I understand that," said Jones.
Rubio assured him: "I think there are enough people like your mom, in Kentucky and around the country, to keep this from happening. It's one of those bridges you never want to have to cross. And so I don't even want to think about it right now, other than to say to you that it's not gonna happen."
Photo: Republican U.S. presidential candidates Marco Rubio (L) and Donald Trump are seen on a television monitor at the media center of the Republican presidential debate site in Detroit, Michigan, March 3, 2016. REUTERS/Carlos Barria