Republicans Have Just Handed America An Extreme Right-Wing Supreme Court That Will Divide the Country More Than Ever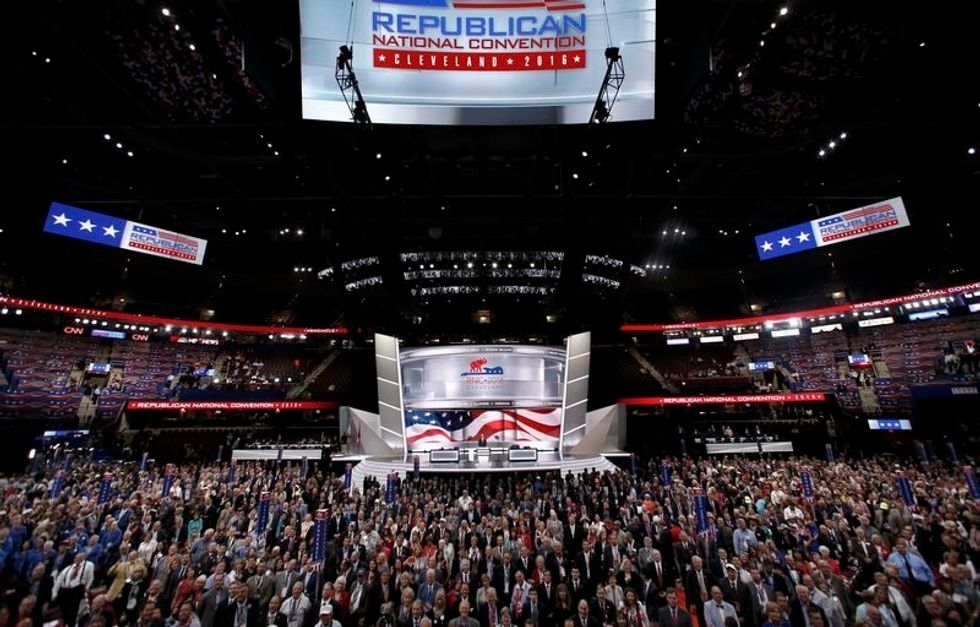 Reprinted with permission from Alternet.
Senate Republicans pushed the country further down the rabbit hole of political extremism Thursday by changing the voting rules to put a far-right justice in a hijacked Supreme Court seat, cementing a conservative high court majority for years. The final formal vote is expected Friday.
The Republicans did it by repealing the only power a minority party has to block judicial appointments and legislation—the Senate's filibuster rule, which says 60 votes are needed to end debate and vote. The Republicans could not get enough Democrats to clear that threshold for Neil Gorsuch's high court confirmation, so they took steps to repeal the filibuster rule for Supreme Court nominees, positioning the 100-member body's 52 Republicans to confirm Gorsuch by a simple majority.
The consequences will be felt immediately and for decades. The Supreme Court returns to a conservative majority, where on the most contentious issues there likely will be votes to deny reproductive rights, undo government regulation of business, ignore climate science and allow corporate evasions of societal responsibility. The GOP strategy was simple. Led by Kentucky's Mitch McConnell, the Republicans refused to act on President Obama's court nominee, Merrick Garland. They wagered they could delay until after 2016's election and perhaps cement a right-wing court.
The stage was set for this judicial coup on Thursday, when Republicans, who could only get 55 votes to end the Democratic filibuster, began the procedural march to repealing that rule for Supreme Court nominations in preparation for Friday's confirmation by a simple majority.
What transpired this week reverberates beyond the historic loss of a left-of-center Supreme Court majority, a swing in that body's temperament that occurs only every few decades. In the Senate itself, the hollowing of the filibuster rule, which still remains in effect for legislation—and thus is the only power Senate Democrats still hold—means that its tradition of being forced to compromise is further withering under hardball, winner-take-all tactics.
Speaking before the vote, the Senate Minority Leader, Chuck Schumer of New York, rued the Court would be seen as an even more partisan and politicized body with this appointment, and wondered aloud how long the filibuster rule blocking extremist legislation would survive.
"Instead of the Senate forcing us to change, senators have decided to change the Senate, and I worry a great deal about what that means for our future," Schumer said. "Today's vote is a cautionary tale about how unbridled partisan escalation can ultimately overwhelm our basic inclinations to work together and frustrate our efforts to pull back."
Republicans, of course, blamed Democrats for ripping up the filibuster for judicial nominations. They pointed to 2013, when the body had a Democratic majority that revoked the filibuster to seat dozens of lower district and appeals court judges appointed by President Obama. The Democrats acted because McConnell refused to allow the seating of Obama's appointees. A few Republican senators pointed the finger of blame even further back, citing Democratic opposition to President George W. Bush's nominees, including a 2006 deal where only half were seated. Thus, in their minds, Republicans were only continuing what the Democrats had started.
Sen. Christopher Coons, D-DE, said this circle of blame was idiotic and deeply damaging. He told the Senate it was a mistake in 2013 for the Democrats to yank the filibuster rule for lower federal court appointments. But those misgivings and pleas for the Senate to retain its requirement to compromise sufficiently to clear 60-vote thresholds were not persuasive.
"We simply do not trust each other anymore," Coons lamented. "What past mistakes can we own up to?"
Such calls for reason and seeing history with clear eyes didn't hold. Not in a GOP that since Obama's election in 2008 has done everything it can to change the rules in state and federal elections, as well as in judicial confirmations, to tilt the likely results to their partisan benefit. On the judicial front, the GOP's obstructionist tactics continued after 2014, when it regained the Senate majority. It refused to act on more than 50 Obama nominees and Merrick Garland. President Trump is now poised to appoint the most federal court judges since the 1950s.
The loss of the U.S. Supreme Court to right-wingers has been coming ever since Hillary Clinton lost the presidential election. As damaging as that will be for years on every issue that matters to progressives, what the Senate did this week poses another danger. It's made the structure of American government more susceptible to political extremism. It's part of a Republican-led progression that has changed the rules over how elections are waged to their side's advantage, and has embraced anything-goes attacks under the banner of partisan loyalty and ideology.
If American democracy is dying a death of 1,000 cuts, this week's Senate action is one of the bigger wounds—right up there with the U.S. Supreme Court's 2010 Citizens United decision that unleashed new billionaire-driven political machines, and the Supreme Court's 2013 gutting of the Voting Rights Act of 1965, the crowning achievement of the Civil Rights Movement.
 
This article was made possible by the readers and supporters of AlterNet.