Suddenly McConnell Sees Violent Rhetoric As 'Toxic'
@EricBoehlert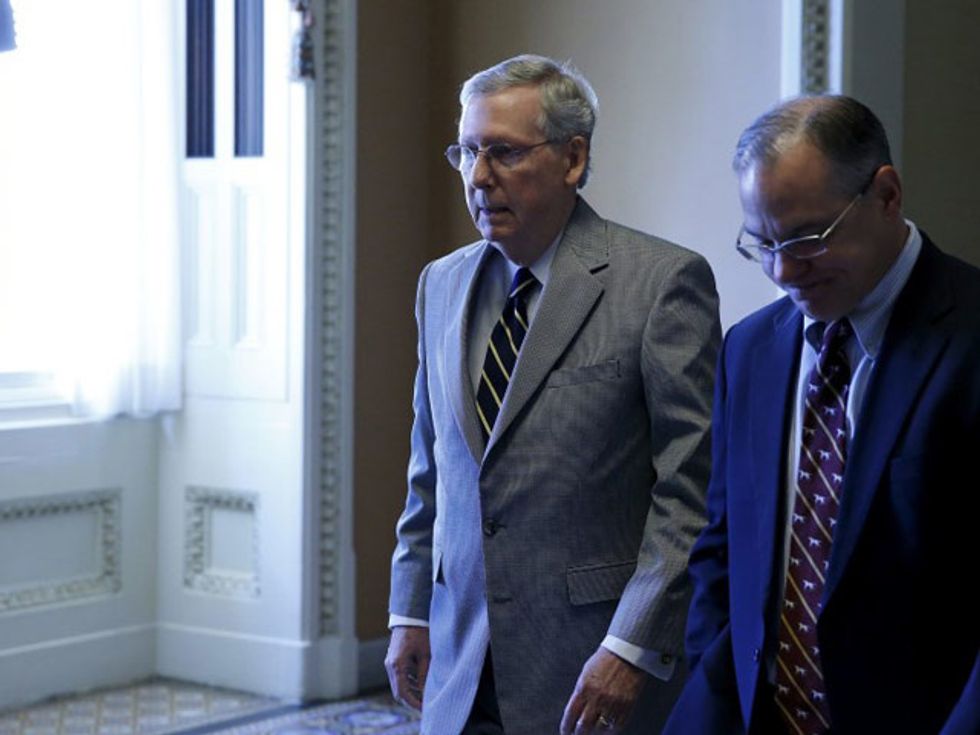 Reprinted with permission from Shareblue.
Republicans, led by Sen. Mitch McConnell (R-KY), are now campaigning on the idea that Democrats nationwide represent a dangerous mob of protesters at odds with the United States.
Having long ago abandoned any idea of running on taxes and health care this election cycle, anxious Republicans are left with little more than scare tactics to motivate their supporters.
The ongoing pity party is a continuation of the GOP's public relations campaign to paint activists who protested Brett Kavanaugh's Supreme Court nomination as being dangerous and unhinged.
"Only one side was happy to play host to this toxic fringe behavior," McConnell whined on Thursday. "Only one side's leaders are now openly calling for more of it."
But the GOP claim that progressive activists have descended into mob tactics doesn't match reality.
"While the demonstrations were intense and some Republicans reported personal threats, liberal protesters' tactics were broadly in line with those used by groups on the left and right during particularly passionate moments in Washington," the Associated Press notes.
Previously, McConnell had complained that Kavanaugh demonstrators had been "trained" to "basically almost attack us in the halls of the capitol."
In reality, "basically almost" translates into "that didn't actually happen."
No Republicans were attacked or assaulted during the run-up to the Kavanaugh confirmation vote. Instead, lots of sexual assault survivors spoke out to GOP politicians in the hallways on Capitol Hill, demanding to know why they weren't respecting women who came forward with allegations of misconduct.
"What you are doing is allowing someone who actually violated a woman to sit on the Supreme Court," one woman said to Arizona Sen. Jeff Flake.
The GOP's sudden concern for the supposed threat of political violence comes after Trump's 2016 campaign was perhaps best known for the violent mobs of supporters who greeted him at rallies. And they were mobs that Trump actively encouraged.
"If you see somebody getting ready to throw a tomato, knock the crap out of them, would you? Seriously, OK? Just knock the hell," Trump told followers at a February 2016 rally. "I promise you I will pay for the legal fees. I promise, I promise."
Later that same month, as a protester was being led out of a raucous campaign event, Trump announced, "He's walking out with big high-fives, smiling, laughing. I'd like to punch him in the face, I'll tell you."
One supporter did just that in Fayetteville, North Carolina when a Trump fan sucker-punched an activist being escorted out of a rally.
Mitch McConnell never had much to say about that kind of "toxic" behavior.
Published with permission of The American Independent.