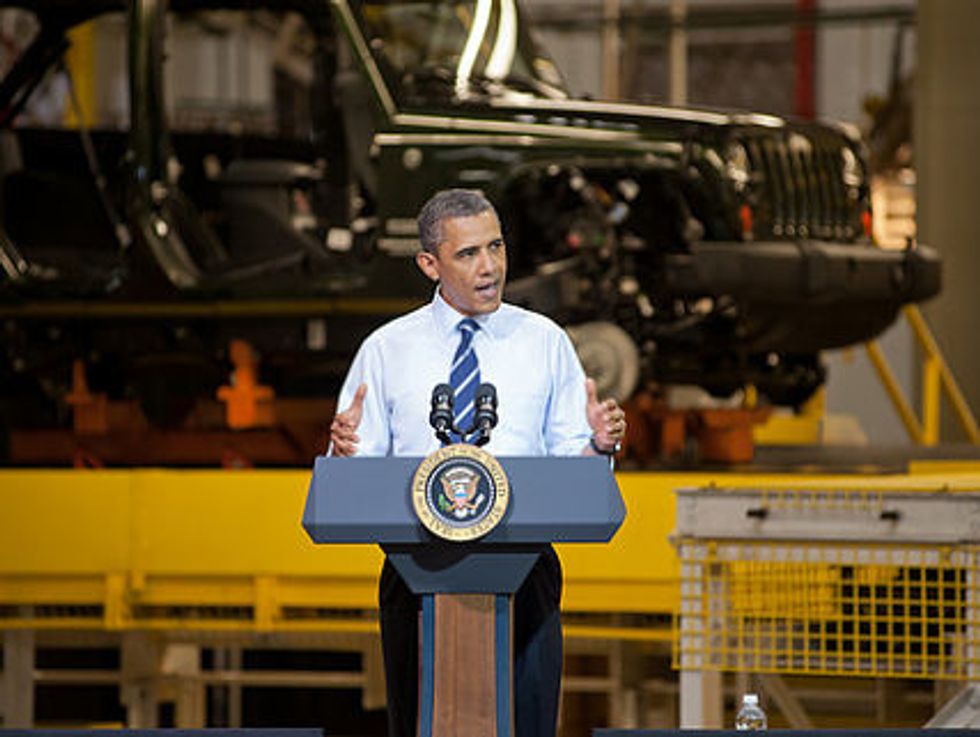 KALAMAZOO, Mich. — When Mayor Bobby J. Hopewell talks about the importance of manufacturing to this friendly Michigan town with a name that lends itself to song, he doesn't reel off the usual list of heavy industries typically associated with the word "factory."
He speaks of Kalsec, the Kalamazoo Spice Extraction Company founded in 1958 that produces and markets natural herbs and spices for food manufacturers. He mentions Fabri-Kal, a 62-year-old packaging company that describes itself as "the seventh-largest plastic thermoformer in North America." Think of products in drug stores encased in heavy plastic. And he doesn't leave out the pharmaceutical industry, long vital to his city's economy.
Yes, we still make a lot of stuff in the United States of America, and one of the good things about this election is that it is likely to be decided in the nation's industrial heartland — in the towns and cities of Ohio above all, but also in Michigan, Pennsylvania and Wisconsin.
President Obama almost certainly needs these states to win re-election, and if he does, manufacturing is destined for a larger role in the American economic conversation. Many promises have been made this year to the people and the communities whose ability to thrive has long depended upon manufacturing. The campaign's thrust should move them to the heart of our efforts to seek a path up from the financial catastrophe that engulfed the country in 2008.
For two decades now, we have acted as if nearly all of us are destined to work in the tech industry or health care — or to survive on money that trickles our way courtesy of the world of finance. But while Hopewell is proud of the part played in his city by universities and those engaged in work involving what he calls "intellectual property," he adds: "We are major makers in the region."
When Hopewell is asked if he used the term "makers" in the way Paul Ryan does in drawing a distinction between "makers" and "takers" — between those who produce and those who get government aid — this Democrat laughs heartily. No, he says, his views have little in common with Ryan's. The mayor is talking about manufacturing, pure and simple.
Leaders of traditional factory towns are by no means interested in a stagnant world in which each generation follows their parents into the same old factory job. On the contrary, this city is proud of "The Kalamazoo Promise," the remarkable initiative of anonymous local donors who have established a fund that pays for a college education for every graduate of the city's schools.
In Parma, Ohio, the industrial suburb of Cleveland where both Bruce Springsteen and Bill Clinton recently campaigned on Obama's behalf, Mayor Tim DeGeeter said the top priority of the city's blue-collar workers is a college education for their children. Parma and places like it, he adds, also want the sort of economic development that creates higher-end jobs so graduates can stay in the area, "and not have to move to Phoenix or Charlotte."
What both mayors are saying (there are many like them) is that they want the market system to work for their communities, but do not want to leave their citizens utterly at the mercy of decisions made by economic actors far away, or of economic forces that no one controls.
This is why the rescue of the auto industry has been such a defining campaign issue in the Midwest. In Parma, DeGeeter notes that the auto revival means that GM recently made a $20 million investment in its stamping plant in the city. "That helps me sleep at night," he says.
Hopewell says that even though the auto industry is not as important to Kalamazoo as it is in the Detroit area, "you can't be a Michigander and not understand the importance of the auto industry, and not understand what it has done for our state." The Republican sweep in Michigan in 2010 suggested it might be open to the GOP's presidential candidate this year. But so far, it has remained anchored in Obama's camp.
More broadly, white voters without college educations are voting for Obama at nearly twice the rate in the Midwest as in the South. In the Midwest, Obama is drawing 41 percent of their votes, according to a recent Washington Post/ABC News poll, compared with only 24 percent in the South. If Obama prevails, "makers" of a sort quite different from the ones in Ryan's speeches will have played a central role.
E.J. Dionne's email address is ejdionne@washpost.com.
(c) 2012, Washington Post Writers Group
Photo credit: Associated Press